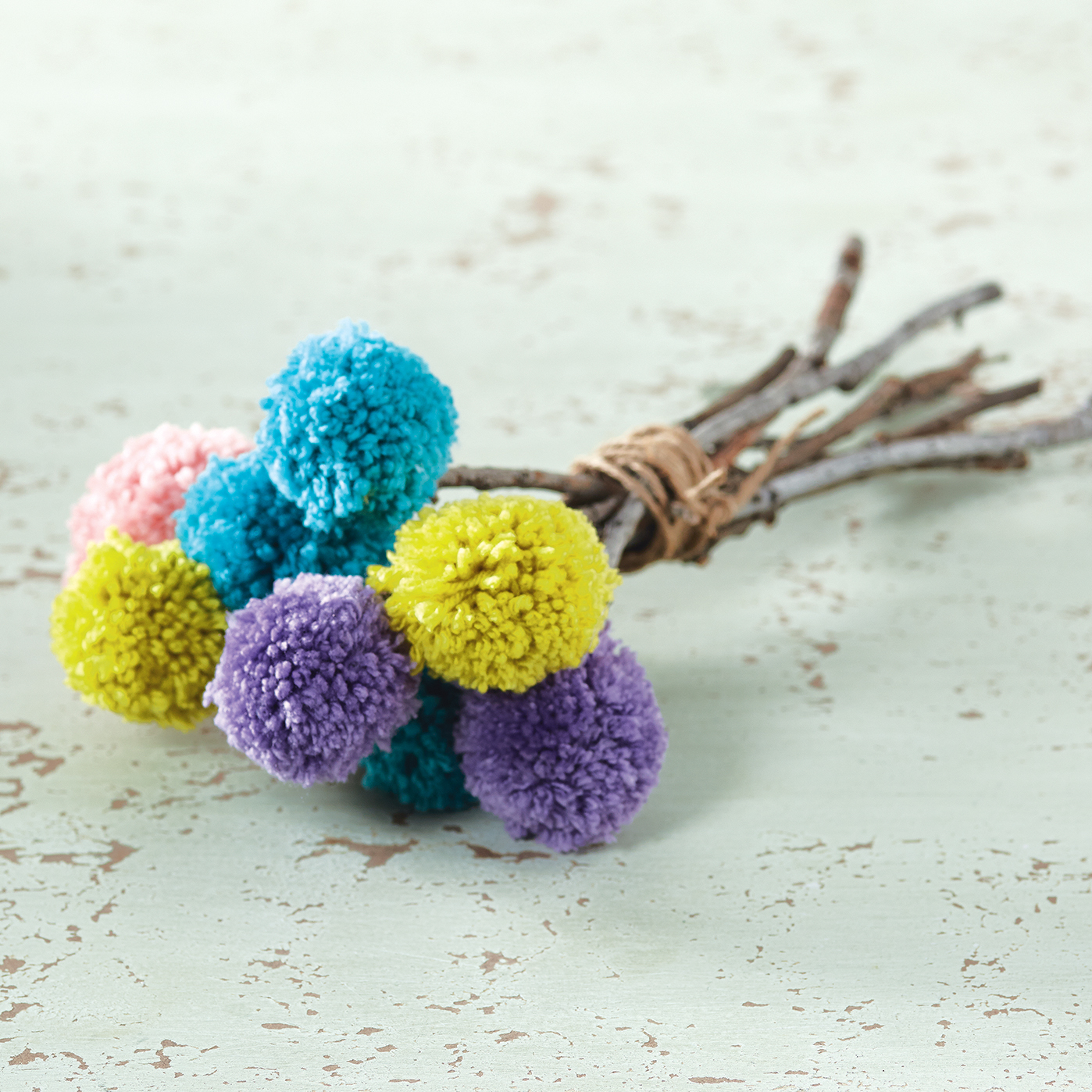 http://www.michaels.com/garden-party-loops-and-threads-impeccable-pom-pom-bouquet/B_45081.html
garden party: loops & threads® impeccable™ pom pom bouquet
This bouquet of blooms will stay fresh all season long. No watering required!
This bouquet of blooms will stay fresh all season long. No watering required!
Time Required :

Over an hour
Difficulty Level :

Beginner
Beginner
You're new to the skills necessary to complete this project, or maybe you've tried them just once or twice before.
Project Instructions
First, you'll make a template for your pom poms. Cut a piece of cardboard between 2 1/2" - 4" long, depending on the size of pom pom you want to make. The cardboard should be about as wide as it is long, but the exact measurement isn't important.
Wrap one strand of yarn 50 times around the length of your cardboard template. The more you wrap, the fuller your pom pom. When you're done wrapping, cut the yarn free from the skein.
Cut a 12" piece of yarn in the same color. Slide the wrapped yarn from the cardboard, keeping the loops intact. Carefully wrap the 12" piece entirely around the center of the wrapped yarn and tie a knot as tightly as possible.

Tip: Your knot should be the same distance from the top loops and bottom loops of the wrapped yarn.
Cut through all the loops at the top and bottom of the wrapped yarn to create your first pom pom. Trim the longer ends of the pom pom to neaten.
Repeat Steps 2 through 4 to create plenty of pom poms in every color. Remember to take a break now and then -- pom pom-making can become addictive!
Find sticks or twigs in nature and cut them down to the length you want.
Use the hot glue gun to attach each pom pom to the end of a stick. Remember that kids need adult supervision for this part! Let dry.
Wrap the sticks together with more yarn, and display in a vase.
Share your project photos with #MadeWithMichaels
+ View More
what you'll need
You'll also Need
twigs or sticks found in nature