Kids' Scary Halloween Art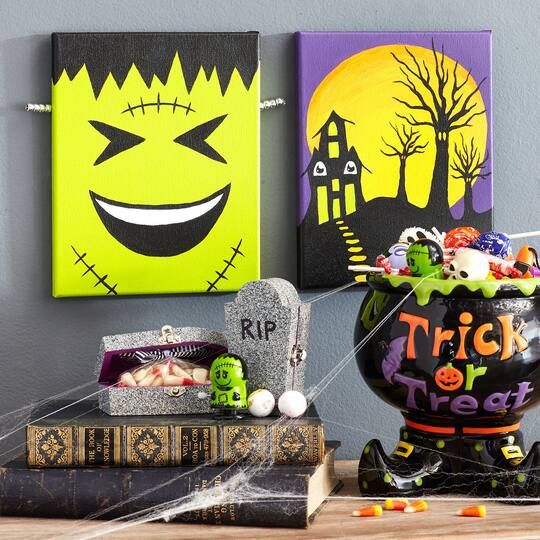 Materials
Instructions
Step 1 For the Frankenstein emoji painting, paint the entire canvas, including the sides, with Light Green paint.
TIP: For the best coverage, paint one coat, allow to dry, then paint a second coat.
Step 2 Use a pencil to sketch Frankenstein's hair and face on the canvas.
Step 3 Use black paint for Frankenstein's hair, eyes, stitches and mouth. Use white paint for his teeth.
Step 4 ADULT: Staple one Silver chenille stem to the back of the canvas, about 7.6 cm down from the top. The ends of the chenille stem should extend off the sides of the canvas.
NOTE: The chenille stem becomes a hanger for your canvas.
Step 5 Slide 4 Silver pony beads onto the chenille stem on both sides of the canvas, to create Frankenstein's bolts. Bend the excess bit of the chenille stem into the last bead.
Step 6 For the haunted house painting, use a pencil to sketch the ground, house, and shape of the moon.
TIP: If you have a compass, you can use it to create the circle for the moon. You could also trace around a plate, saucer, the bottom of a bottle or anything round and large enough to make the moon shape you desire.
Step 7 Paint the ground and house black. Paint the sky Plum. Use Pumpkin and yellow to paint the moon.
Step 8 Add details (windows and "eyes") to the house with Light Green, white, and black paint. Create a pathway of steps which lead to the house with yellow paint.
Step 9 Use a pencil to sketch trees, and then paint them black. Add tiny eyes in Pumpkin, Light Green, and yellow.
TIP: Extend your painting to wrap around the sides of the canvas.
Share your project photos with #MakeItWithMichaels