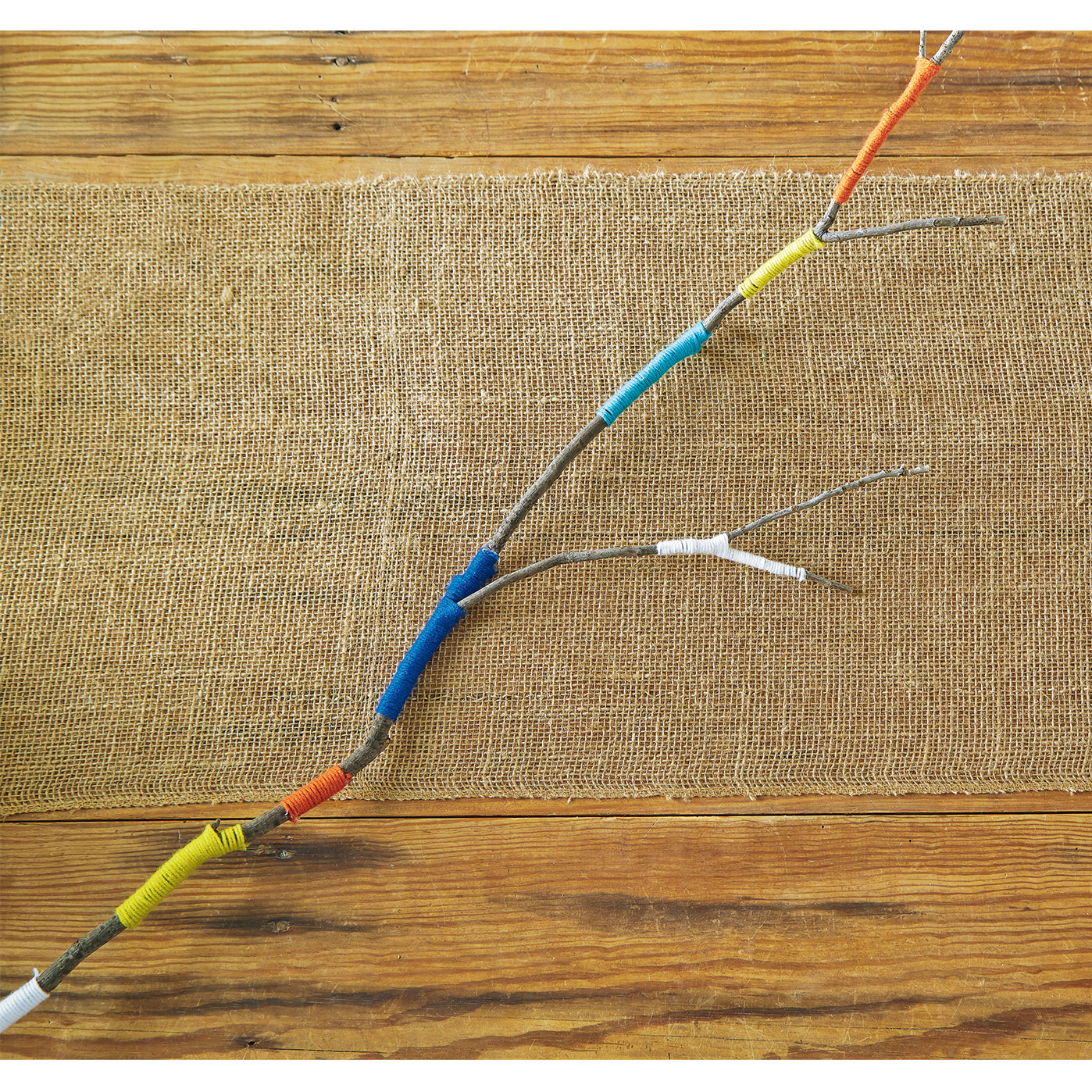 http://www.michaels.com/yarn-wrapped-stick/B_53501.html
yarn wrapped stick
Keep the kids busy while letting them add some seasonal color to your fall tablescape with a simple yarn wrapped stick.
Keep the kids busy while letting them add some seasonal color to your fall tablescape with a simple yarn wrapped stick.
Time Required :

About 30 minutes
Difficulty Level :

Beginner
Beginner
You're new to the skills necessary to complete this project, or maybe you've tried them just once or twice before.
Project Instructions
Find a thin, long stick with a few short branches.
Cut 24" lengths of each yarn.
Coil one length of yarn around a section of the stick, securing the ends with hot glue.
Repeat with other yarn colors.
+ View More
what you'll need
You'll also Need
Customer Reviews
Yarn Wrapped Stick
is rated out of
5
by
1
.
Rated

5

out of

5
by
Anonymous
from
A trendy project you DON'T want to pass up!
Being the yarn junkie that I am, and an avid stick-hunter, I knew I had to give this project a whirl. I mean, I am in no short supply of yarn scraps, and sticks…well sticks are everywhere outside thanks to the rarely-trimmed and poorly-landscaped grounds I live on. After searching for JUST the right stick, I anxiously set about the task of choosing the proper adhesive. As I've been known to be a rebel, so I glossed right over the text in step 3 (and the "What You'll Need" section), and selected Tacky Glue as my go-to glue. BIG. MISTAKE. Fellow crafters…READ THE INSTRUCTIONS. The instructions clearly state to use hot glue. If there is anything I have learned from this project, it is that Tacky Glue and yarn do not mix. At first, everything seemed to go as planned. Using various weights of scrap yarn, I selected my color "scheme" and planned out where I wanted each color. I suggest using a pencil to "block off" sections on the stick as a guide. That way you avoid going wrap-crazy and doing the entire stick. Unless, of course, that is the look you are going for. After planning, I smeared a little glue on one of my marked areas on the stick, and started gingerly wrapping my first color. A little tip here – be sure to "de-bark" any areas of the stick that has loose bark, errant twigging, or rotting leaves. Those things will only muck up your finished product, your carpet, and any nearby sleeping cats. At about the second or third color, tacky glue was everywhere. My hands were matted with yarn shrapnel and dead leaves. I could have been an extra in the creepy tree scene of "Wizard of Oz." At this point, I desperately grabbed a small paintbrush and literally coated the already-wrapped sections with a layer of glue. I thought this might help to diminish the "fuzz factor." I was using several types of yarn, and the fuzzier the yarn, the messier my hands became. If I had let the glue harden on my hands, I could have had built in mittens for the upcoming cold weather. But that is a project for another time. After tediously wrapping several colors and coating the whole thing in a shellac of glue, I set it aside to dry. I figured, since my hands were already glue-laden, I should go ahead and make a few more to give as gifts to my co-workers. I mean, who wouldn't love a yarn-wrapped stick to brighten up their cube? Festive AND frugal. Win-win. Luckily, I had planned ahead, and grabbed several extra sticks in case I ruined my first choice. My hands already had enough glue and yarn on them to successfully wrap 4 additional sticks, which was good, because the glue bottle had already adhered to my carpet and hardened. A side note – if you lack yarn, hair from your small pets can be used – whether intentional or not. The additional sticks didn't take me long, because at this point in the project, the standards and expectations I had set for myself had lowered, and I longed to rid my hands of the glue, yarn scraps, leaves, and bark, and my cat was starting to fuss at his tail that was stuck between the aforementioned glue bottle and carpet. Another side note: Wash your hands to remove the glue and debris BEFORE attempting to free the cat. Trust me. After letting the sticks dry overnight, I awoke to a magical enchanted forest of colorful yarn-wrapped sticks in my living room. Yet another side note: Rest them on cardboard when drying. Not carpet – they almost became permanent fixtures in my apartment, which I'm sure the next renters would find charming and quaint. I was excited to present my co-workers with their new sticks, and to my delight, they loved them. So much so, that they all displayed them outside their cubes to share the joy and spread cheer. We now have a magical enchanted forest of yarn-wrapped sticks in the office that will surely bring months of happiness to all who pass. What I've learned: - Follow the directions. Use hot glue. - Clean sticks before applying glue. - Choose acrylic, non-textured yarn. - Lock cats and significant other in separate room. The cat will thank you, and you won't have to listen to your significant other snicker while you craft. - Put down cardboard or a drop cloth to protect carpet and set drying sticks. To ensure your yarn-wrapped sticks stay relevant, I suggest creating new ones for each season. Green for St. Patty's Day, Red/Pink/White for Valentine's Day, Pastel for spring, and so forth. Tiny ornaments and dreidels can also add some holiday sparkle. Don't hold back! Get creative! This is one project you can't pass up. Grab your sticks, plug in your hot glue gun, hide your cats and spouses, and wrap until your heart's content.
Date published: 2014-12-29