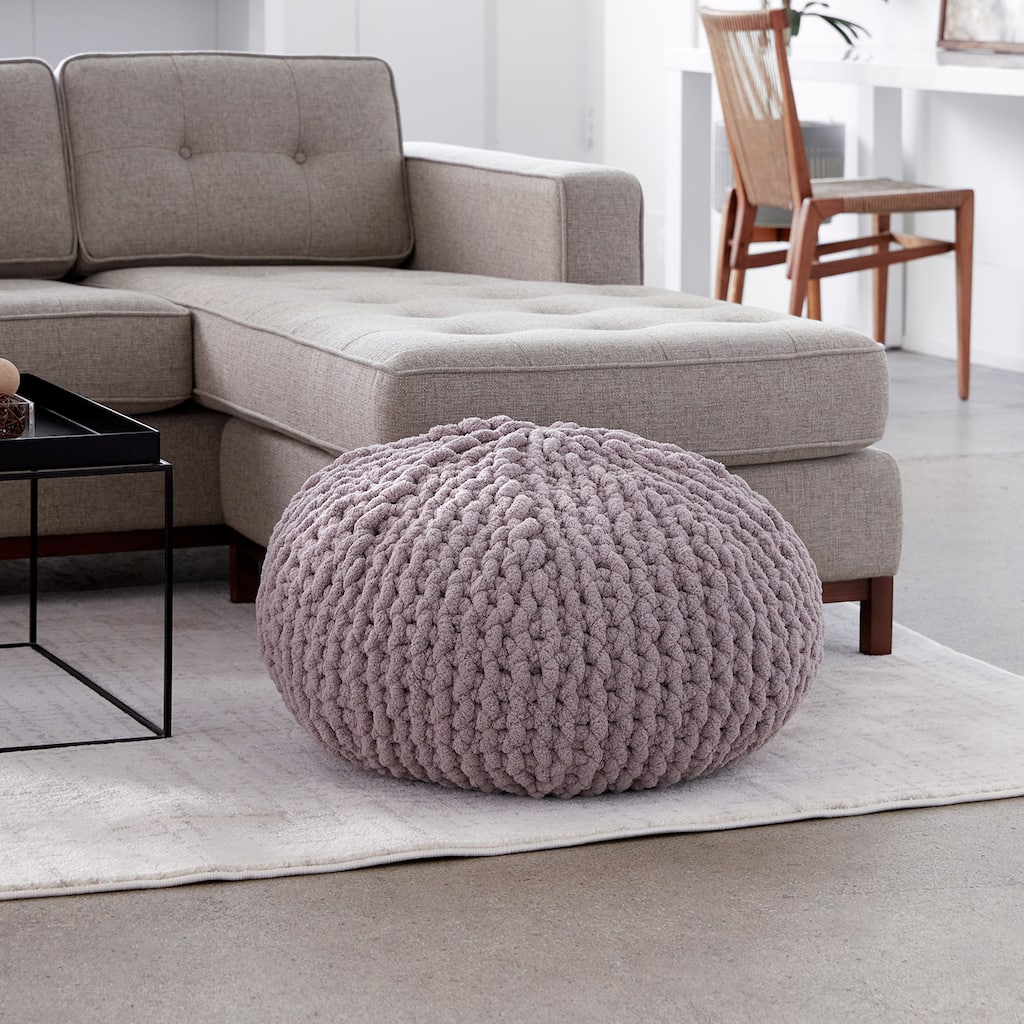 Over an hour
Beginner
Beginner
You're new to the skills necessary to complete this project, or maybe you've tried them just once or twice before.
bernat® blanket big™ big knit pouf
Knit up a delightfully soft addition to your home décor – like this big knit pouf! It's made from Bernat® Blanket Big™ yarn, so you know it'll be incredibly cozy. We've got lots of gorgeous colors to choose from, so pick your favorite, check out the free pattern and get started!
Step 1
Knit up a delightfully soft addition to your home décor – like this big knit pouf! It's made from Bernat® Blanket Big™ yarn, so you know it'll be incredibly cozy. We've got lots of gorgeous colors to choose from, so pick your favorite, check out the free pattern and get started! MEASUREMENT: Approx. 26" [66 cm] diameter GAUGE: 3.5 sts and 6 rows = 4" [10 cm] in garter st; save time and check your gauge INSTRUCTIONS: Cast on 24 sts. **Row 1: Sl1. K23. Row 2: Sl1. K22. Turn. Row 3: Sl1. K21. Turn. Row 4: Sl1. K20. Turn. Row 5: Sl1. K19. Turn. Cont in same manner, slipping first st and having 1 st less every row until there are 8 sts. Next Row: Sl1. Knit to end of row. Next Row: Sl1. Knit to end of row. 24 sts.** Rep from ** to ** 7 times more. Leave all sts on needle. Thread yarn through side sts. Pull tightly. Fasten securely. Sew live sts to cast on edge, leaving opening for stuffing. Stuff Pouf. Sew opening closed. ABBREVIATIONS: Approx = Approximately Cont = Continue(ity) K = Knit Rep = Repeat Sl1 = Slip Next Stitch Knitwise St(s) = Stitch(es)
https://www.michaels.com/bernat%C2%AE-blanket-big%E2%84%A2-big-knit-pouf/B_86362.html
https://www.michaels.com/bernat-blanket-big-stitchnwin-yarn/10558728.html
1 Bernat® Blanket Big™ Yarn – Taupe Coffee (10558728)
Step 1
Knit up a delightfully soft addition to your home décor – like this big knit pouf! It's made from Bernat® Blanket Big™ yarn, so you know it'll be incredibly cozy. We've got lots of gorgeous colors to choose from, so pick your favorite, check out the free pattern and get started! MEASUREMENT: Approx. 26" [66 cm] diameter GAUGE: 3.5 sts and 6 rows = 4" [10 cm] in garter st; save time and check your gauge INSTRUCTIONS: Cast on 24 sts. **Row 1: Sl1. K23. Row 2: Sl1. K22. Turn. Row 3: Sl1. K21. Turn. Row 4: Sl1. K20. Turn. Row 5: Sl1. K19. Turn. Cont in same manner, slipping first st and having 1 st less every row until there are 8 sts. Next Row: Sl1. Knit to end of row. Next Row: Sl1. Knit to end of row. 24 sts.** Rep from ** to ** 7 times more. Leave all sts on needle. Thread yarn through side sts. Pull tightly. Fasten securely. Sew live sts to cast on edge, leaving opening for stuffing. Stuff Pouf. Sew opening closed. ABBREVIATIONS: Approx = Approximately Cont = Continue(ity) K = Knit Rep = Repeat Sl1 = Slip Next Stitch Knitwise St(s) = Stitch(es)
+ View More