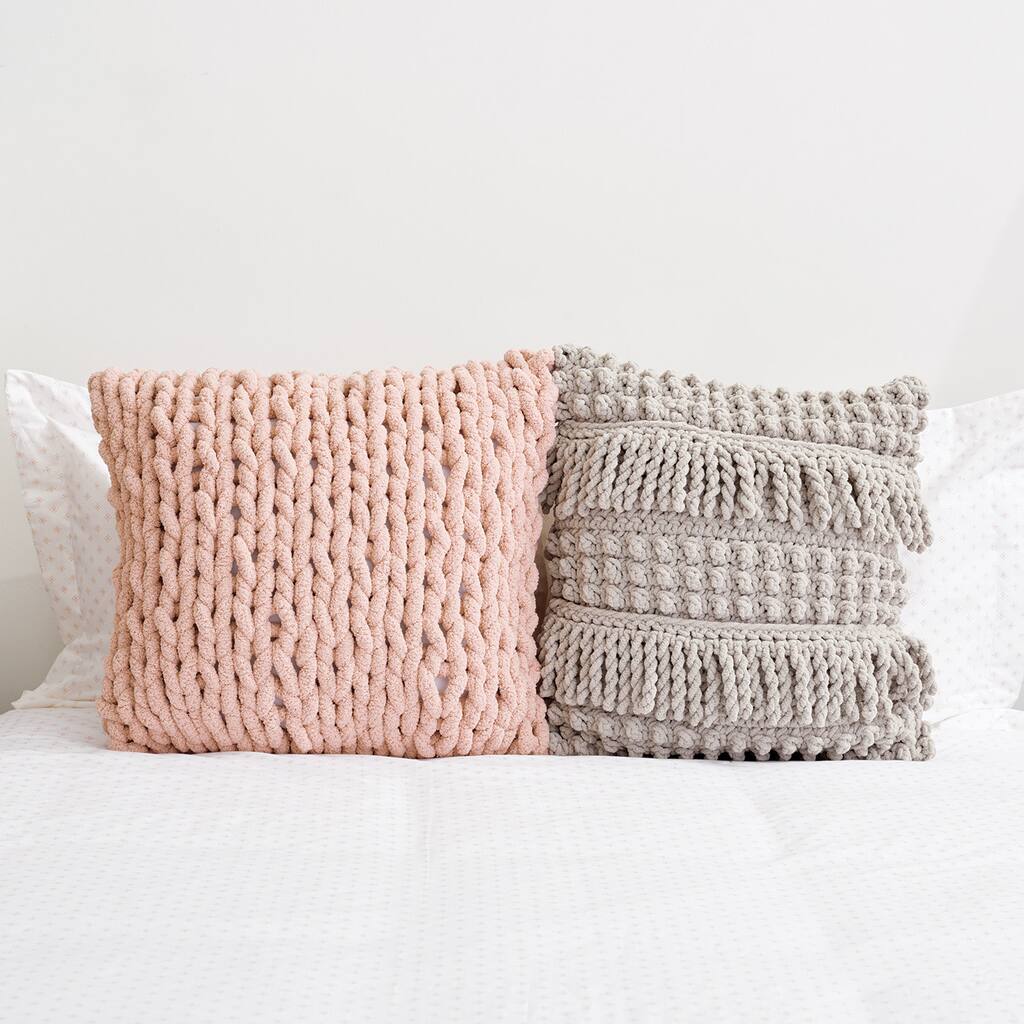 Over an hour
Beginner
Beginner
You're new to the skills necessary to complete this project, or maybe you've tried them just once or twice before.
bernat® blanket big™ simple stitch knit pillow
Make this Bernat® Blanket Big™ Simple Stitch Knit Pillow project it is a great yarn craft.
Step 1
MEASUREMENT: Approx. 20" [51 cm] square GAUGE: 2½ sts and 3½ rows = 4" [10 cm] in stocking st INSTRUCTIONS: Cast on 14 sts loosely. 1st Row: (RS). Knit. 2nd Row: Purl. Rep last 2 rows until work from beg measures approximately (approx) 39" [99 cm], ending on a purl row. Cast off loosely. FINISHING Fold piece in half. Sew 2 side seams using matching yarn. Insert pillow form. Sew bottom seam. ABBREVIATIONS: Approx = Approximately Beg = Beginning Rep = Repeat RS = Right Side St(s) = Stitch(es)
https://www.michaels.com/bernat%C2%AE-blanket-big%E2%84%A2-simple-stitch-knit-pillow/B_86118.html
Products

809188311

You'll Need:

1

Promotions

Color: White
Size: 20" x 20"

Color: White
Size: 20" x 20"

Color: White
Size: 20" x 20"
https://www.michaels.com/bernat-blanket-big-yarn/10519837.html
2 - Bernat® Blanket Big™ Yarn – Pink Dust (sku 10558721)
Step 1
MEASUREMENT: Approx. 20" [51 cm] square GAUGE: 2½ sts and 3½ rows = 4" [10 cm] in stocking st INSTRUCTIONS: Cast on 14 sts loosely. 1st Row: (RS). Knit. 2nd Row: Purl. Rep last 2 rows until work from beg measures approximately (approx) 39" [99 cm], ending on a purl row. Cast off loosely. FINISHING Fold piece in half. Sew 2 side seams using matching yarn. Insert pillow form. Sew bottom seam. ABBREVIATIONS: Approx = Approximately Beg = Beginning Rep = Repeat RS = Right Side St(s) = Stitch(es)
+ View More