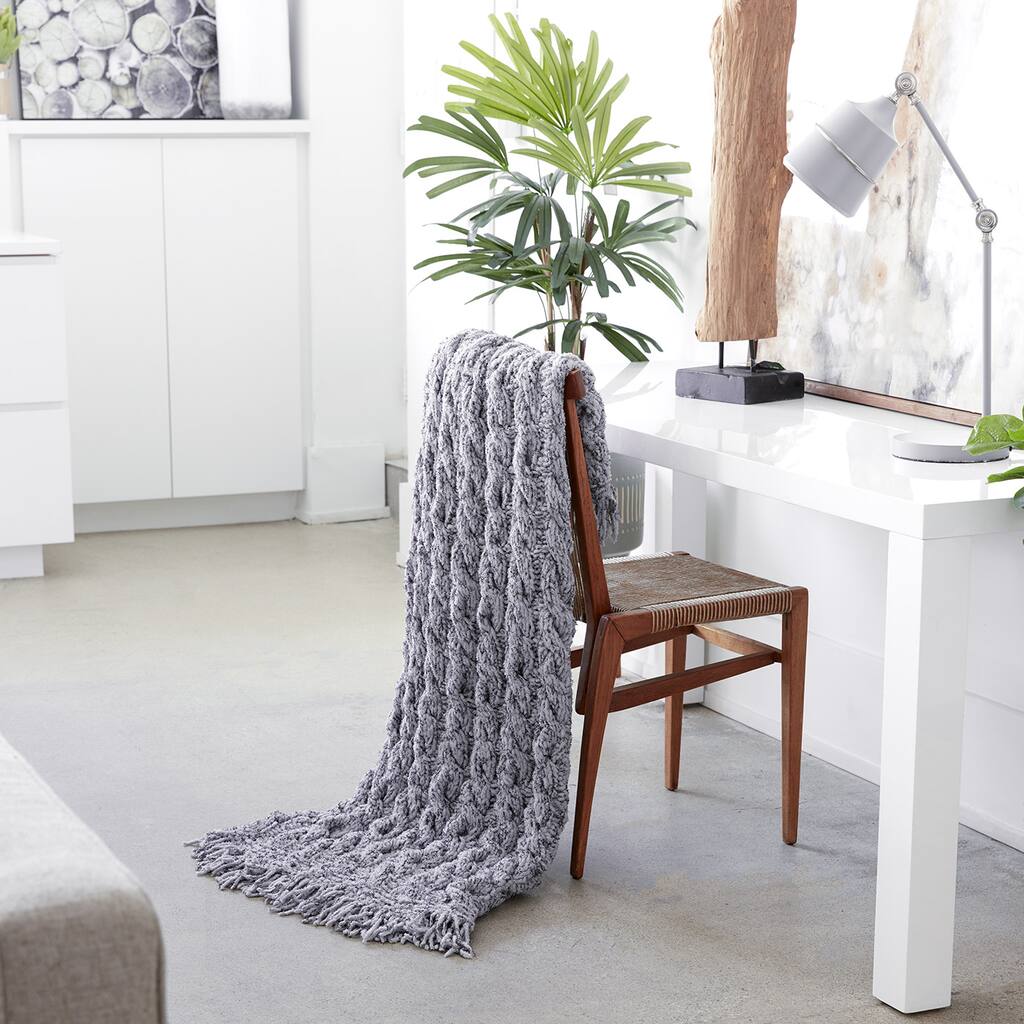 Over an hour
Beginner
Beginner
You're new to the skills necessary to complete this project, or maybe you've tried them just once or twice before.
bernat® blanket™ ribbed cable knit afghan
Don't you just love cables, like the ones in this lovely ribbed knit afghan? These textured rows are easy to knit up into a super-soft throw with Bernat® Blanket™ yarn. Just check out the instructions, pick out your favorite color and make it!
Step 1
Don't you just love cables, like the ones in this lovely ribbed knit afghan? These textured rows are easy to knit up into a super-soft throw with Bernat® Blanket™ yarn. Just check out the instructions, pick out your favorite color and make it! MEASUREMENTS: Approx. 54" x 60" [137 x 152.5 cm]. GAUGE: 8 sts and 13 rows = 4" [10 cm] in stocking st. SPECIAL STITCHES: C8B = Slip next 4 stitches onto cable needle and leave at back of work. K4, then K4 from cable needle. C8F = Slip next 4 stitches onto cable needle and leave at front of work. K4, then K4 from cable needle. M1 = Make 1 stitch by picking up horizontal loop lying before next stitch, and knitting into back of loop. Ssk = Slip next 2 stitches knitwise one at a time. Pass them back onto left-hand needle, then knit through back loops together. INSTRUCTIONS: Note: Cable Pat worked multiple of 10 sts + 8. Cast on 110 sts. Do not join. Working back and forth across needle in rows, proceed as follows: Rows 1 - 3: Knit. Row 4: (WS). (K2. M1) twice. *K4. (K2. M1) twice. Rep from * to last 2 sts. K2. 138 sts. Proceed in Cable Pat as follows: Row 1: (RS). *K8. P2. Rep from * to last 8 sts. K8. Row 2 and Alt Rows: (WS). P8. *K2. P8. Rep from * to end of row. Row 3: As Row 1. Row 5: (C8F. P2) 7 times. (C8B. P2) 6 times. C8B. Row 7: As Row 1. Row 8: As Row 2. These 8 rows form Cable Pat. Cont in Cable Pat until work from beg measures approx 59" [150 cm], ending on Row 8 of Cable Pat. Next Row: (RS). K2. [(K2tog) twice. K6] 7 times. [(ssk) twice. K6] 6 times. (ssk) twice. K2. 110 sts. Next 3 Rows: Knit. Cast off. Fringe: Cut strands of yarn 8" [20.5 cm] long. Taking 1 strand, fold in half and knot into fringe in each st across bottom and top edge. Trim fringe evenly. ABBREVIATIONS: Alt = Alternate Approx = Approximate(ly) Beg = Beginning C8B = Cable 8 Back C8F = Cable 8 Front Cont = Continue(ity) K = Knit K2tog = Knit Next 2 Stitches Together M1 = Make 1 Stitch P = Purl Pat = Pattern Rep = Repeat RS = Right Side Ssk = Slip, Slip, Knit St(s) = Stitch(es) WS = Wrong Side
https://www.michaels.com/bernat-blanket-ribbed-cable-knit-afghan-project/B_86360.html
https://www.michaels.com/bernat-blanket-ribbed-cable-knit-afghan-project/B_86360.html
6 - Bernat® Blanket™ Yarn – Light Gray Tweed (10558719)
Step 1
Don't you just love cables, like the ones in this lovely ribbed knit afghan? These textured rows are easy to knit up into a super-soft throw with Bernat® Blanket™ yarn. Just check out the instructions, pick out your favorite color and make it! MEASUREMENTS: Approx. 54" x 60" [137 x 152.5 cm]. GAUGE: 8 sts and 13 rows = 4" [10 cm] in stocking st. SPECIAL STITCHES: C8B = Slip next 4 stitches onto cable needle and leave at back of work. K4, then K4 from cable needle. C8F = Slip next 4 stitches onto cable needle and leave at front of work. K4, then K4 from cable needle. M1 = Make 1 stitch by picking up horizontal loop lying before next stitch, and knitting into back of loop. Ssk = Slip next 2 stitches knitwise one at a time. Pass them back onto left-hand needle, then knit through back loops together. INSTRUCTIONS: Note: Cable Pat worked multiple of 10 sts + 8. Cast on 110 sts. Do not join. Working back and forth across needle in rows, proceed as follows: Rows 1 - 3: Knit. Row 4: (WS). (K2. M1) twice. *K4. (K2. M1) twice. Rep from * to last 2 sts. K2. 138 sts. Proceed in Cable Pat as follows: Row 1: (RS). *K8. P2. Rep from * to last 8 sts. K8. Row 2 and Alt Rows: (WS). P8. *K2. P8. Rep from * to end of row. Row 3: As Row 1. Row 5: (C8F. P2) 7 times. (C8B. P2) 6 times. C8B. Row 7: As Row 1. Row 8: As Row 2. These 8 rows form Cable Pat. Cont in Cable Pat until work from beg measures approx 59" [150 cm], ending on Row 8 of Cable Pat. Next Row: (RS). K2. [(K2tog) twice. K6] 7 times. [(ssk) twice. K6] 6 times. (ssk) twice. K2. 110 sts. Next 3 Rows: Knit. Cast off. Fringe: Cut strands of yarn 8" [20.5 cm] long. Taking 1 strand, fold in half and knot into fringe in each st across bottom and top edge. Trim fringe evenly. ABBREVIATIONS: Alt = Alternate Approx = Approximate(ly) Beg = Beginning C8B = Cable 8 Back C8F = Cable 8 Front Cont = Continue(ity) K = Knit K2tog = Knit Next 2 Stitches Together M1 = Make 1 Stitch P = Purl Pat = Pattern Rep = Repeat RS = Right Side Ssk = Slip, Slip, Knit St(s) = Stitch(es) WS = Wrong Side
+ View More