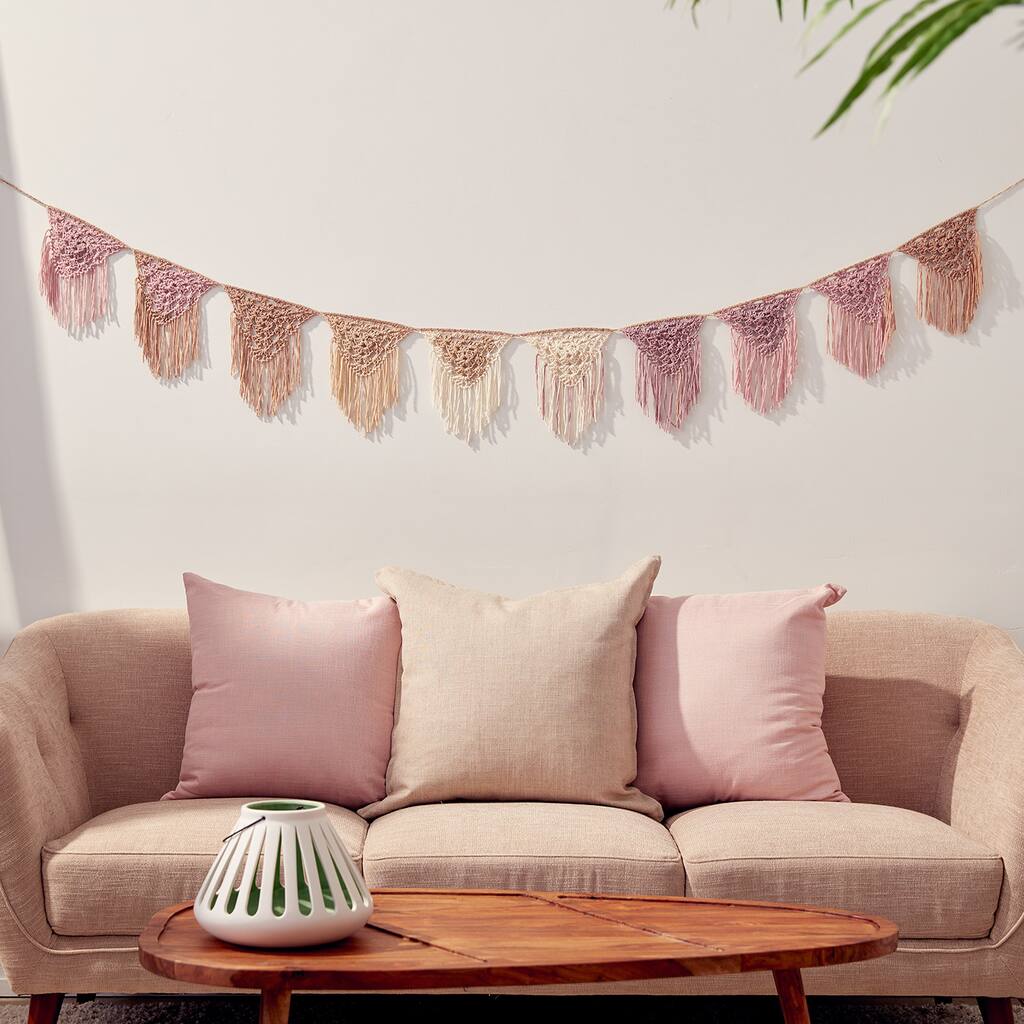 Over an hour
Beginner
Beginner
You're new to the skills necessary to complete this project, or maybe you've tried them just once or twice before.
caron® cotton cakes™ fringy crochet bunting
Adding a cool, boho vibe to your living space is easy and fun with Fringey Crochet Bunting! Crochet granny triangles are  made seperately, fancied up with some fringe and joinined with a simple crochet chain. Caron® Cotton Cakes™ is available in a range of solid and variegated shades, making it easy to find just the right fit for your home!
Step 1
Adding a cool, boho vibe to your living space is easy and fun with Fringey Crochet Bunting! Crochet granny triangles are made seperately, fancied up with some fringe and joinined with a simple crochet chain. Caron® Cotton Cakes™ is available in a range of solid and variegated shades, making it easy to find just the right fit for your home! MEASUREMENTS: Approx. 8" [20.5 cm] tall x 50" [127 cm] long (excluding ties) GAUGE: 14 sts and 7 rows = 4" [10 cm] in pat INSTRUCTIONS: Bunting Motifs (Make10) Note: Knot fringe onto Bunting as you finish each Motif. Ch 3 at beg of rnd counts as dc. Ch 4. Rnd 1: (RS) (2 dc. Ch 2. 3 dc. Ch 2. 3 dc. Ch 2) all in 4th ch from hook. Join with sl st to top of ch-3. Rnd 2: Ch 4 (counts as dc, ch 1.) *(3 dc. Ch 2. 3 dc) all in next ch-2 sp. Ch 1. Rep from * once more. (3 dc. Ch 2. 2 dc) all in next ch-2 sp. Join with sl st to 3rd ch of ch-4. Rnd 3: Ch 3. 2 dc in ch-1 sp. Ch 1. *(3 dc. Ch 2. 3 dc) all in next ch-2 sp. Ch 1. 3 dc in next ch-1 sp. Ch 1. Rep from * once more. (3 dc. Ch 2. 3 dc) all in next ch-2 sp. Ch 1. Join with sl st to top of ch-3. Rnd 4: Ch 4 (counts as dc, ch 1.) 3 dc in next ch-1 sp. Ch 1. *(3 dc. Ch 2. 3 dc) all in next ch-2 sp. Ch 1. (3 dc in next ch-1 sp. Ch 1) twice. Rep from * once more. (3 dc. Ch 2. 3 dc) all in next ch-2 sp. Ch 1. 2 dc in next ch-1 sp. Join with sl st to 3rd ch of ch-4. Fasten off. Fringe Cut strands of yarn 10" [25.5 cm] long. Take one strand and fold it in half. Knot it into fringe along two sides of Bunting Motif and trim evenly, as shown in picture. Ties and Joining Ch 20 (tie). With RS facing, join tie with sl st to top right ch-2 sp of Bunting. Work sc evenly across all Bunting Motifs to join, working 1 sc in each ch-2 corner sp. Ch 20 (tie). Fasten off. ABBREVIATIONS: Approx = Approximately Beg = Begin(ning)(s) Ch = Chain Dc = Double Crochet Pat = Pattern Rep = Repeat Rnd(s) = Round(s) RS = Right Side Sc = Single Crochet Sl st = Slip Stitch Sp(s) = Space(s) St(s) = Stitch(es)
https://www.michaels.com/caron%C2%AE-cotton-cakes%E2%84%A2-fringey-crochet-bunting/B_87474.html
https://www.michaels.com/caron-cotton-cakes-yarn/10584327.html
Step 1
Adding a cool, boho vibe to your living space is easy and fun with Fringey Crochet Bunting! Crochet granny triangles are made seperately, fancied up with some fringe and joinined with a simple crochet chain. Caron® Cotton Cakes™ is available in a range of solid and variegated shades, making it easy to find just the right fit for your home! MEASUREMENTS: Approx. 8" [20.5 cm] tall x 50" [127 cm] long (excluding ties) GAUGE: 14 sts and 7 rows = 4" [10 cm] in pat INSTRUCTIONS: Bunting Motifs (Make10) Note: Knot fringe onto Bunting as you finish each Motif. Ch 3 at beg of rnd counts as dc. Ch 4. Rnd 1: (RS) (2 dc. Ch 2. 3 dc. Ch 2. 3 dc. Ch 2) all in 4th ch from hook. Join with sl st to top of ch-3. Rnd 2: Ch 4 (counts as dc, ch 1.) *(3 dc. Ch 2. 3 dc) all in next ch-2 sp. Ch 1. Rep from * once more. (3 dc. Ch 2. 2 dc) all in next ch-2 sp. Join with sl st to 3rd ch of ch-4. Rnd 3: Ch 3. 2 dc in ch-1 sp. Ch 1. *(3 dc. Ch 2. 3 dc) all in next ch-2 sp. Ch 1. 3 dc in next ch-1 sp. Ch 1. Rep from * once more. (3 dc. Ch 2. 3 dc) all in next ch-2 sp. Ch 1. Join with sl st to top of ch-3. Rnd 4: Ch 4 (counts as dc, ch 1.) 3 dc in next ch-1 sp. Ch 1. *(3 dc. Ch 2. 3 dc) all in next ch-2 sp. Ch 1. (3 dc in next ch-1 sp. Ch 1) twice. Rep from * once more. (3 dc. Ch 2. 3 dc) all in next ch-2 sp. Ch 1. 2 dc in next ch-1 sp. Join with sl st to 3rd ch of ch-4. Fasten off. Fringe Cut strands of yarn 10" [25.5 cm] long. Take one strand and fold it in half. Knot it into fringe along two sides of Bunting Motif and trim evenly, as shown in picture. Ties and Joining Ch 20 (tie). With RS facing, join tie with sl st to top right ch-2 sp of Bunting. Work sc evenly across all Bunting Motifs to join, working 1 sc in each ch-2 corner sp. Ch 20 (tie). Fasten off. ABBREVIATIONS: Approx = Approximately Beg = Begin(ning)(s) Ch = Chain Dc = Double Crochet Pat = Pattern Rep = Repeat Rnd(s) = Round(s) RS = Right Side Sc = Single Crochet Sl st = Slip Stitch Sp(s) = Space(s) St(s) = Stitch(es)
+ View More