Caron® Latte Cakes™ Yarn
Caron® Latte Cakes™ Yarn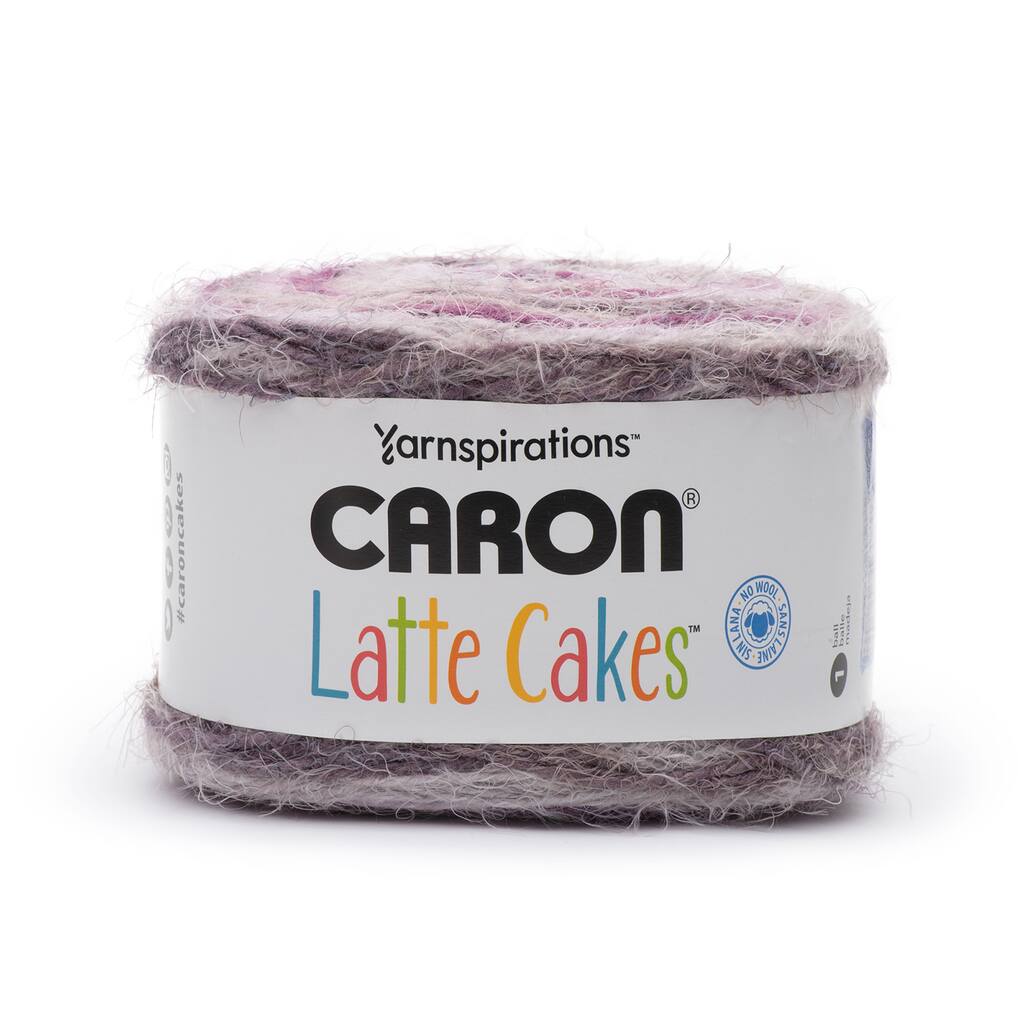 Details
https://www.michaels.com/caron-latte-cakes-yarn/M20000981.html
Variations
Please Select a Color

Size:

Please Select a Size
---
This multipurpose yarn can be used for knitting, crocheting and a variety of crafts, Caron Latte Cakes yarn is ideal for any project! Its versatile worsted weight is great for garments, accessories and home décor projects. Available in a range of vibrant, variegated shades, each ball features five bright colors.

Weight: Bulky (5)

Contents: 58% Acrylic 42% Nylon
Skein Weight: 8.8 oz / 250 g
Yardage: 530 yd / 485 m

Knitting Gauge:
15 sts - 20 rows = 4" (6.5 cm)
Crochet Gauge:
12 sc - 13 rows = 4" (6.5 cm)

Suggested Knitting Needle:
6.5 mm, US - 10
Suggested Crochet Hook:
6.5 mm, US - H/10

This multipurpose yarn can be used for knitting, crocheting and a variety of crafts, Caron Latte Cakes yarn is ideal for any project! Its versatile worsted weight is great for garments, accessories and home décor projects. Available in a range of vibrant, variegated shades, each ball features five bright colors.

Weight: Bulky (5)

Contents: 58% Acrylic 42% Nylon
Skein Weight: 8.8 oz / 250 g
Yardage: 530 yd / 485 m

Knitting Gauge:
15 sts - 20 rows = 4" (6.5 cm)
Crochet Gauge:
12 sc - 13 rows = 4" (6.5 cm)

Suggested Knitting Needle:
6.5 mm, US - 10
Suggested Crochet Hook:
6.5 mm, US - H/10

jump
---
This multipurpose yarn can be used for knitting, crocheting and a variety of crafts, Caron Latte Cakes yarn is ideal for any project! Its versatile worsted weight is great for garments, accessories and home décor projects. Available in a range of vibrant, variegated shades, each ball features five bright colors.

Weight: Bulky (5)

Contents: 58% Acrylic 42% Nylon
Skein Weight: 8.8 oz / 250 g
Yardage: 530 yd / 485 m

Knitting Gauge:
15 sts - 20 rows = 4" (6.5 cm)
Crochet Gauge:
12 sc - 13 rows = 4" (6.5 cm)

Suggested Knitting Needle:
6.5 mm, US - 10
Suggested Crochet Hook:
6.5 mm, US - H/10

This multipurpose yarn can be used for knitting, crocheting and a variety of crafts, Caron Latte Cakes yarn is ideal for any project! Its versatile worsted weight is great for garments, accessories and home décor projects. Available in a range of vibrant, variegated shades, each ball features five bright colors.

Weight: Bulky (5)

Contents: 58% Acrylic 42% Nylon
Skein Weight: 8.8 oz / 250 g
Yardage: 530 yd / 485 m

Knitting Gauge:
15 sts - 20 rows = 4" (6.5 cm)
Crochet Gauge:
12 sc - 13 rows = 4" (6.5 cm)

Suggested Knitting Needle:
6.5 mm, US - 10
Suggested Crochet Hook:
6.5 mm, US - H/10

Shipping & Returns
jump
---
Shipping & Returns
Shipping
Most products may be shipped via standard ground (delivered in 3-5 business days), second day or next day. Orders placed by 11:00 AM Central Time using second day or next day will ship the same day. View Full Shipping Policy and Pricing ›
Returns
If your Michaels.com purchase does not meet your satisfaction, you may return it within two months (60 days) of purchase. To return an item (excluding sample products), the item must be new, unused and in its original packaging. You may return the item to a Michaels store or by mail. View Full Return Policy ›
From the Manufacturer
jump
Customer Reviews
Caron® Latte Cakes™ Yarn
is rated out of
5
by
35
.
Rated

5

out of

5
by
ElaineS1
from
Caron Latte Cakes Roasted Tomato
Absolutely the BEST yarn that I have ever knitted with. It is so soft, so easy to work with and is beautiful. Looks like silky angora, does NOT shed, and it is actually so very warm to wear. Made the pullover top down and I've had nothing but compliments wearing it. Can't wait to do another pattern!!! Would recommend this for everyone
Date published: 2020-02-14
Rated

5

out of

5
by
Raeanne433
from
Absolutely love my scarfs from this yarn!
So soft and fun to crochet with! Absolutely love my scarfs from this yarn!
Date published: 2020-02-02
Rated

5

out of

5
by
knitting69
from
Love This Yarn
Used for Christmas and everyone has gotten great compliments on their scarves and hats
Date published: 2020-01-26
Rated

5

out of

5
by
MsKnitaholic
from
So Soft!
I love knitting with this yarn, it's very soft and I find it easy to work with. It did not split for me and it does not shed. The only tip I have for anyone using this yarn is do not place your finished projects in the dryer as the fibers will matt together. I wash my cardigans and sweaters that I made with this yarn in the washing machine but lay flat to dry. Once in a while the garments can get some static but I just rub a dryer sheet across them when they are dry and it prevents rectifies the issue.
Date published: 2020-01-18
Rated

5

out of

5
by
Rayb
from
Excellent product
I make a scarf and hat using this and it turn out wonderfully. Very soft to the touch and beautiful.
Date published: 2020-01-07
Rated

1

out of

5
by
Breezy W
from
Did not wash well
Love the colors, made beautiful socks. After machine washing and drying, the yarn does not look the same. They look matted. Such a disappointment!
Date published: 2020-01-06
Rated

4

out of

5
by
Sunni32
from
Super Soft
This yarn is so soft and fun to work with. I love seeing the color changes. The only downside is I can never seem to get it! Michael's needs to work on the supply and demand because it is always out of stock.
Date published: 2019-12-30
Rated

5

out of

5
by
DebbsSeattle
from
Additional yarn feedback from DebbsSeattle
I keep having folks ask me about my Latte Cakes creations out in the world...big question: Does it shed? Answer NO. At most a couple stray fibers during use but less than regular worsted weight acrylic yarn. Second question: Is it hard to work? Possibly for an absolute green beginner but other wise NO as long as you use a larger than normal hook or needle size. I have not done fancy stitches. They would be lost in the fuzzy yarn fabric. Keep it simple for best, easiest and fastest results. My favorite project so far is knit asymmetric scarf done in garter stitch with US13 circular needles. Utilizing the knit front back and knit 2together is simple even with the fluff. I have now made 4 of these for the ladies who have threatened to steal my scarf when I'm not looking. Only thing that is "kinda" negative is that it has no stretch whatsoever so I've switched to using a stretchy cast on and bind off and been very careful with tension when using two skeins at once while carrying yarn up the side to avoid any not stretchy spots. I have decided I like this yarn both knit and crochet but DO prefer knit and prefer garter stitch over stockinette. Still need to try stockinette on US15 needles. I may like that better than the US13 fabric I made.
Date published: 2019-12-19
Rated

4

out of

5
by
Yarnavor
from
Oh so soft
I really love this yarn, it soft, silky and easy to work with whether knitting or crocheting. I'm make a ton of infinity scarves for Christmas gifts. After the holidays I will expand you work for selling. There is one problem I am encountering, Micheal doesn't keep up with the colors that are available for the projects I am working. I suggest the buyer that works with Michael stores keep an eye on the top selling colors and order enough from the distributors for customer availability
Date published: 2019-12-03
Rated

5

out of

5
by
boujeebb
from
Unbelievably Soft and Easy to work with
This is the softest yarn I have used. ever. It looks like it would be hard to work with due to how fuzzy it is; however, it has a lot of stretch and suprisingly does not knot when frogging
Date published: 2019-11-30
Rated

5

out of

5
by
Iheartyarn789
from
Very soft!
I used two skeins together. Made fingerless gloves, a slouchy hat(with a pom) and a cowl. It is kind of hard to see the stitches sometimes, but it was worth it. It makes very soft fabric and is not itchy, which was a concern of mine at first.
Date published: 2019-11-30
Rated

3

out of

5
by
Ocean in motion
from
This product did not hold up
It works up easily. It frogs with some measure of difficulty. But the yarn also broke fairly easily. It is wonderfully soft. I thought it would make a great sweater. But the stitches were unrecognizable.. It worked up as one solid looking piece. Realizing I did not like this look, I tried to FROG it out. Sadly after the thread caught, snagged, and broke, I had to throw it out. I worked up some boot socks next with an easy front post stitch. They look and feel great. But I did not frog, and the color is very muted. I don't feel these socks will hold up in the wash for long.And toes will break through the stitches. Will not purchase again. Softest acrylic yarn ever! Dang.
Date published: 2019-11-25
Rated

2

out of

5
by
AliceC75
from
Yarn cakes online
This review is not about the yarn, I haven't worked with it because I can't see the color online and I don't want to drive a half hour to get there if it's not in stock. Why do you show a picture of the front label and not the top view so you can actually see the colors in your cake yarns? I clicked on Caron Latte Cakes to view the yarn not the label.
Date published: 2019-11-22
Rated

1

out of

5
by
Tigerinflight
from
Almost impossible to knit
This yarn is silky soft, but it is an agony to actually knit anything other than a straight knit. I can't do things like knit front and back, or knit two together, etc. I've been at this for almost twenty minutes, and I've only managed to do four increases. It's also not bulky by any stretch of the imagination.
Date published: 2019-11-10
Rated

5

out of

5
by
purlsnap
from
So soft and easy to knit
Pros: I loved working with this yarn! It's so soft! Being a fuzzy yarn I was worried about it being difficult to work with but actually it was a dream and not too difficult to see your knit stitches. So far I've only made a hat but have plans for more projects. The long stripe pattern worked out beautifully and it has a nice drape. So far it doesn't shed. Cons: Only thing is I would not consider it a bulky yarn at all. So that is misleading. I would consider it a medium weight yarn at most. And I wish they showed better pictures of the yarn that shows the color changes.
Date published: 2019-10-14
Rated

3

out of

5
by
GoldGiraffe
from
Nice enough, and yet not quite right.
This yarn is pleasant to work with, true enough, but billing it as bulky when in actuality it could almost be considered light (category 3) is very misleading. I purchased a quantity of cakes with the intention of making lap blankets, hats, and scarves. I don't think this will stand up to the rigors of a Midwestern winter nor handle multiple machine washings without losing its fluffy appearance and texture. Lastly, the colors on this one feel muddy and depressing when worked up. It's fine yarn. "Fine" isn't terrible nor terrific. I *can* work with it and I will, but I don't think I'll purchase it again.
Date published: 2019-10-05
Rated

5

out of

5
by
Mrs Hewett
from
Love it...
Wonderful to work with... so soft. Would love more colours.... White, black
Date published: 2019-10-04
Rated

4

out of

5
by
LucyDawn
from
A breeze to work with!
This has to be one of the softest yarns I have ever knitted with. Works up beautifully. My only advice would be to pull on the Nylon fuzzy threads before purchasing. They weren't securely woven in and easily lifted off one of the cakes I purchased.
Date published: 2019-10-03
Rated

5

out of

5
by
Loreee
from
Soft and easy to work with.
I made a crochet sweater with this, very easy to work with and soft on the skin. I used the 'grinding teal' color. Happy that the cakes are now available in solid colors.
Date published: 2019-09-26
Rated

5

out of

5
by
Yarner 53
from
Soft
Love the texture of this yarn. It flows like silk.
Date published: 2019-09-24
Rated

5

out of

5
by
Gabriella C
from
Amazingly Beautiful
I also was hesitant on buying this yarn but I was amazed at how it was easy to crochet and the softness against the skin is so beautiful. I will definitely be buying more of this yarn.
Date published: 2019-09-20
Rated

5

out of

5
by
PattyCakes19
from
Absolute softness
These latte cakes are so wonderful to work with. They are extremely soft and the colors are beautiful. I love making shawls with them or adding them to a garment.
Date published: 2019-09-19
Rated

5

out of

5
by
TC62
from
Thanks for bringing it back!!
Latte cakes is by far my FAVORITE yarn! This yarn knits up beautifully, looks like angora, feels like a dream! I have 2 huge orders so far. My only disappointment is : I wish Caron would do some pink shades. (Perhaps lilac, baby blue?) Please keep it coming, (I had to find it on eBay when it was discontinued)
Date published: 2019-09-18
Rated

5

out of

5
by
lostarts
from
Soft and Warm!
I made a fringed shawl with this and absolutely LOVE it! It feels so nice and looks so good. It feels like it loves me back. The yarn is easy to knit with, and gives you a fuzzy surface without all the aggravation that you usually have with anything fuzzy. There are only two things that could be improved with this yarn: Michaels should carry it year 'round! This is NOT a seasonal yarn, and, even if it were, people make Christmas presents all year! Also, you need to show the top view. The stripes look almost like solids in the photos you include! How can we see what we're buying? The photos show a great shot of the label, but we need to see the YARN!
Date published: 2019-09-13
Rated

5

out of

5
by
Tenshi210
from
Wonderful Product!
I love Caron yarn and its always my go to yarn. When I was looking to start a project I could not put this yarn down. It was so soft and I loved the colors. I was slightly hesitant to buy it because the texture and fluff worried me but it was so easy to work with. The Project I made was a almost 3 foot Granny square blanket that took 2 balls of yarn. I was very satisfied with the quality of the yarn because it was so easy to pull when making my blanket. Took me 2 days to finish the project and I would say less than 12 hrs to make. Since it didn't have to stop for knots it made my project a breeze! I will definitely be buying this again for a personal project for myself! I would highly recommend this yarn.
Date published: 2019-09-03
Rated

5

out of

5
by
Petersonartsstudio
from
Delicious yarn to work with!
I got just one skein of this when it was in the store. It's gorgeous! Lovely in your hands to work with, and beautiful products. Went back to buy more, and found out our store is no longer carrying it. Excited to see it's back.
Date published: 2019-08-29
Rated

5

out of

5
by
Nanarln
from
Soft, fluffy and a dream to knit or crochet
Love, love, love this yarn. It makes soft knitted or crocheted hats for chemo patients.
Date published: 2019-08-19