Copenhagen™ Yarn By Loops & Threads®
Copenhagen™ Yarn By Loops & Threads®
Copenhagen™ Yarn By Loops & Threads®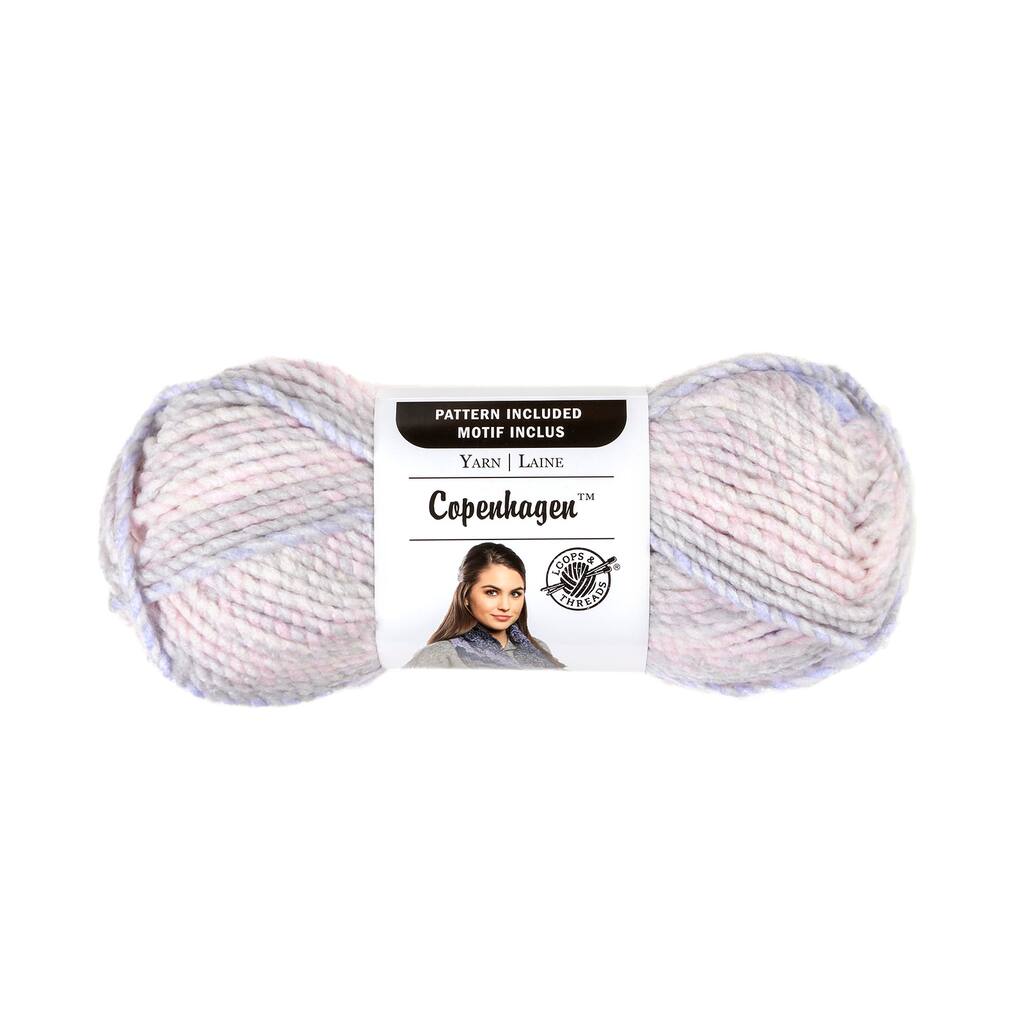 Details
https://www.michaels.com/copenhagen-yarn-by-loops-and-threads-/M20000135.html
Variations
Please Select a Color

Size:

Please Select a Size
---
Indulge your creativity with these exquisite textures and colors of yarn! Ideal for afghans, scarves, cowls and hats, Copenhagen is a wonderfully soft, bulky weight yarn in a variety of colors. This 100% acrylic yarn is easy to use and works up quickly.

Weight: Super Bulky (6)

Contents: 100% Acrylic
Skein Weight: 6.5 oz. / 185 g
Yardage: 131 yd. / 120 m

Knitting Gauge: 8 sts - 10 rows = 4" (10 cm)

Suggested Knitting Needle: 10 mm, US - 15
Suggested Crochet Hook: 10 mm, US - P
Indulge your creativity with these exquisite textures and colors of yarn! Ideal for afghans, scarves, cowls and hats, Copenhagen is a wonderfully soft, bulky weight yarn in a variety of colors. This 100% acrylic yarn is easy to use and works up quickly.

Weight: Super Bulky (6)

Contents: 100% Acrylic
Skein Weight: 6.5 oz. / 185 g
Yardage: 131 yd. / 120 m

Knitting Gauge: 8 sts - 10 rows = 4" (10 cm)

Suggested Knitting Needle: 10 mm, US - 15
Suggested Crochet Hook: 10 mm, US - P
jump
---
Indulge your creativity with these exquisite textures and colors of yarn! Ideal for afghans, scarves, cowls and hats, Copenhagen is a wonderfully soft, bulky weight yarn in a variety of colors. This 100% acrylic yarn is easy to use and works up quickly.

Weight: Super Bulky (6)

Contents: 100% Acrylic
Skein Weight: 6.5 oz. / 185 g
Yardage: 131 yd. / 120 m

Knitting Gauge: 8 sts - 10 rows = 4" (10 cm)

Suggested Knitting Needle: 10 mm, US - 15
Suggested Crochet Hook: 10 mm, US - P
Indulge your creativity with these exquisite textures and colors of yarn! Ideal for afghans, scarves, cowls and hats, Copenhagen is a wonderfully soft, bulky weight yarn in a variety of colors. This 100% acrylic yarn is easy to use and works up quickly.

Weight: Super Bulky (6)

Contents: 100% Acrylic
Skein Weight: 6.5 oz. / 185 g
Yardage: 131 yd. / 120 m

Knitting Gauge: 8 sts - 10 rows = 4" (10 cm)

Suggested Knitting Needle: 10 mm, US - 15
Suggested Crochet Hook: 10 mm, US - P
Shipping & Returns
jump
---
Shipping & Returns
Shipping
Most products may be shipped via standard ground (delivered in 5-7 business days), second day or next day. Orders placed by noon (12:00 PM) Central Time using second day or next day will ship the same day. We also offer a ship-to-store option that allows your order to be delivered to any of our Michaels store locations. View Full Shipping Policy and Pricing ›
Returns
If your Michaels.com purchase does not meet your satisfaction, you may return it within six months (180 days) of purchase. To return an item (excluding sample products), the item must be new, unused and in its original packaging. You may return the item to a Michaels store or by mail. View Full Return Policy ›
jump
Customer Reviews
Copenhagen™ Yarn By Loops & Threads®
is rated out of
5
by
43
.
Rated

3

out of

5
by
Nikki Jo
from
Hard to find.
I bought 4 skeins of this in "Candlelight" to try out. It's so soft and pretty, that I decided to make a blanket. I went back to buy more and it's sold out. It's sold out at literally every store in a 100 mile raduis and completely sold out online too. I guess I'll rip out the blanket I started and make a scarf, I'm really disappointed.
Date published: 2019-01-13
Rated

2

out of

5
by
Mcrosby57
from
Does not wash well
I bought 6 skeins and knit a blanket in simple knit and purl stitches with US 19 knitting needles. I measured gauge of my knitting before starting. Lots of knots and varying thickness throughout the skeins, which really doesn't bother me as it gives the handmade look. I finished project, reread directions for washing. Washed in our front load washer, cold water, gentle and dried in front load dryer on gentle. Blanket lost all its soft, bulky touchaility. It is pilled in many areas. It did not shrink or pull up but it does not wash well. There is a reason this yarn is for sale....... I am going back to Bernat and Red Heart dependability.
Date published: 2019-01-13
Rated

5

out of

5
by
Ttqali1
from
So soft great for hats
Great chunky yarn for making slouch hats and beanies.
Date published: 2019-01-10
Rated

5

out of

5
by
ixrayuwalker
from
This is wonderful yarn!
The color, thickness, and softness of this yarn is awesome and at a great price! It works up fast and is very warm. Yes, there are some knots in the yarn (I've went through about 25 skeins to make a large bedspread) and as long as your not a beginner, you'll know how to hide those knots within stitches, so it doesn't bother me one bit, especially when you have to connect other skeins together to make a blanket anyway. It does get a bit fuzzy but doesn't shed like most soft bulky or oversized yarn. It's a winner for me and I'm currently making a throw blanket for my daughter. You just have to know how to work with it.
Date published: 2019-01-06
Rated

5

out of

5
by
Kathy 824
from
Beautiful result
Love the color combination and the quality of the yarn
Date published: 2018-12-29
Rated

5

out of

5
by
Nanaboo
from
Soft and works up quickly.
I crochet about 8/10 hours a day. This may be my favorite new yarn.
Date published: 2018-12-24
Rated

5

out of

5
by
Tmevans
from
Easy to work with
This yarn was soft thick and easy to work with. Made beautiful scarves
Date published: 2018-12-23
Rated

5

out of

5
by
WomanInDepth
from
Wow! I love this yarn
I decided to try this #6 yarn as I wanted to make a hat that was warm but didn't scrunch my head. I made a hat in one hour without a pattern, then I made a scarf that perfectly fits my neck and leg warmers. It's really cold where I live. When I wear this combo to the mall or even to the office I get a lot of compliments. It's amazing. The only downside is that in my area, they didn't order enough of the color I used so I could make some for Xmas. Everyone wants the color I chose for these items.
Date published: 2018-12-23