Craft Smart® Value™ Yarn
Craft Smart® Value™ Yarn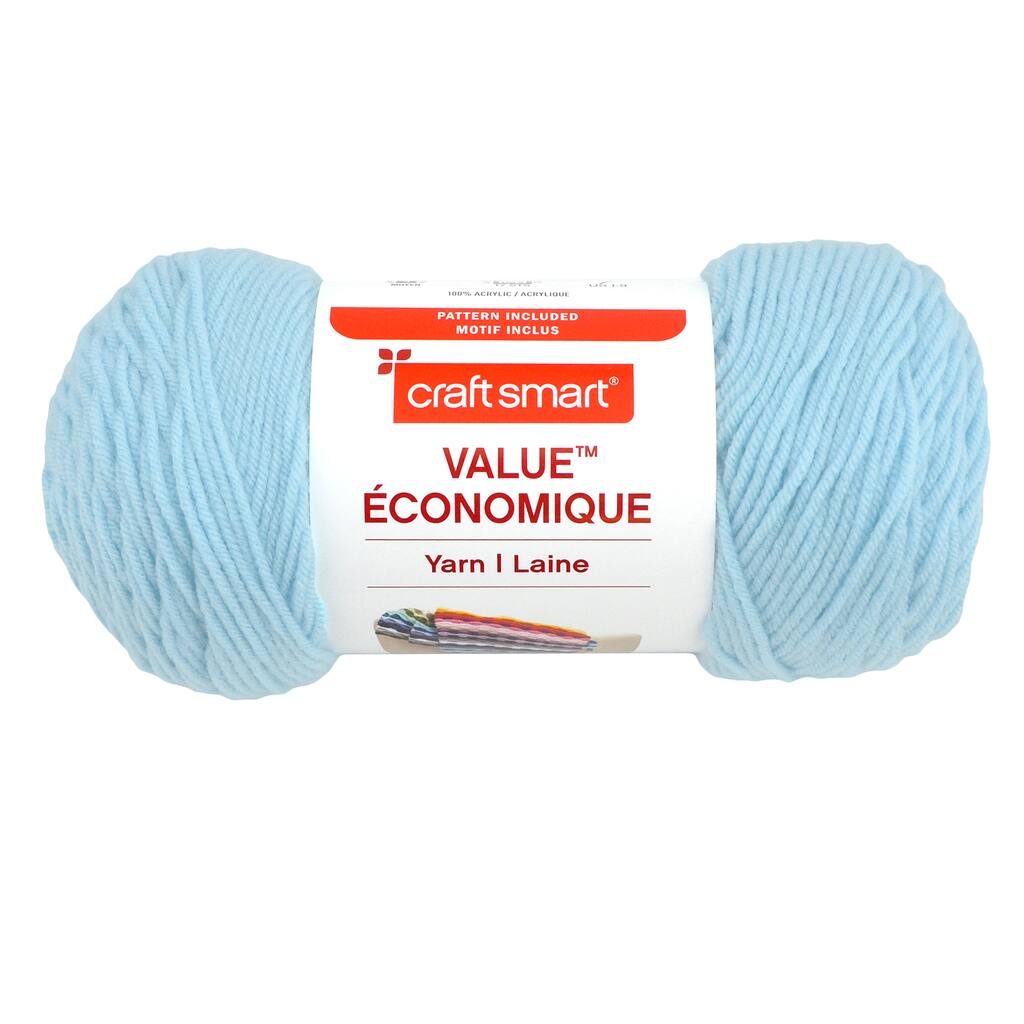 Details
https://www.michaels.com/craft-smart-value-yarn/10626702.html
Variations
Size:

Please Select a Size
---
Inspiring colors for every hook, stitch and purl! This delightful yarn is available in a colorful palette of vivid solids. An outstanding value and only available at Michaels.

Weight: Medium (4)

Contents: 100% acrylic
Skein Weight: 7 oz. / 198 g
Yardage: 354 yd. / 324 m

Knitting Gauge: 17 sts - 23 rows = 4" (10 cm)

Suggested Knitting Needle: 5.5 mm, US - 9
Suggested Crochet Hook: 5.5 mm, US - I/9
Inspiring colors for every hook, stitch and purl! This delightful yarn is available in a colorful palette of vivid solids. An outstanding value and only available at Michaels.

Weight: Medium (4)

Contents: 100% acrylic
Skein Weight: 7 oz. / 198 g
Yardage: 354 yd. / 324 m

Knitting Gauge: 17 sts - 23 rows = 4" (10 cm)

Suggested Knitting Needle: 5.5 mm, US - 9
Suggested Crochet Hook: 5.5 mm, US - I/9
jump
---
Inspiring colors for every hook, stitch and purl! This delightful yarn is available in a colorful palette of vivid solids. An outstanding value and only available at Michaels.

Weight: Medium (4)

Contents: 100% acrylic
Skein Weight: 7 oz. / 198 g
Yardage: 354 yd. / 324 m

Knitting Gauge: 17 sts - 23 rows = 4" (10 cm)

Suggested Knitting Needle: 5.5 mm, US - 9
Suggested Crochet Hook: 5.5 mm, US - I/9
Inspiring colors for every hook, stitch and purl! This delightful yarn is available in a colorful palette of vivid solids. An outstanding value and only available at Michaels.

Weight: Medium (4)

Contents: 100% acrylic
Skein Weight: 7 oz. / 198 g
Yardage: 354 yd. / 324 m

Knitting Gauge: 17 sts - 23 rows = 4" (10 cm)

Suggested Knitting Needle: 5.5 mm, US - 9
Suggested Crochet Hook: 5.5 mm, US - I/9
Shipping & Returns
jump
---
Shipping & Returns
Shipping
Most products may be shipped via standard ground (delivered in 4-6 business days), second day or next day. Orders placed by 11:00 AM Central Time using second day or next day will ship the same day. View Full Shipping Policy and Pricing ›
Returns
If your Michaels.com purchase does not meet your satisfaction, you may return it within six months (180 days) of purchase. To return an item (excluding sample products), the item must be new, unused and in its original packaging. You may return the item to a Michaels store or by mail. View Full Return Policy ›
From the Manufacturer
jump
Customer Reviews
Craft Smart® Value™ Yarn
is rated out of
5
by
12
.
Rated

4

out of

5
by
teres911
from
nice yarn
have a lion blanket queen size almost finished but need brown and cannot find it any more....it is the only shade missing ....will you have it again or no...it has been weeks i have been searching for this.
Date published: 2020-10-20
Rated

5

out of

5
by
ellenpran
from
Nice
I am not having any problems with this yarn. Bought 7 skiens of different colors. No knots, not fraying or splitting. Nice and soft . Softer than Caron one ponder. Beautiful fall colors.
Date published: 2020-09-23
Rated

1

out of

5
by
Sharon2222
from
Many knots
I had two knots in just one skein! Then after the knots the yarn was not weaved well and I had to cut out several yards. I ended up not having enough to finish my project and had to go buy more. I will not but this brand again.
Date published: 2020-09-18
Rated

5

out of

5
by
boober
from
So soft
I bought quite a few balls of this yarn to make mittens and I absolutely love it. The softness and colors are just wonderful. Yes, I am definitely buying again!
Date published: 2020-09-14
Rated

5

out of

5
by
vadagirl
from
I like it!
I find this yarn to be thick and soft and easy to work! This is the first time I've tried it and the price is right for 7 oz., especially with a 20% off coupon! I do wish they had a wider selection of colors. I'm crocheting a granny rectangle afghan. I need bright colors, medium and pale colors in the same hues. I'm using a lot of scrap yarn and the muted colors are great for gathering enough yarn to work the outer rows. I like it. I have washed it, but it seems like a great quality yarn for the price!
Date published: 2020-08-23
Rated

2

out of

5
by
Anonymous
from
Not created equal
I accidentally bought a different colour than needed so I decided to crochet a hat. I pulled a good few yards and began the ribbing. Then what I didn't think would happen happened! It started fraying as I pulled the next couple of yards. The ribbing began looking flat and felt really thin. So I decided I wouldn't use that part and ended up cutting at least three yards because of the fraying. I don't get it, this didn't happen at all in a different light colour but it happens in a brighter colour. I noticed the same when using Red Heart super saver. The light colours are alright but darker shades tend to fray. I don't think I'll be buying certain shades again. Oh yeah, there was also a huge fluffy knot.
Date published: 2020-08-07
Rated

3

out of

5
by
Clara J
from
good value, bad photos, bad weight consistency
i find that this yarn is soft and easy to use, but the colours on the website are more than a little bit different in person. also, the weight varies from shades.
Date published: 2020-08-07
Rated

3

out of

5
by
BaileyB
from
Not really my favorite
A little scratcy and heavier than I prefer. Hope it washes out softer. BUT - I'M OVER HALF WAY THRU PROJECT AND AM GOING TO NEED ANOTHER SKEIN OF WHITE AND IT'S NOT AVAILABLE - ANYWHERE! WHITE?? NOT AVAILABLE??? COME ON, MICHAELS!!! GET THE WHITE YARN!!
Date published: 2020-07-27