ASH WATER GEMS PURPL
ASH WATER GEMS PURPL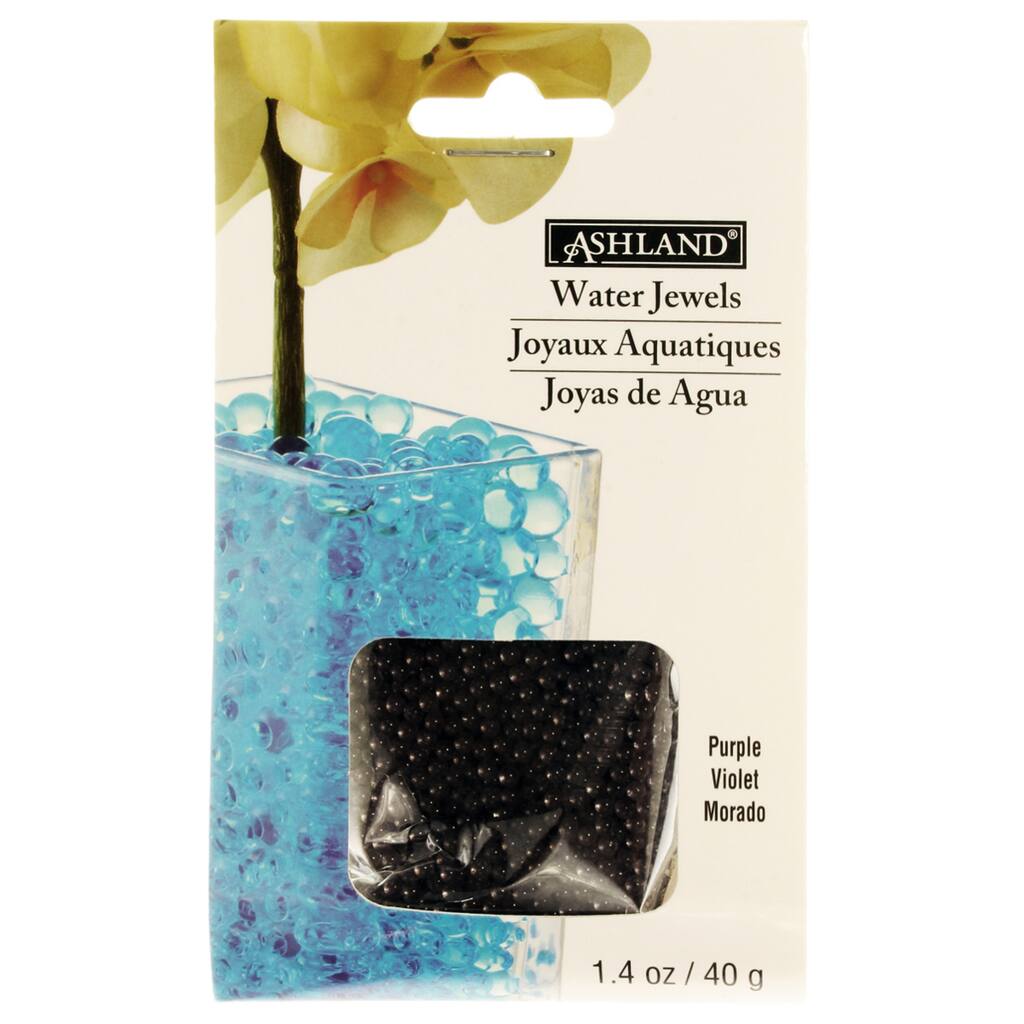 Details
https://www.michaels.com/default/10184065.html
Shipping & Returns
jump
---
Shipping & Returns
Shipping
Most products may be shipped via standard ground (delivered in 4-6 business days), second day or next day. Orders placed by 11:00 AM Central Time using second day or next day will ship the same day. View Full Shipping Policy and Pricing ›
Returns
If your Michaels.com purchase does not meet your satisfaction, you may return it within six months (180 days) of purchase. To return an item (excluding sample products), the item must be new, unused and in its original packaging. You may return the item to a Michaels store or by mail. View Full Return Policy ›
From the Manufacturer
jump
Customer Reviews
ASH WATER GEMS PURPL
is rated out of
5
by
9
.
Rated

1

out of

5
by
CDA9
from
Beware of color bleed for purple!
I bought clear, blue, and purple water gems last week. Clear and blue turned out just fine, but the purple stained my kid's hands, the containers they were in, and the other beads I mixed them with. Blue and white get a thumbs up, but beware the purples. Company needs to figure out a better way to turn gems purple!
Date published: 2019-04-15
Rated

1

out of

5
by
Chemist27
from
Covered in dye powder
Beware of this product. Dry beads are packaged with some form of fine-powdered dye. Fine particles may become airborne and inhaled as you open the package. Even invisible specks of this dye will turn into hard-to-wash stains whenever they get wet, days or weeks later - on your skin, clothes, furniture. The packaging does not specify the kind of dye used, so I am also concerned with health safety - not just the inconvenience of stained skin and clothes.
Date published: 2018-11-03
Rated

2

out of

5
by
pbjellyfish
from
Purple stains (other colors are ok)
The purple color leaves the beads and stains the water as well as anything else it touches. I haven't had issues with any other colors, but the purple is horrible. Tried it twice over the course of 2 years so not a bad batch.
Date published: 2018-04-13
Rated

5

out of

5
by
weddingprepping
from
Big impact with little effort
These gems are really easy to use. Note - they do require some time to become fully pumped, so you can't assume to use them straight from the package.
Date published: 2017-10-20
Rated

2

out of

5
by
CaseyLynn
from
Stains
These beads expanded over night and came out to a fairly average size. The issue is in the powder that they are enveloped in. The powder will stain very easily and once the beads have soaked in all the water with the purple dye powder, they are very purple, very pretty, but don't expect to be able to stick your hands in and play with them or you come out looking more like Violet Beauregarde from Willy Wonka. Not a good look.
Date published: 2017-09-25
Rated

5

out of

5
by
Flowers By Gail
from
Water Gems
The water gems are wonderful! They make more than you think, I got a 1/2 gallon of them. I'm not sure how long they will keep refrigerated but hope they last a few months.
Date published: 2017-08-30
Rated

1

out of

5
by
Gayle E1234
from
Disappointed in the purple water beads
Very unhappy with the purple beads. They stayed on the small size even after soaking for 24 hours. What really made it horrible is that the purple color came out as soon as water was added. The more water you addeed or moved the beads to a vase and added fresh water, the paler they became.
Date published: 2017-08-09
Rated

3

out of

5
by
JennaV
from
Pretty but wow do they stain
I have yet to put these in my centerpieces for my wedding but, I do have to say that these stain ANYTHING they touch. I left them sitting in a bucket of water overnight and they expanded fairly quickly. I did not expect how badly these would stain everything they touch. I am a little nervous to even put these in my centerpieces because I think they will stain my artificial flowers but, we'll see.
Date published: 2017-06-14