Disney® Princess Sticker Sheets, 4ct
Disney® Princess Sticker Sheets, 4ct
Online Only
Disney® Princess Sticker Sheets, 4ct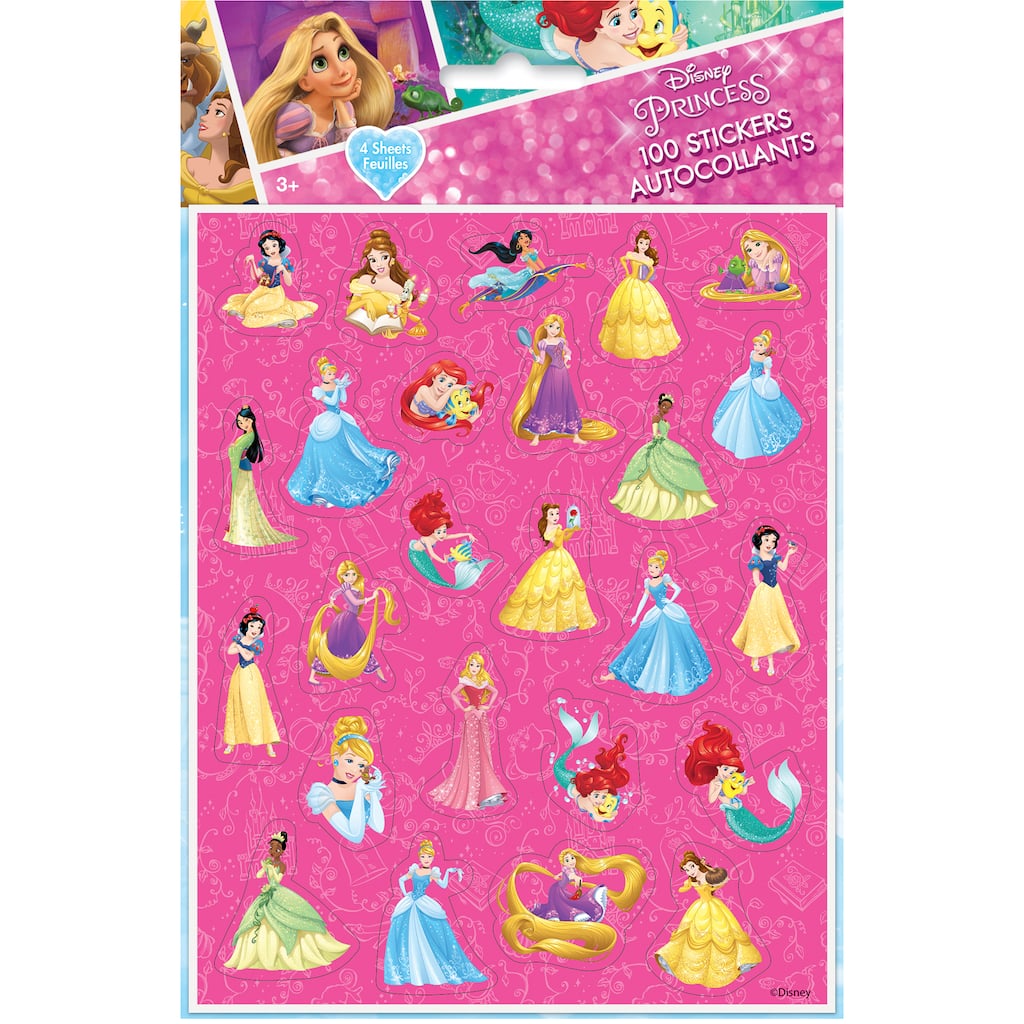 Details
https://www.michaels.com/disney-princess-sticker-sheets-4ct/D039821S.html
---
Put some princess power on any of your belongings with these fun Disney Princess Sticker Sheets. Including Jasmine, Rapunzel, Ariel, Mulan, and more, these colorful princess stickers are great for decorating kids' notebooks and folders for school. Let your little girl use these stickers to seal the invitations to her princess birthday party. You can also get enough sticker sheets for all your guests and give them out as party favors. Everyone will love discovering pretty princess stickers tucked into their goodie bags.

Details:

• 4 Disney Princess Sticker Sheets
• Each sheet contains 25 Assorted Princess Stickers
• Cute for a girl birthday party or princess themed party
• Use to decorate crafts, scrapbooks, or school supplies
• Add a sheet to goodie bags or give out as game prizes
• Combine with more Disney Princess party supplies
Put some princess power on any of your belongings with these fun Disney Princess Sticker Sheets. Including Jasmine, Rapunzel, Ariel, Mulan, and more, these colorful princess stickers are great for decorating kids' notebooks and folders for school. Let your little girl use these stickers to seal the invitations to her princess birthday party. You can also get enough sticker sheets for all your guests and give them out as party favors. Everyone will love discovering pretty princess stickers tucked into their goodie bags.

Details:

• 4 Disney Princess Sticker Sheets
• Each sheet contains 25 Assorted Princess Stickers
• Cute for a girl birthday party or princess themed party
• Use to decorate crafts, scrapbooks, or school supplies
• Add a sheet to goodie bags or give out as game prizes
• Combine with more Disney Princess party supplies
jump
---
Put some princess power on any of your belongings with these fun Disney Princess Sticker Sheets. Including Jasmine, Rapunzel, Ariel, Mulan, and more, these colorful princess stickers are great for decorating kids' notebooks and folders for school. Let your little girl use these stickers to seal the invitations to her princess birthday party. You can also get enough sticker sheets for all your guests and give them out as party favors. Everyone will love discovering pretty princess stickers tucked into their goodie bags.

Details:

• 4 Disney Princess Sticker Sheets
• Each sheet contains 25 Assorted Princess Stickers
• Cute for a girl birthday party or princess themed party
• Use to decorate crafts, scrapbooks, or school supplies
• Add a sheet to goodie bags or give out as game prizes
• Combine with more Disney Princess party supplies
Put some princess power on any of your belongings with these fun Disney Princess Sticker Sheets. Including Jasmine, Rapunzel, Ariel, Mulan, and more, these colorful princess stickers are great for decorating kids' notebooks and folders for school. Let your little girl use these stickers to seal the invitations to her princess birthday party. You can also get enough sticker sheets for all your guests and give them out as party favors. Everyone will love discovering pretty princess stickers tucked into their goodie bags.

Details:

• 4 Disney Princess Sticker Sheets
• Each sheet contains 25 Assorted Princess Stickers
• Cute for a girl birthday party or princess themed party
• Use to decorate crafts, scrapbooks, or school supplies
• Add a sheet to goodie bags or give out as game prizes
• Combine with more Disney Princess party supplies
Shipping & Returns
jump
---
Shipping & Returns
Shipping
Most products may be shipped via standard ground (delivered in 3-5 business days), second day or next day. Orders placed by 11:00 AM Central Time using second day or next day will ship the same day. View Full Shipping Policy and Pricing ›
Returns
If your Michaels.com purchase does not meet your satisfaction, you may return it within two months (60 days) of purchase. To return an item (excluding sample products), the item must be new, unused and in its original packaging. You may return the item to a Michaels store or by mail. View Full Return Policy ›
From the Manufacturer
jump
Customer Reviews
Disney® Princess Sticker Sheets, 4ct
is rated out of
5
by
2
.
Rated

2

out of

5
by
ron68
from
"Dollar store" quality but too expensive
These are dollar store quality. I just saw some very much the same at the store for less Add shipping and you have a very expensive low quality sticker.
Date published: 2021-09-20
Rated

5

out of

5
by
Shirl Mae
from
My granddaughter like these stickers!
Very nice stickers for the price. My granddaughter preferred the puffy ones but these are nice also and you get 4 sheets per package.
Date published: 2018-06-30