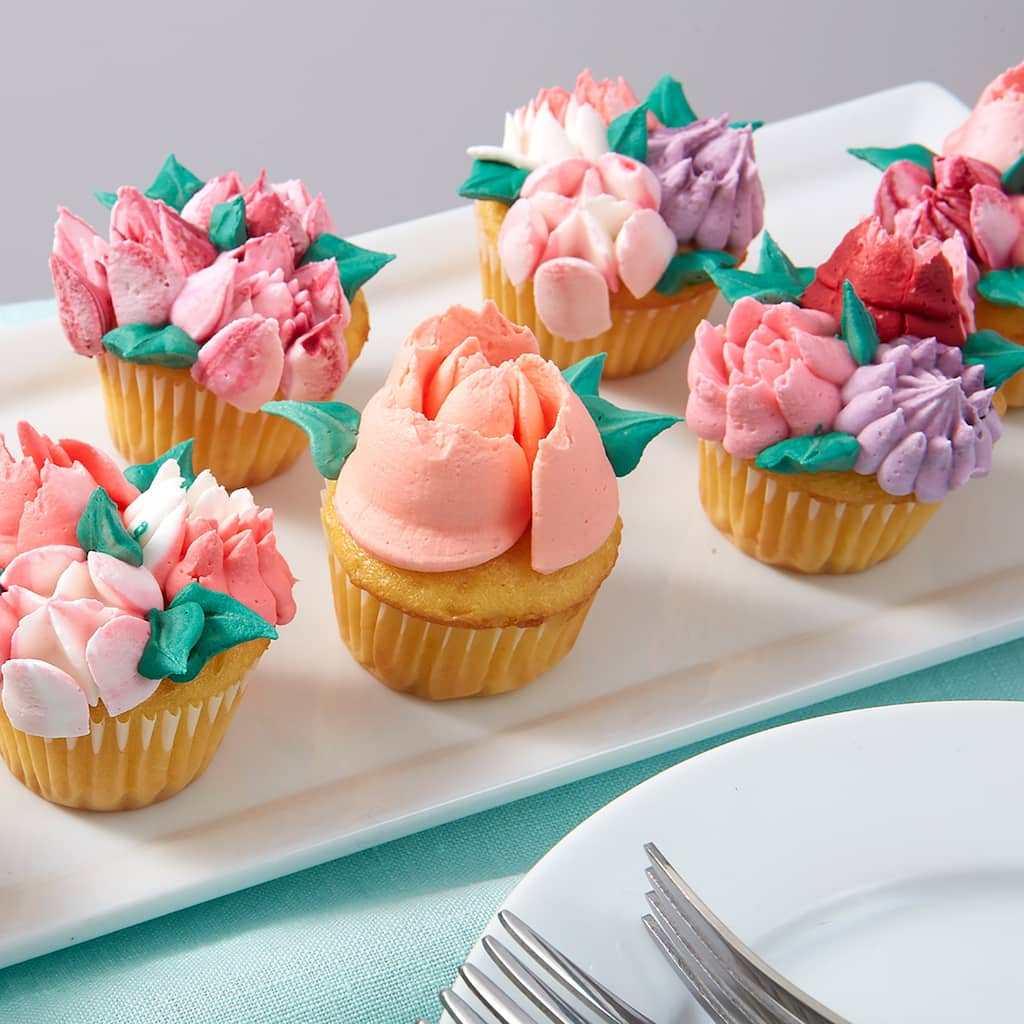 Over an hour
Intermediate
Intermediate
You're somewhat experienced with the skills necessary to complete this project, but you haven't mastered all the elements, yet.
easy bloom mini cupcakes
Piping buttercream flowers is easy and fun with this Easy Blooms Mini Cupcakes project. By combining various shades of icing and different Easy Blooms tips, you can decorate mini cupcakes with just one squeeze of the bag. Pipe lovely roses and mums, then add some buttercream leaves to make your cupcakes come to life! This would be a great project for Mother's Day, birthdays or even a spring wedding shower.
Step 1
Piping buttercream flowers is easy and fun with this Easy Blooms Mini Cupcakes project. By combining various shades of icing and different Easy Blooms tips, you can decorate mini cupcakes with just one squeeze of the bag. Pipe lovely roses and mums, then add some buttercream leaves to make your cupcakes come to life! This would be a great project for Mother's Day, birthdays or even a spring wedding shower. Project Note: Use Color Right™ base colors and QuickCount™ color formulas to tint icing in the following shades: Dark Green: 1 Cup White Icing + 3Y + 13B + 1BR Light Green: 1 Cup White Icing + 1B + 1Y + Touch of BR Purple: 1 Cup White Icing + 6CR + 10P + 2BK + 3B Coral: 1 Cup White Icing + 5P + 2Y + 1R Yellow: 1 Cup White Icing + 5Y + 1O Pink: 1 Cup White Icing + 1BK + 12R + 36P Peach: 1 Cup White Icing + 2R + 2Y Turquoise:1 Cup White Icing + 1Y + 13B Red: 1 Cup White Icing + 18R + 10CR + 2P + Touch of BK + Touch of B Light Purple: 1 Cup White Icing + 1 Tsp. Purple Icing Light Coral: 1 Cup White Icing + 1 Tsp. Coral Icing Light Pink: 1 Cup White Icing + 1 Tsp. Pink Icing. Step 1 Prepare cake batter following recipe instructions. Bake and cool mini cupcakes in white cupcake liners. Step 2 Tint icing following color combinations provided above. Step 3 Prepare a 12" decorating bag with your #352 decorating tip. Using a spatula, stripe the bag with dark and light green icing. Step 4 Prepare two 16" decorating bags separately with the large rose and mum Easy Blooms™ tip. Step 5 Prepare seven 12" decorating bags separately with the small rose and mum Easy Blooms™ tips and five metal specialty tips. Fill as desired with tinted icing. Fill some with solid-color icing and use a spatula to stripe other bags with complementary colors. Step 6 Pipe one large flower or three smaller flowers on cupcakes. Using bag with #352 tip, pipe leaves around flowers. TIP: To learn the technique to pipe leaves, click here: https://www.wilton.com/how-to-make-icing-leaves/WLTECH-164.html#q=leave%2Btechnique&start=9
https://www.michaels.com/easy-bloom-mini-cupcakes/B_86089.html
https://www.michaels.com/disposable-decorating-bags-by-celebrate-it/10327771.html
Favorite Cake Mix (or Recipe) – Vanilla
Electric Mixer
Mixing Spoon
Mixing Bowl
Measuring Cup
Measuring Spoon
1 - Wilton® Angled Spatula 9" (10528562)
1 - Wilton® Tip Set – Easy Bloom (10547599)
1 - Wilton® Decorator's Icing – White (10556068)
Step 1
Piping buttercream flowers is easy and fun with this Easy Blooms Mini Cupcakes project. By combining various shades of icing and different Easy Blooms tips, you can decorate mini cupcakes with just one squeeze of the bag. Pipe lovely roses and mums, then add some buttercream leaves to make your cupcakes come to life! This would be a great project for Mother's Day, birthdays or even a spring wedding shower. Project Note: Use Color Right™ base colors and QuickCount™ color formulas to tint icing in the following shades: Dark Green: 1 Cup White Icing + 3Y + 13B + 1BR Light Green: 1 Cup White Icing + 1B + 1Y + Touch of BR Purple: 1 Cup White Icing + 6CR + 10P + 2BK + 3B Coral: 1 Cup White Icing + 5P + 2Y + 1R Yellow: 1 Cup White Icing + 5Y + 1O Pink: 1 Cup White Icing + 1BK + 12R + 36P Peach: 1 Cup White Icing + 2R + 2Y Turquoise:1 Cup White Icing + 1Y + 13B Red: 1 Cup White Icing + 18R + 10CR + 2P + Touch of BK + Touch of B Light Purple: 1 Cup White Icing + 1 Tsp. Purple Icing Light Coral: 1 Cup White Icing + 1 Tsp. Coral Icing Light Pink: 1 Cup White Icing + 1 Tsp. Pink Icing. Step 1 Prepare cake batter following recipe instructions. Bake and cool mini cupcakes in white cupcake liners. Step 2 Tint icing following color combinations provided above. Step 3 Prepare a 12" decorating bag with your #352 decorating tip. Using a spatula, stripe the bag with dark and light green icing. Step 4 Prepare two 16" decorating bags separately with the large rose and mum Easy Blooms™ tip. Step 5 Prepare seven 12" decorating bags separately with the small rose and mum Easy Blooms™ tips and five metal specialty tips. Fill as desired with tinted icing. Fill some with solid-color icing and use a spatula to stripe other bags with complementary colors. Step 6 Pipe one large flower or three smaller flowers on cupcakes. Using bag with #352 tip, pipe leaves around flowers. TIP: To learn the technique to pipe leaves, click here: https://www.wilton.com/how-to-make-icing-leaves/WLTECH-164.html#q=leave%2Btechnique&start=9
+ View More