Interactive Notebooks: Science, Grade 2
Interactive Notebooks: Science, Grade 2
Online Only
Interactive Notebooks: Science, Grade 2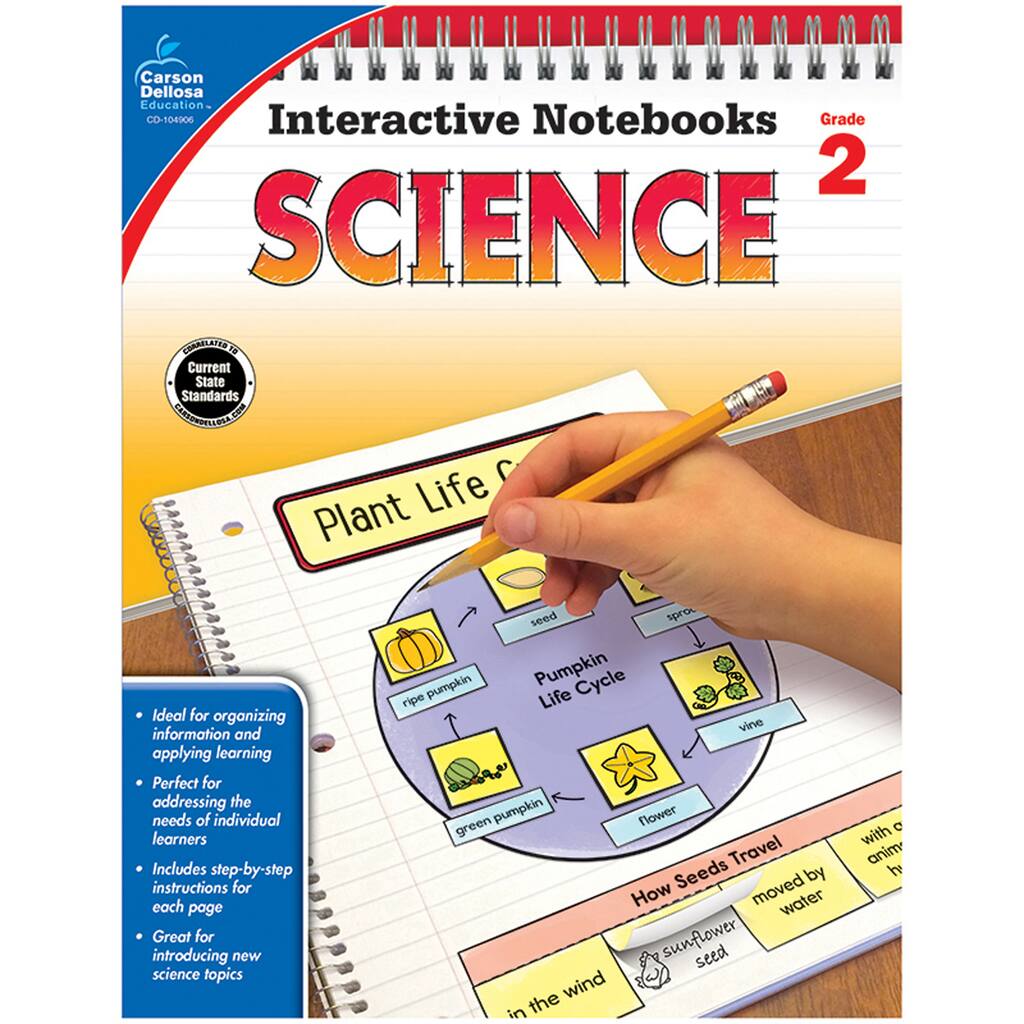 Details
https://www.michaels.com/interactive-notebooks-science-grade-2/D217755S.html
---
Interactive Notebooks: Science for grade 2 is a fun way to teach and reinforce effective note taking for students. Students become a part of the learning process with activities about plant and animal needs, life cycles, matter, sound, the moon, the water cycle, and more! This book is an essential resource that will guide you through setting up, creating and maintaining interactive notebooks for skill retention in the classroom. High-interest and hands-on, interactive notebooks effectively engage students in learning new concepts. Students are encouraged to personalize interactive notebooks to fit their specific learning needs by creating fun, colorful pages for each topic. With this note-taking process, students will learn organization, color coding, summarizing, and other important skills while creating personalized portfolios of their individual learning that they can reference throughout the year. This interactive notebook focuses on 2nd grade science. Reproducibles are included to create notebook pages on a variety of topics, making this series a fun, one-of-a-kind learning experience.

Author: Natalie Rompella
Publisher: Carson Dellosa Education
Format: Paperback
Pages: 96
ISBN: 978-1483831220


Interactive Notebooks: Science for grade 2 is a fun way to teach and reinforce effective note taking for students. Students become a part of the learning process with activities about plant and animal needs, life cycles, matter, sound, the moon, the water cycle, and more! This book is an essential resource that will guide you through setting up, creating and maintaining interactive notebooks for skill retention in the classroom. High-interest and hands-on, interactive notebooks effectively engage students in learning new concepts. Students are encouraged to personalize interactive notebooks to fit their specific learning needs by creating fun, colorful pages for each topic. With this note-taking process, students will learn organization, color coding, summarizing, and other important skills while creating personalized portfolios of their individual learning that they can reference throughout the year. This interactive notebook focuses on 2nd grade science. Reproducibles are included to create notebook pages on a variety of topics, making this series a fun, one-of-a-kind learning experience.

Author: Natalie Rompella
Publisher: Carson Dellosa Education
Format: Paperback
Pages: 96
ISBN: 978-1483831220


jump
---
Interactive Notebooks: Science for grade 2 is a fun way to teach and reinforce effective note taking for students. Students become a part of the learning process with activities about plant and animal needs, life cycles, matter, sound, the moon, the water cycle, and more! This book is an essential resource that will guide you through setting up, creating and maintaining interactive notebooks for skill retention in the classroom. High-interest and hands-on, interactive notebooks effectively engage students in learning new concepts. Students are encouraged to personalize interactive notebooks to fit their specific learning needs by creating fun, colorful pages for each topic. With this note-taking process, students will learn organization, color coding, summarizing, and other important skills while creating personalized portfolios of their individual learning that they can reference throughout the year. This interactive notebook focuses on 2nd grade science. Reproducibles are included to create notebook pages on a variety of topics, making this series a fun, one-of-a-kind learning experience.

Author: Natalie Rompella
Publisher: Carson Dellosa Education
Format: Paperback
Pages: 96
ISBN: 978-1483831220


Interactive Notebooks: Science for grade 2 is a fun way to teach and reinforce effective note taking for students. Students become a part of the learning process with activities about plant and animal needs, life cycles, matter, sound, the moon, the water cycle, and more! This book is an essential resource that will guide you through setting up, creating and maintaining interactive notebooks for skill retention in the classroom. High-interest and hands-on, interactive notebooks effectively engage students in learning new concepts. Students are encouraged to personalize interactive notebooks to fit their specific learning needs by creating fun, colorful pages for each topic. With this note-taking process, students will learn organization, color coding, summarizing, and other important skills while creating personalized portfolios of their individual learning that they can reference throughout the year. This interactive notebook focuses on 2nd grade science. Reproducibles are included to create notebook pages on a variety of topics, making this series a fun, one-of-a-kind learning experience.

Author: Natalie Rompella
Publisher: Carson Dellosa Education
Format: Paperback
Pages: 96
ISBN: 978-1483831220


Shipping & Returns
jump
---
Shipping & Returns
Shipping
Most products may be shipped via standard ground (delivered in 4-6 business days), second day or next day. Orders placed by 11:00 AM Central Time using second day or next day will ship the same day. View Full Shipping Policy and Pricing ›
Returns
If your Michaels.com purchase does not meet your satisfaction, you may return it within six months (180 days) of purchase. To return an item (excluding sample products), the item must be new, unused and in its original packaging. You may return the item to a Michaels store or by mail. View Full Return Policy ›
From the Manufacturer
jump
Customer Reviews
Interactive Notebooks: Science, Grade 2
is rated out of
5
by
6
.
Rated

5

out of

5
by
Jessica C.
from
Science fun
We home school and love using interest I've notebooks to solidify what we've done.
Date published: 2020-09-21
Rated

5

out of

5
by
BRyder
from
Good for home schoolers
I like this style of interactive notebooks. Of the several home school science curriculums our family uses, I find the curriculums don't allow for a hands-on approach for my younger children. They prefer to do something versus just listen to me read. This notebook allows them to use their hands and see what I am reading to them. They are able to retain the information better because of cutting, gluing, and coloring. I recommend this to other moms and dads looking for more than just a science reader curriculum. I am a Carson Dellosa Brand Ambassador and have received this product free for review.
Date published: 2018-01-31
Rated

5

out of

5
by
rlamb
from
notebooking made easy
I love the (for lack of a better word) interactivness of notebooking, but often the cutting and gluing procedure takes too long, especially for kids at this age. These templates are simple enough to be done quickly, yet still serve as a great introcution, review, or quick assessment for the kids! FYI-These interactive templates covered all my standards in NC for 2nd grade
Date published: 2016-06-19
Rated

5

out of

5
by
Liz0518
from
A Great Resource
This notebook covers all of the second grade standards I need for Florida. I love how it gives explicit instructions for how to complete each page. There are pages specifically for the teacher and then there are the pages for the students to cut out and glue into a notebook. I am using composition books for the Interactive Notebooks this year and all of the activities I have used so far fit in them perfectly. This is a great product and I highly recommend it.
Date published: 2016-03-15
Rated

5

out of

5
by
Courtneyb
from
Easy to Use
I love this resource for science interactive notebooks. The templates are so easy to use. I like that they require minimal cutting and assembly. That part usually takes so long that the content is forgotten. My favorite notebook templates were for life cycles. I love the variety that is included in the book. I also love the blank templates so I can use them however I wish.
Date published: 2016-02-22
Rated

5

out of

5
by
teacherfriend
from
A versatile, hands-on resource that includes all my science concepts!
This notebooking resource is a great addition to my science curriculum! I love that it is grade specific and covers all of the science concepts I teach. I was delighted to discover that not only does it include 33 different science concepts, but it also includes 20+ pages of blank notebooking templates and tabs to customize and create your own content. This made differentiating a snap!
Date published: 2016-01-26