Interactive Notebooks: Seasonal Resource Book, Grade 4
Interactive Notebooks: Seasonal Resource Book, Grade 4
Online Only
Interactive Notebooks: Seasonal Resource Book, Grade 4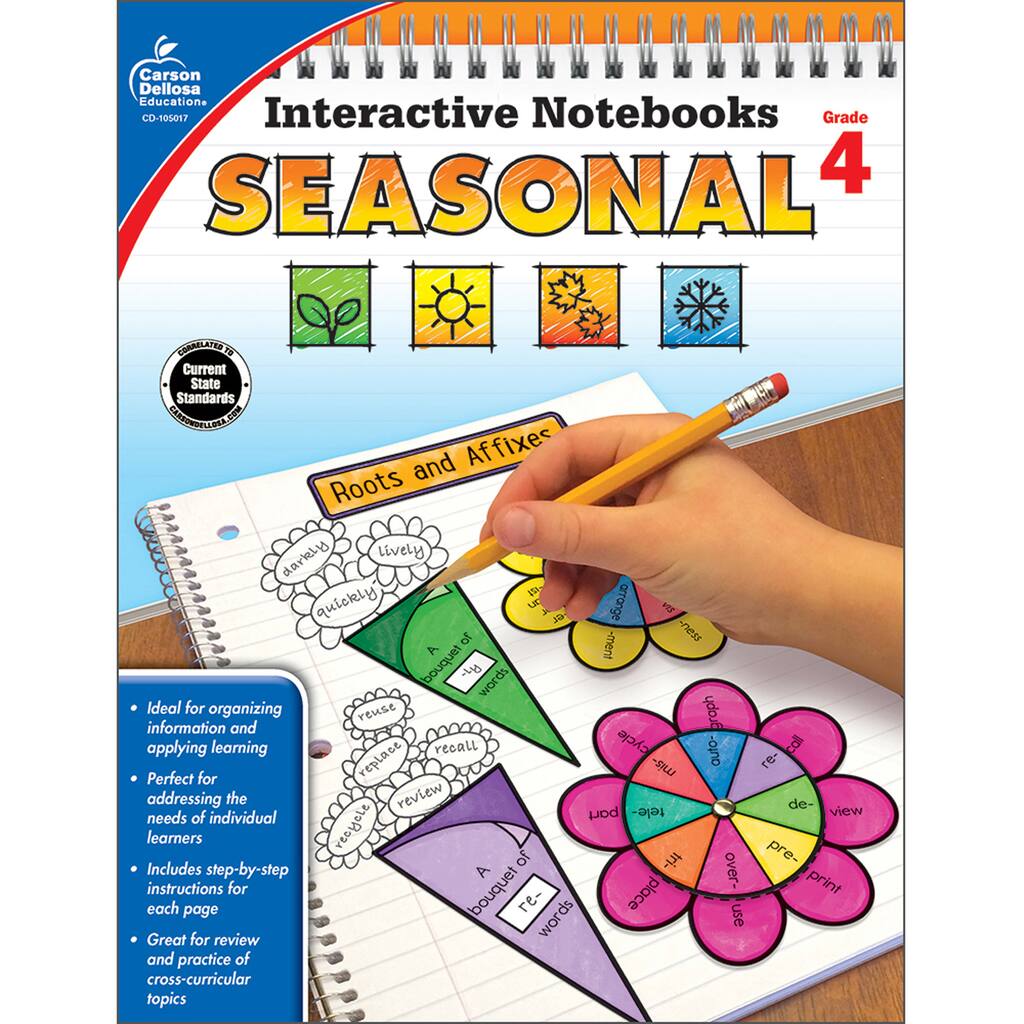 Details
https://www.michaels.com/interactive-notebooks-seasonal-resource-book-grade-4/D230613S.html
---
Time-saving interactive notebooks allow students to show what they know while building excellent note-taking skills. In Interactive Notebooks: Seasonal for fourth grade, students will complete hands-on activities about decomposing fractions, primary and secondary sources, state symbols, measuring angles, and much more. The Interactive Notebook series spans kindergarten to grade 5. Each 96-page book contains a guide for teachers who are new to interactive note-taking, lesson plans and reproducibles for creating notebook pages on a variety of topics, and generic reproducibles for creating even more notebook pages. The books focus on grade-specific math, language arts, science, and social studies skills and are aligned to current state standards.

Author: Carson Dellosa Education
Publisher: Carson Dellosa Publishing
Format: Paperback
Pages: 64
ISBN: 978-1483850283
Time-saving interactive notebooks allow students to show what they know while building excellent note-taking skills. In Interactive Notebooks: Seasonal for fourth grade, students will complete hands-on activities about decomposing fractions, primary and secondary sources, state symbols, measuring angles, and much more. The Interactive Notebook series spans kindergarten to grade 5. Each 96-page book contains a guide for teachers who are new to interactive note-taking, lesson plans and reproducibles for creating notebook pages on a variety of topics, and generic reproducibles for creating even more notebook pages. The books focus on grade-specific math, language arts, science, and social studies skills and are aligned to current state standards.

Author: Carson Dellosa Education
Publisher: Carson Dellosa Publishing
Format: Paperback
Pages: 64
ISBN: 978-1483850283
jump
---
Time-saving interactive notebooks allow students to show what they know while building excellent note-taking skills. In Interactive Notebooks: Seasonal for fourth grade, students will complete hands-on activities about decomposing fractions, primary and secondary sources, state symbols, measuring angles, and much more. The Interactive Notebook series spans kindergarten to grade 5. Each 96-page book contains a guide for teachers who are new to interactive note-taking, lesson plans and reproducibles for creating notebook pages on a variety of topics, and generic reproducibles for creating even more notebook pages. The books focus on grade-specific math, language arts, science, and social studies skills and are aligned to current state standards.

Author: Carson Dellosa Education
Publisher: Carson Dellosa Publishing
Format: Paperback
Pages: 64
ISBN: 978-1483850283
Time-saving interactive notebooks allow students to show what they know while building excellent note-taking skills. In Interactive Notebooks: Seasonal for fourth grade, students will complete hands-on activities about decomposing fractions, primary and secondary sources, state symbols, measuring angles, and much more. The Interactive Notebook series spans kindergarten to grade 5. Each 96-page book contains a guide for teachers who are new to interactive note-taking, lesson plans and reproducibles for creating notebook pages on a variety of topics, and generic reproducibles for creating even more notebook pages. The books focus on grade-specific math, language arts, science, and social studies skills and are aligned to current state standards.

Author: Carson Dellosa Education
Publisher: Carson Dellosa Publishing
Format: Paperback
Pages: 64
ISBN: 978-1483850283
Shipping & Returns
jump
---
Shipping & Returns
Shipping
Most products may be shipped via standard ground (delivered in 4-6 business days), second day or next day. Orders placed by 11:00 AM Central Time using second day or next day will ship the same day. View Full Shipping Policy and Pricing ›
Returns
If your Michaels.com purchase does not meet your satisfaction, you may return it within six months (180 days) of purchase. To return an item (excluding sample products), the item must be new, unused and in its original packaging. You may return the item to a Michaels store or by mail. View Full Return Policy ›
From the Manufacturer
jump
Customer Reviews
Interactive Notebooks: Seasonal Resource Book, Grade 4
is rated out of
5
by
2
.
Rated

5

out of

5
by
SHIRLEY M.
from
Love it
I love all of the Interactive Notebooks Books. I teach ELA. The Seasonal book is just as good. It will provide a review of skills previously taught thoughtoutth different times of the year. I highly recommend this book and all of the Interactive Notebooks books in the series to teachers.
Date published: 2020-07-21
Rated

5

out of

5
by
Wfubatgirl
from
Such a great resource; fun too!
Carson Dellosa interactive notebook resources are such valuable tools in the classroom. I have used reading, math, and science in my classroom for many years. It is a great way to involve students in the learning and allows for movement and activity during the lesson. This seasonal resource book is no exception; the activities are great! I also love how this book has a variety of curriculum content and incorporates it into the year as special occasions occur. I participate in the Brand Ambassador Program for Carson-Dellosa and have received this product for free to review.
Date published: 2019-04-28