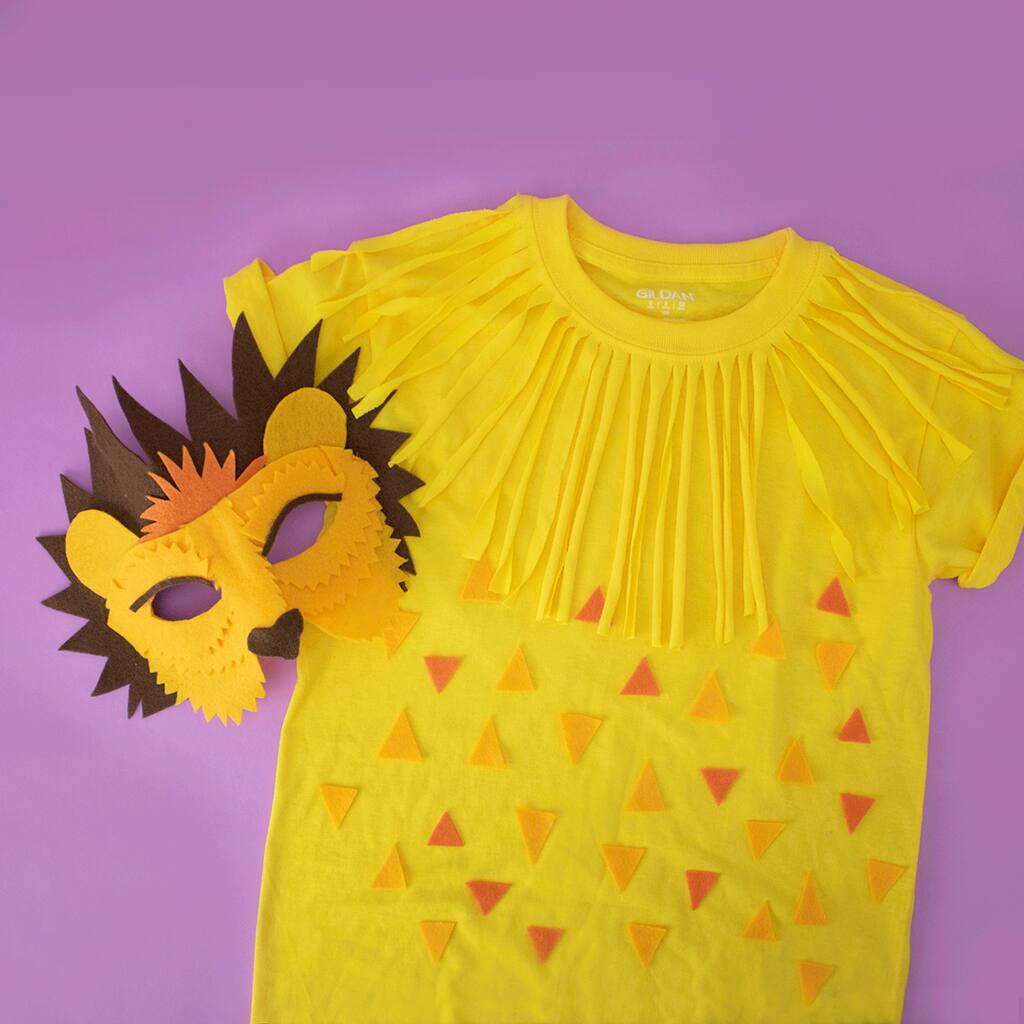 About 30 minutes
Beginner
Beginner
You're new to the skills necessary to complete this project, or maybe you've tried them just once or twice before.
kids lion halloween costume
Putting together a simple costume can still make a big roar! Creating a character or animal doesn't always have to be so literal. A simple t-shirt design paired with a mask makes it easier to decide on last minute and still have something to wear to a costume party!
Step 1
Putting together a simple costume can still make a big roar! Creating a character or animal doesn't always have to be so literal. A simple t-shirt design paired with a mask makes it easier to decide on last minute and still have something to wear to a costume party! Step 1 Lay a yellow shirt flat and cut a wide "U" shape around the collar, creating a "bib". Cut from the edge of one shoulder, down lower across the center (like a "U") and back around to the edge of the other shoulder. Cut through both sides of the shirt. Step 2 Lay the bib flat and cut up towards the collar, creating skinny strips of fringe. Step 3 Once the cuts are finished, pull each piece of fringe so it gets thinner and creates a gap between the strips. Step 4 Layer the fringed over the top of your second yellow shirt like a bib (or necklace). Step 5 Now, cut out small felt triangles from various colors and attach to the un-cut shirt using fabric glue. Let dry. TIP: Place cardboard inside the shirt so the glue doesn't go through. Project Note: For materials and instructions to make the matching mask, click here and enter '87922' in the search field. Share your project photos with #MakeItWithMichaels
https://www.michaels.com/kids-lion-halloween-costume/B_87926.html
Products

876270947

You'll Need:

1

Promotions

Color: Gold
Size: 9" x 12"

Color: Gold
Size: 9" x 12"

Color: Gold
Size: 9" x 12"

876004995

You'll Need:

2

Promotions
https://www.michaels.com/9x12-basic-felt-by-creatology/10572032.html
Step 1
Putting together a simple costume can still make a big roar! Creating a character or animal doesn't always have to be so literal. A simple t-shirt design paired with a mask makes it easier to decide on last minute and still have something to wear to a costume party! Step 1 Lay a yellow shirt flat and cut a wide "U" shape around the collar, creating a "bib". Cut from the edge of one shoulder, down lower across the center (like a "U") and back around to the edge of the other shoulder. Cut through both sides of the shirt. Step 2 Lay the bib flat and cut up towards the collar, creating skinny strips of fringe. Step 3 Once the cuts are finished, pull each piece of fringe so it gets thinner and creates a gap between the strips. Step 4 Layer the fringed over the top of your second yellow shirt like a bib (or necklace). Step 5 Now, cut out small felt triangles from various colors and attach to the un-cut shirt using fabric glue. Let dry. TIP: Place cardboard inside the shirt so the glue doesn't go through. Project Note: For materials and instructions to make the matching mask, click here and enter '87922' in the search field. Share your project photos with #MakeItWithMichaels
+ View More