Krylon® Glitter Blast™ Spray Paint - Cherry Bomb - 5-3/4 oz
*No additional coupons or discounts may be applied.
Krylon® Glitter Blast™ Spray Paint - Cherry Bomb - 5-3/4 oz
Online Only
Promotions
SHIPS FOR FREE
Krylon® Glitter Blast™ Spray Paint - Cherry Bomb - 5-3/4 oz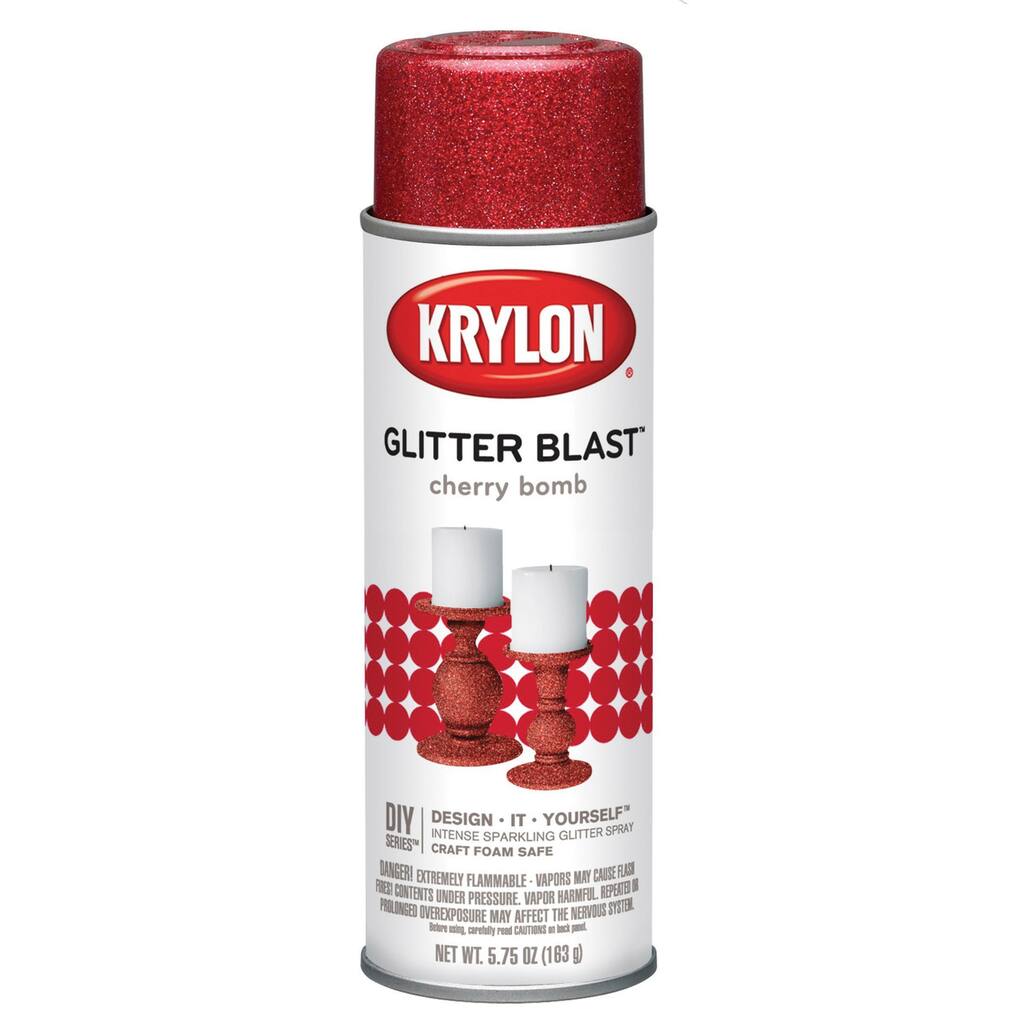 Promotions
SHIPS FOR FREE
Details
https://www.michaels.com/krylon-glitter-blast-spray-paint--cherry-bomb--53-4-oz/D063075S.html
Shipping & Returns
jump
---
Shipping & Returns
Shipping
Most products may be shipped via standard ground (delivered in 5-7 business days), second day or next day. Orders placed by noon (12:00 PM) Central Time using second day or next day will ship the same day. We also offer a ship-to-store option that allows your order to be delivered to any of our Michaels store locations. View Full Shipping Policy and Pricing ›
Returns
If your Michaels.com purchase does not meet your satisfaction, you may return it within six months (180 days) of purchase. To return an item (excluding sample products), the item must be new, unused and in its original packaging. You may return the item to a Michaels store or by mail. View Full Return Policy ›
jump
Customer Reviews
Krylon® Glitter Blast™ Spray Paint - Cherry Bomb - 5-3/4 oz
is rated out of
5
by
25
.
Rated

1

out of

5
by
bruno
from
50 / 50 shot
great idea, just a crappy delivery system, bought 2 cans , used 1 , the other was a dud, and cant bring it back. did you guys get a bad bunch of valves ?? because some other krylon products are doing the same thing , CLOGGING VALVES
Date published: 2018-07-02
Rated

1

out of

5
by
Noreen
from
Terribly dissatisfied
I purchased 6 cans of glitter blast in gold. 3 cans worked. Same problem as others have stated. Just stopped working or plain clear spray came out despite shaking. Fir the price of this product, I am very dissatisfied that half of them didn't work. The 3 that did work were beautiful, however.
Date published: 2017-07-08
Rated

4

out of

5
by
WoodUdlike2know
from
Eye Popping Color
I brought this product for a craft wood project, and was blown away by the intense color it had. I just wish it came in a larger can than 5.75 oz.
Date published: 2017-06-20
Rated

3

out of

5
by
Mechers
from
More of the Same but...
I have purchased many cans of the Krylon Glitter Blast paint. Different colors,] and most of them were purchased from the same store. I have had the same problems with my paint as many of the other folks have had. Stuck valves, clear liquid, glue spraying and more. At first I attributed it to the age of the cans. They were about a year old. But as I read more of these reviews, I realize it is the paint, not the fact I have had them a year. To be fair, I had many cans that worked just fine. I was able to complete my projects and they came out looking absolutely wonderful. I did not return the bad cans to the store, as one lady stated, it is hard to return empty cans and tell them there is a problem. I would still use this product, in fact, I am heading out now to purchase more of the Glitter Blast. I just love this stuff. It is a gamble as to whether or not the cans will work, but for the most part, I had success with them.
Date published: 2017-04-09
Rated

1

out of

5
by
E0593
from
Not happy
This was my first time using gold glitter blast paint, and I was painting a cupcake stand for my wedding. I am very familiar with spray paint and how to use it, and I was very unhappy with the outcome with this particular product. First off, the can kept malfunctioning and would not quit spraying after I removed my finger from the spray button so paint went everywhere and was wasted. But before that issue, I shook the can for 2 minutes as stated on the can and stood back from my cupcake stand as instructed. Still, the paint came out so watery and runny that it just dripped and caused a mess. I only got about 10 good sprays out of the bottle for the $9 I paid for it. I ran out halfway through my project so I had to go and get more. I didn't want to purchase a new can because I was so disappointed in the first one, but I had to in order to finish my project. Little did I know that the second can wouldn't even be enough. Once again, the paint was like water and wasn't even enough to do the other half of my cupcake stand. So at this point I had paid more for the paint than I had for the cupcake stand I was painting and still didn't have enough! It was ridiculous, and I ended up just trashing the cupcake stand and buying a new one because I was not about to purchase another can of Krylon Glitter Blast. Do not use it!
Date published: 2017-04-03
Rated

1

out of

5
by
Blinggirl
from
First impression bad
Tried a sample spray on a jar I was going to paint my crutches. With that sample spray it would not stop spraying. I paid for a can of paint I couldn't use. I put it in a bag because it would never stop. Very disappointed in it my first time trying glitter spray. After that happened in noticed people posting same thing has happened to them as well.
Date published: 2017-03-31
Rated

5

out of

5
by
Hawaiipaddler1
from
Created a Lightsabre Bat
I used the purple Glitter Blast to create a bat out of a Lightsaber for a 5K I ran with my "team" of baseball ladies. We were A Galaxy of Their Own and I was an X Wing Pilot with a purple Lightsaber bat. We took soft, plain rubber/plastic children's bats and cut them to be used with plastic lightsaber hilts. They needed to be painted to match our costumes. This was my first time using this, and I followed all of the directions. The product worked as described. I will purchase a can of black Glitter Blast for my next project!
Date published: 2017-02-05
Rated

1

out of

5
by
Mrswheelz
from
Defective
Tried for the first time and nozzle stuck down spraying aerosol with sticky residue non stop! Ruined the project.
Date published: 2017-02-03