Lemax® Santa's North Pole Express
Lemax® Santa's North Pole Express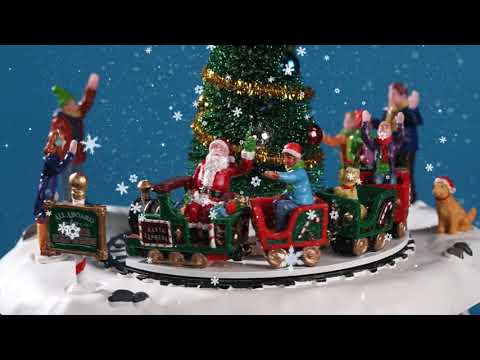 Video
Lemax® Santa's North Pole Express
Details
https://www.michaels.com/lemax-santas-north-pole-express/10639095.html
---
There is endless fun to be had at the Michaels Exclusive table accent, Santa's North Pole Express by Lemax. With Santa as the conductor, children board the train to race around the Christmas tree. Parents wave as their kids pass by in red and green candy cane cars.

Approx. size (H x W x D): 6.5" x 9.06" x 7.09" (16.5cm x 23cm x 18cm)
Year Released: 2020
Made of: Polyresin
Product type: Table Accent
Control switch: On/Off push button
Batteries: AA size 1.5V batteries required (batteries not included)
Electrical: A/C adaptable by using a Lemax Power Adaptor (sold separately)
Current: This unit will draw approx. 65mA current at 4.5V DC
Michaels Exclusive
There is endless fun to be had at the Michaels Exclusive table accent, Santa's North Pole Express by Lemax. With Santa as the conductor, children board the train to race around the Christmas tree. Parents wave as their kids pass by in red and green candy cane cars.

Approx. size (H x W x D): 6.5" x 9.06" x 7.09" (16.5cm x 23cm x 18cm)
Year Released: 2020
Made of: Polyresin
Product type: Table Accent
Control switch: On/Off push button
Batteries: AA size 1.5V batteries required (batteries not included)
Electrical: A/C adaptable by using a Lemax Power Adaptor (sold separately)
Current: This unit will draw approx. 65mA current at 4.5V DC
Michaels Exclusive
jump
---
There is endless fun to be had at the Michaels Exclusive table accent, Santa's North Pole Express by Lemax. With Santa as the conductor, children board the train to race around the Christmas tree. Parents wave as their kids pass by in red and green candy cane cars.

Approx. size (H x W x D): 6.5" x 9.06" x 7.09" (16.5cm x 23cm x 18cm)
Year Released: 2020
Made of: Polyresin
Product type: Table Accent
Control switch: On/Off push button
Batteries: AA size 1.5V batteries required (batteries not included)
Electrical: A/C adaptable by using a Lemax Power Adaptor (sold separately)
Current: This unit will draw approx. 65mA current at 4.5V DC
Michaels Exclusive
There is endless fun to be had at the Michaels Exclusive table accent, Santa's North Pole Express by Lemax. With Santa as the conductor, children board the train to race around the Christmas tree. Parents wave as their kids pass by in red and green candy cane cars.

Approx. size (H x W x D): 6.5" x 9.06" x 7.09" (16.5cm x 23cm x 18cm)
Year Released: 2020
Made of: Polyresin
Product type: Table Accent
Control switch: On/Off push button
Batteries: AA size 1.5V batteries required (batteries not included)
Electrical: A/C adaptable by using a Lemax Power Adaptor (sold separately)
Current: This unit will draw approx. 65mA current at 4.5V DC
Michaels Exclusive
Shipping & Returns
jump
---
Shipping & Returns
Shipping
Most products may be shipped via standard ground (delivered in 4-6 business days), second day or next day. Orders placed by 11:00 AM Central Time using second day or next day will ship the same day. View Full Shipping Policy and Pricing ›
Returns
If your Michaels.com purchase does not meet your satisfaction, you may return it within six months (180 days) of purchase. To return an item (excluding sample products), the item must be new, unused and in its original packaging. You may return the item to a Michaels store or by mail. View Full Return Policy ›
From the Manufacturer
jump
Customer Reviews
Lemax® Santa's North Pole Express
is rated out of
5
by
3
.
Rated

2

out of

5
by
ccc32
from
Cheap
After setting up my village I had an empty space I wanted to fill and thought this would be the perfect addition. Love that it has moving parts. However it's the most expensive piece I have bought and the cheapest looking. The tree in the middle was broken upon opening all the bulbs just fell off. Easy enough to fix, but for the price I would expect higher quality. Would not purchase again
Date published: 2020-11-17
Rated

3

out of

5
by
Anonymous 3
from
Cute piece
Cute piece but not very well lit and no sound Would be nice to have the tree lit and Santa say hohoho or the train chop choo
Date published: 2020-11-15
Rated

4

out of

5
by
Anonymous
from
Cute but a pain to get back in the box
If you buy this just take note of where the train is on the track before you turn it on. If the train isnt right where it was when you initially open it then you cannot get it back in the box. Also the tree bulb came off before I even took it out of the plastic but I just stuck it back into the spot on the tree where I assume it detached from. Super cute and my son loves it.
Date published: 2020-11-06