Lemax® Snack Time
Lemax® Snack Time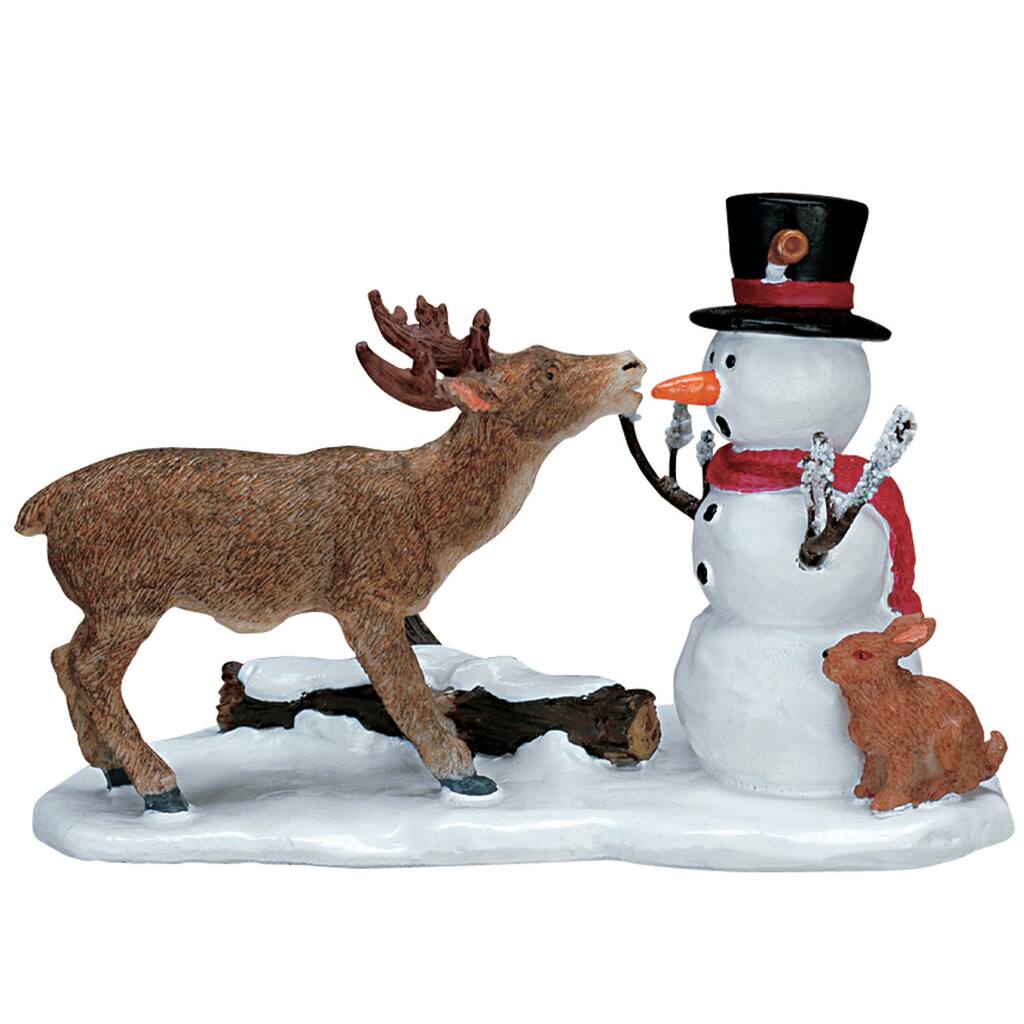 Details
https://www.michaels.com/lemax-snack-time/10639056.html
---
Save the snowman! This figurine from Lemax shows a hungry reindeer about to bite the snowman's nose. You can place this figurine along with other playful accents for a lovely festive setup.

Approx. size (H x W x D): 2.56" x 3.94" x 1.69" (6.5cm x 10cm x 4.3cm)
Year Released: 2007
Product type: Polyresin figurine
Save the snowman! This figurine from Lemax shows a hungry reindeer about to bite the snowman's nose. You can place this figurine along with other playful accents for a lovely festive setup.

Approx. size (H x W x D): 2.56" x 3.94" x 1.69" (6.5cm x 10cm x 4.3cm)
Year Released: 2007
Product type: Polyresin figurine
jump
---
Save the snowman! This figurine from Lemax shows a hungry reindeer about to bite the snowman's nose. You can place this figurine along with other playful accents for a lovely festive setup.

Approx. size (H x W x D): 2.56" x 3.94" x 1.69" (6.5cm x 10cm x 4.3cm)
Year Released: 2007
Product type: Polyresin figurine
Save the snowman! This figurine from Lemax shows a hungry reindeer about to bite the snowman's nose. You can place this figurine along with other playful accents for a lovely festive setup.

Approx. size (H x W x D): 2.56" x 3.94" x 1.69" (6.5cm x 10cm x 4.3cm)
Year Released: 2007
Product type: Polyresin figurine
Shipping & Returns
jump
---
Shipping & Returns
Shipping
Most products may be shipped via standard ground (delivered in 4-6 business days), second day or next day. Orders placed by 11:00 AM Central Time using second day or next day will ship the same day. View Full Shipping Policy and Pricing ›
Returns
If your Michaels.com purchase does not meet your satisfaction, you may return it within six months (180 days) of purchase. To return an item (excluding sample products), the item must be new, unused and in its original packaging. You may return the item to a Michaels store or by mail. View Full Return Policy ›
From the Manufacturer
jump
Customer Reviews
Lemax® Snack Time
is rated out of
5
by
2
.
Rated

1

out of

5
by
Sweesy3
from
Adorable Concept, But Poor Quality
I am extremely disappointed in this one. As the previous reviewer said, the reindeer isn't positioned properly to even look like he's going to eat the Snowman's nose. I showed it to someone else and they thought that he was going to kiss the Snowman. Also, the snowman only has a dab of black for the mouth so he doesn't look alarmed, and the rabbit is completely off its base, but is attached to the Snowman so it can't even be fixed. The snowman also looks like it's about to pop off its base. This might be worth $3, but it wasn't worth the $6 Black Friday sale price, and it's most definitely not worth the $12 full price. It's a bit of a tragedy, because the concept is adorable.
Date published: 2020-11-28
Rated

3

out of

5
by
MelissaLa
from
Deer eating carrot nose
We had to glue the snowman back on when we got it and then deer isn't quite lined up right with the carrot. Would buy again because it is very cute.
Date published: 2020-11-18