Lemax® Spooky Town® Best Buds Dog Supply Store
Lemax® Spooky Town® Best Buds Dog Supply Store
Lemax® Spooky Town® Best Buds Dog Supply Store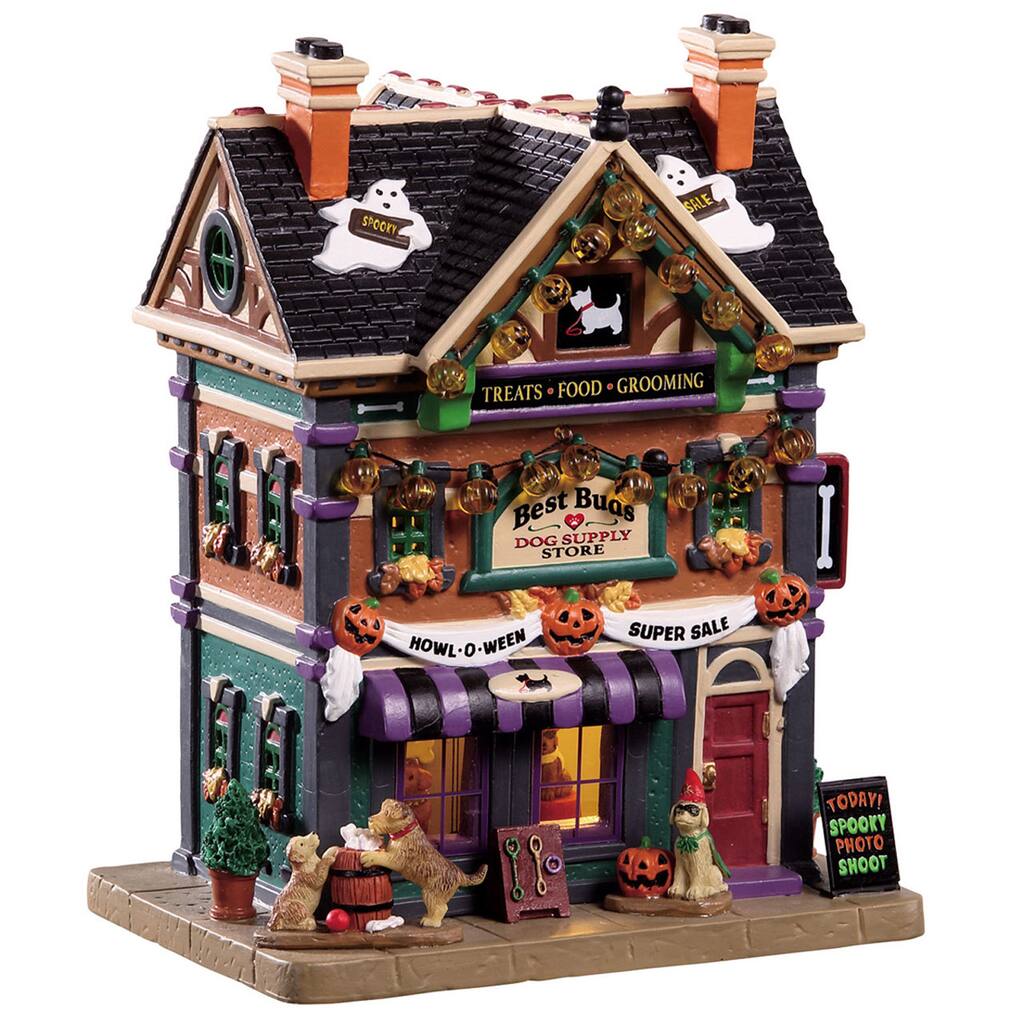 Details
https://www.michaels.com/lemax-spooky-town-best-buds-dog-supply-store/10627047.html
---
Barks abound at the Best Buds Dog Supply Store where Howl-O-Ween is all year round. This creative pet corner offers costume photo shoots for man's best friend along with special sales on treats, bones, collars, and grooming. Happy dogs play with bones on the porch while puppies pose for the camera inside.

Approx. size (H x W x D): 7.56" x 5.91" x 4.49" (19.2cm x 15cm x 11.4cm)
Year Released: 2019
Made of: Porcelain
Product type: Porcelain lighted building
Control switch: On/Off switch
Electrical: For use with 1.83 m (6 ft.) cord or with LED light cord with battery box or with LED light cord with adaptor (sold separately)
Barks abound at the Best Buds Dog Supply Store where Howl-O-Ween is all year round. This creative pet corner offers costume photo shoots for man's best friend along with special sales on treats, bones, collars, and grooming. Happy dogs play with bones on the porch while puppies pose for the camera inside.

Approx. size (H x W x D): 7.56" x 5.91" x 4.49" (19.2cm x 15cm x 11.4cm)
Year Released: 2019
Made of: Porcelain
Product type: Porcelain lighted building
Control switch: On/Off switch
Electrical: For use with 1.83 m (6 ft.) cord or with LED light cord with battery box or with LED light cord with adaptor (sold separately)
jump
---
Barks abound at the Best Buds Dog Supply Store where Howl-O-Ween is all year round. This creative pet corner offers costume photo shoots for man's best friend along with special sales on treats, bones, collars, and grooming. Happy dogs play with bones on the porch while puppies pose for the camera inside.

Approx. size (H x W x D): 7.56" x 5.91" x 4.49" (19.2cm x 15cm x 11.4cm)
Year Released: 2019
Made of: Porcelain
Product type: Porcelain lighted building
Control switch: On/Off switch
Electrical: For use with 1.83 m (6 ft.) cord or with LED light cord with battery box or with LED light cord with adaptor (sold separately)
Barks abound at the Best Buds Dog Supply Store where Howl-O-Ween is all year round. This creative pet corner offers costume photo shoots for man's best friend along with special sales on treats, bones, collars, and grooming. Happy dogs play with bones on the porch while puppies pose for the camera inside.

Approx. size (H x W x D): 7.56" x 5.91" x 4.49" (19.2cm x 15cm x 11.4cm)
Year Released: 2019
Made of: Porcelain
Product type: Porcelain lighted building
Control switch: On/Off switch
Electrical: For use with 1.83 m (6 ft.) cord or with LED light cord with battery box or with LED light cord with adaptor (sold separately)
Shipping & Returns
jump
---
Shipping & Returns
Shipping
Most products may be shipped via standard ground (delivered in 4-6 business days), second day or next day. Orders placed by 11:00 AM Central Time using second day or next day will ship the same day. View Full Shipping Policy and Pricing ›
Returns
If your Michaels.com purchase does not meet your satisfaction, you may return it within six months (180 days) of purchase. To return an item (excluding sample products), the item must be new, unused and in its original packaging. You may return the item to a Michaels store or by mail. View Full Return Policy ›
From the Manufacturer
jump
Customer Reviews
Lemax® Spooky Town® Best Buds Dog Supply Store
is rated out of
5
by
7
.
Rated

2

out of

5
by
katherineb
from
spookytown
Took the item out of the box and the pieces glued down in the front were all floating around the box. lemax has poor quality control this year.
Date published: 2020-10-02
Rated

5

out of

5
by
MedicRTsGirl
from
Cutest howl-o-ween house ever!
My fiancé bought this as a first piece to our new Halloween village we want to add to each year. It is so much cuter in person than pictures! Plus, we discovered looking through the windows there is an adorable little golden retriever/lab with a silver necklace and purple bow atop her head. She matches our dog, whom we had to recently to put to sleep. That makes it extra special to us now. There is also a little Yorkie in a basket and a bulldog in sunglasses and a hat posing for the little photographer in the shop! The whole piece is delightful!
Date published: 2020-09-19
Rated

1

out of

5
by
Vicspics
from
Defective Product
Poor paint job on product. Several pumpkins found loose in box. Jack o lantern light string broken. Sadly, it will be going back!
Date published: 2020-09-17
Rated

3

out of

5
by
Lucy 12
from
Small
Smaller than expected ordered online because no store near me . it also came with some of the pumpkins on garland broke off i was disappointed .
Date published: 2020-08-27
Rated

5

out of

5
by
tashie08
from
Super cute Halloween dogs
Very nice piece..The Halloween dogs in there costumes and masks will be a very cute addition to your Halloween Village..
Date published: 2020-08-16
Rated

5

out of

5
by
AshleyD15
from
Great addition to a spooky town!
I am a dog groomer so this spooky town piece called to me! It's beautiful!
Date published: 2020-08-07
Rated

5

out of

5
by
KTrice
from
Fantastic attention to detail
This is a super cute pet store. Their is fantastic attention to detail. The house is a nice size. Love it.
Date published: 2020-08-05