Lemax® Spooky Town® Graveyard Party
Lemax® Spooky Town® Graveyard Party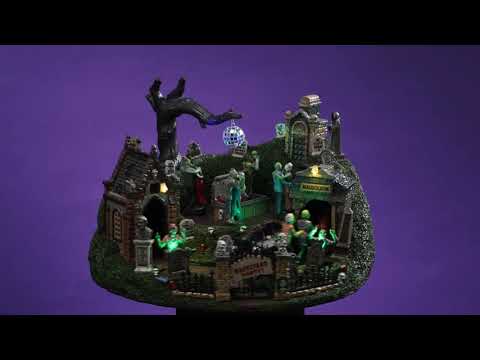 Video
Lemax® Spooky Town® Graveyard Party
Details
https://www.michaels.com/lemax-spooky-town-graveyard-party/10627036.html
---
A scary celebration has broken out at the Graveyard Party. Zombies are twirling around a coffin with their dance partners while others are popping out from behind tombstones or running through the mausoleum. A disco ball shines brightly above the fun!

Approx. size (H x W x D): 8.27" x 11.02" x 10.75" (21cm x 28cm x 27.3cm)
Year Released: 2019
Made of: Polyresin
Product type: Sights & Sounds
Control switch: Volume control and Power Switch for all functions
Electrical: Adaptor included
Current: This unit will draw approx. 380mA current at 4.5V DC
A scary celebration has broken out at the Graveyard Party. Zombies are twirling around a coffin with their dance partners while others are popping out from behind tombstones or running through the mausoleum. A disco ball shines brightly above the fun!

Approx. size (H x W x D): 8.27" x 11.02" x 10.75" (21cm x 28cm x 27.3cm)
Year Released: 2019
Made of: Polyresin
Product type: Sights & Sounds
Control switch: Volume control and Power Switch for all functions
Electrical: Adaptor included
Current: This unit will draw approx. 380mA current at 4.5V DC
jump
---
A scary celebration has broken out at the Graveyard Party. Zombies are twirling around a coffin with their dance partners while others are popping out from behind tombstones or running through the mausoleum. A disco ball shines brightly above the fun!

Approx. size (H x W x D): 8.27" x 11.02" x 10.75" (21cm x 28cm x 27.3cm)
Year Released: 2019
Made of: Polyresin
Product type: Sights & Sounds
Control switch: Volume control and Power Switch for all functions
Electrical: Adaptor included
Current: This unit will draw approx. 380mA current at 4.5V DC
A scary celebration has broken out at the Graveyard Party. Zombies are twirling around a coffin with their dance partners while others are popping out from behind tombstones or running through the mausoleum. A disco ball shines brightly above the fun!

Approx. size (H x W x D): 8.27" x 11.02" x 10.75" (21cm x 28cm x 27.3cm)
Year Released: 2019
Made of: Polyresin
Product type: Sights & Sounds
Control switch: Volume control and Power Switch for all functions
Electrical: Adaptor included
Current: This unit will draw approx. 380mA current at 4.5V DC
Shipping & Returns
jump
---
Shipping & Returns
Shipping
Most products may be shipped via standard ground (delivered in 4-6 business days), second day or next day. Orders placed by 11:00 AM Central Time using second day or next day will ship the same day. View Full Shipping Policy and Pricing ›
Returns
If your Michaels.com purchase does not meet your satisfaction, you may return it within six months (180 days) of purchase. To return an item (excluding sample products), the item must be new, unused and in its original packaging. You may return the item to a Michaels store or by mail. View Full Return Policy ›
From the Manufacturer
jump
Customer Reviews
Lemax® Spooky Town® Graveyard Party
is rated out of
5
by
15
.
Rated

2

out of

5
by
Mad581
from
Return Resold
Really unhappy to get an online purchase that obviously had been repackaged and was probably a return. The item still works, but one of the characters is missing a leg. The leg was nowhere to be found in the box. NOT HAPPY! This is not the first complaint for online purchases. Michaels need to have quality checks on returned items before resale!!
Date published: 2020-09-24
Rated

2

out of

5
by
Jasonwc22
from
Looks good. Design flaw
It looks really cool and a great idea but the top dancers dont turn. Theres a gear that just spins on the axle its attached to. Took it back and asked if we could swap it out for display but the display has the same problem. Were gonna keep it because it still looks cool(sold out all over town). The lights work and bottom pieces move and it still plays music.
Date published: 2020-09-17
Rated

2

out of

5
by
Delia88
from
Great centerpiece just broke to easy
Looks amazing but after a week of having it and using no more than 6 hours the center stopped working and going in circles...very disappointed
Date published: 2020-09-05
Rated

1

out of

5
by
Pamfb
from
Graveyard
It sucks broke after 2 weeks my stupidly for not keeping receipt or box buyer beware don't throw away receipt or box
Date published: 2020-08-30
Rated

1

out of

5
by
DisappointedOnlineShopper
from
Arrived unboxed, missing zombies and broken
My wife ordered this to add to our collection. It was her big splurge for Halloween after some overtime. The day came and it arrived. We unboxed it, removed wada of green bubble wrap and found it out of the box, broken on one side and missing zombies. Were messing a danced and two zombies from the large rotating wheel. I called customer service and was told since the item is over $100 we have to have a case with their tier 2 team. I was on hold for over an hour, while on hold I decided to turn it on to see how it works and it doesn't, the wheels are jammed and nothing spins.... I do ally hung up after an hour and a 15 minutes and then called back and was told tier 2 is a small team and that someone will probably get to it tomorrow. Wow, makes us feel real stupid for buying this. Oh and to ice the cake they're out of stock and I have a feeling they won't be able to replace it.
Date published: 2020-08-28
Rated

3

out of

5
by
Clive the Barker
from
Cool decoration, but a silly mix up
I bought multiple of this line of decorations. I just think it's odd that the graveyard is full of zombies, but the "zombie jazz bar" appears to be a bunch of skeletons. I mean, sure it's fine to have zombies in a graveyard, but if 2 of your designs are going to use skeletons and zombies, then it definitely would make more sense to have zombies in the zombie jazz bar and skeletons in the graveyard. But that's just me nitpicking, the decorations are still great and I'm probably gonna end up getting more before Halloween. Still satisfied, just thought it was weird enough to mention it. Thank you.
Date published: 2020-08-20
Rated

5

out of

5
by
Jamie49
from
What a fantastic addition to Spooky Town
I waited for the item to go on sale to where I felt like I could live with the purchase. It is pricey, but it is an excellent piece and worth it. There is sound, and you can turn it down or up, or have it running with no sound. You have the option as to whether or not you want the glitter ball hanging in the tree. The ghouls dancing and chasing each other around is really neat. The tombstones with all of the sayings on them is a delightful addition to Spooky Town. I have collected certain pieces over the years, but this one is definitely my favorite.
Date published: 2020-08-20
Rated

4

out of

5
by
Wink1960
from
Grandkids love it
The minute I took it out of the box and turned it on, the grandkids were all over this. So much movement and color changing lights. Great addition to my spooky town village
Date published: 2020-08-16