Lemax® Spooky Town® Jack's Pumpkin Farm
Lemax® Spooky Town® Jack's Pumpkin Farm
Lemax® Spooky Town® Jack's Pumpkin Farm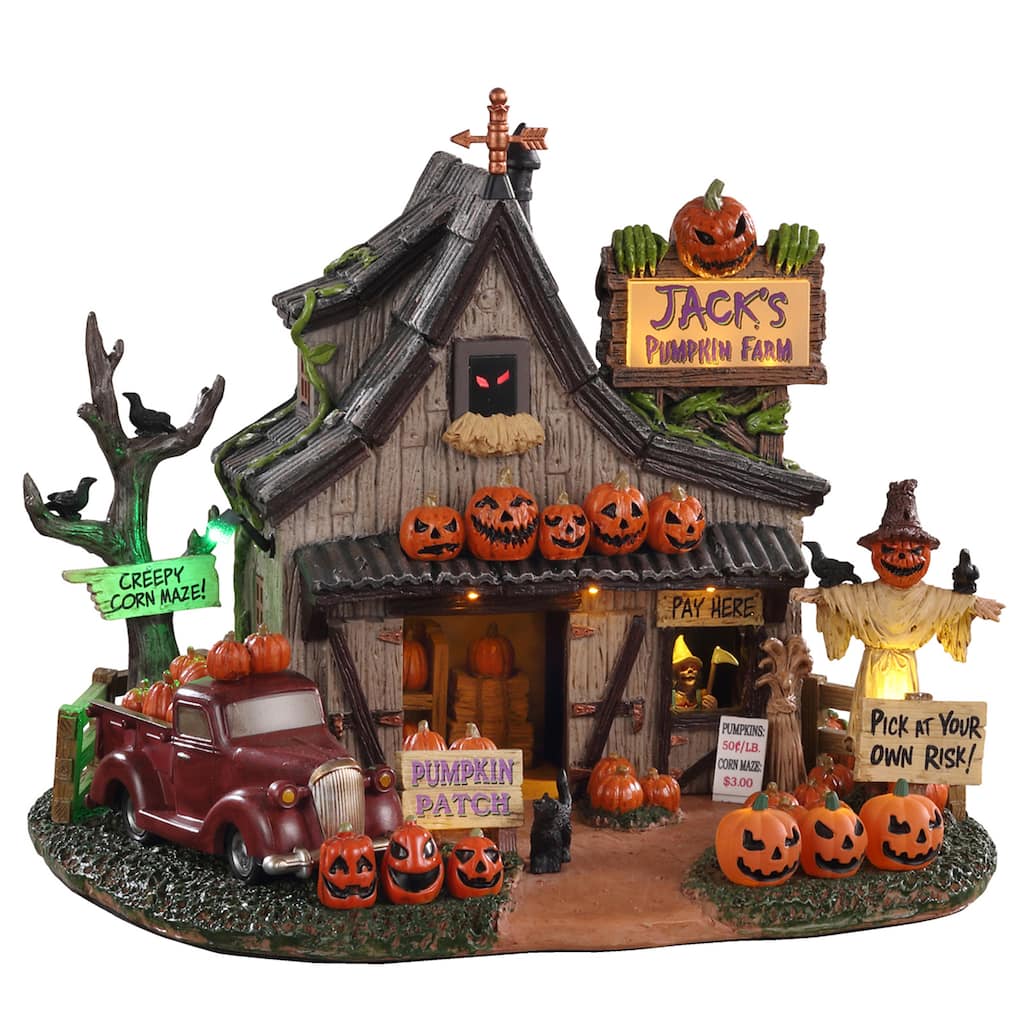 Details
https://www.michaels.com/lemax-spooky-town-jacks-pumpkin-farm/10627035.html
---
This Michaels Exclusive Jack's Pumpkin Farm is a dilapidated barn and pumpkin patch home to a wide assortment of jack-o-lanterns and freshly picked pumpkins. A scarecrow greets visitors outside while a grim reaper waits at the window to accept cash or souls for payment. The classic red truck parked outside is filled with fresh picks from the patch. The lighting on this building includes glowing eyes that peek out of the window, the signboard on the rooftop, and 3 pumpkins at the front on the right light up.

Approx. size (H x W x D): 7.6" x 9.06" x 7.48" (19.3cm x 23cm x 19cm)
Year Released: 2020
Made of: Polyresin
Product type: Table Accent
Control switch: On/Off push button
Batteries: AA size 1.5V batteries required (not included)
Electrical: A/C adaptable by using a Lemax Power Adaptor
Current: This unit will draw approx. 88mA current at 4.5V DC
Micheals Exclusive
This Michaels Exclusive Jack's Pumpkin Farm is a dilapidated barn and pumpkin patch home to a wide assortment of jack-o-lanterns and freshly picked pumpkins. A scarecrow greets visitors outside while a grim reaper waits at the window to accept cash or souls for payment. The classic red truck parked outside is filled with fresh picks from the patch. The lighting on this building includes glowing eyes that peek out of the window, the signboard on the rooftop, and 3 pumpkins at the front on the right light up.

Approx. size (H x W x D): 7.6" x 9.06" x 7.48" (19.3cm x 23cm x 19cm)
Year Released: 2020
Made of: Polyresin
Product type: Table Accent
Control switch: On/Off push button
Batteries: AA size 1.5V batteries required (not included)
Electrical: A/C adaptable by using a Lemax Power Adaptor
Current: This unit will draw approx. 88mA current at 4.5V DC
Micheals Exclusive
jump
---
This Michaels Exclusive Jack's Pumpkin Farm is a dilapidated barn and pumpkin patch home to a wide assortment of jack-o-lanterns and freshly picked pumpkins. A scarecrow greets visitors outside while a grim reaper waits at the window to accept cash or souls for payment. The classic red truck parked outside is filled with fresh picks from the patch. The lighting on this building includes glowing eyes that peek out of the window, the signboard on the rooftop, and 3 pumpkins at the front on the right light up.

Approx. size (H x W x D): 7.6" x 9.06" x 7.48" (19.3cm x 23cm x 19cm)
Year Released: 2020
Made of: Polyresin
Product type: Table Accent
Control switch: On/Off push button
Batteries: AA size 1.5V batteries required (not included)
Electrical: A/C adaptable by using a Lemax Power Adaptor
Current: This unit will draw approx. 88mA current at 4.5V DC
Micheals Exclusive
This Michaels Exclusive Jack's Pumpkin Farm is a dilapidated barn and pumpkin patch home to a wide assortment of jack-o-lanterns and freshly picked pumpkins. A scarecrow greets visitors outside while a grim reaper waits at the window to accept cash or souls for payment. The classic red truck parked outside is filled with fresh picks from the patch. The lighting on this building includes glowing eyes that peek out of the window, the signboard on the rooftop, and 3 pumpkins at the front on the right light up.

Approx. size (H x W x D): 7.6" x 9.06" x 7.48" (19.3cm x 23cm x 19cm)
Year Released: 2020
Made of: Polyresin
Product type: Table Accent
Control switch: On/Off push button
Batteries: AA size 1.5V batteries required (not included)
Electrical: A/C adaptable by using a Lemax Power Adaptor
Current: This unit will draw approx. 88mA current at 4.5V DC
Micheals Exclusive
Shipping & Returns
jump
---
Shipping & Returns
Shipping
Most products may be shipped via standard ground (delivered in 4-6 business days), second day or next day. Orders placed by 11:00 AM Central Time using second day or next day will ship the same day. View Full Shipping Policy and Pricing ›
Returns
If your Michaels.com purchase does not meet your satisfaction, you may return it within six months (180 days) of purchase. To return an item (excluding sample products), the item must be new, unused and in its original packaging. You may return the item to a Michaels store or by mail. View Full Return Policy ›
From the Manufacturer
jump
Customer Reviews
Lemax® Spooky Town® Jack's Pumpkin Farm
is rated out of
5
by
40
.
Rated

5

out of

5
by
rhonda0725
from
Great Detail
One of y favorite LeMax Halloween pieces. Very detailed and fun!
Date published: 2020-09-22
Rated

5

out of

5
by
Amarks
from
Perfect pumpkin patch!
Love this piece, so many details to the design, lights up spectacular! Inspired me to but more pieces
Date published: 2020-09-16
Rated

5

out of

5
by
Renee 1949
from
It is a great addition to my collection.
It is very detailed and a joy to look at. The pumpkin patch will be a delight for years to come.
Date published: 2020-09-15
Rated

5

out of

5
by
Tuxcedocat
from
Perfect Halloween Celebratory Piece
What a perfect celebratory piece for Halloween, were my thoughts, when I first saw this piece. It took me back to my childhood. To happier celebrations of Halloween. Excitement of picking out the pumpkins, getting ready for the fall season, decorating and planing for fun times. Yes, this piece surmises all the fun pleasures of the season, corn mazes, hay stakes and bundles, just to name a few. When I took mine out of the box, the sign, Pick At Your Own Risk!, had fallen to the side. I simply glued it back. Again, good as new. The details of this piece are phenominal. You almost feel like you could walk right in and start picking pumpkins. I like the fact that it's battery operated. Makes it a more mobile piece. I put the corn man figurine to show hiw you could add to the piece with other Lemax pieces. But truth be told, it really needs nothing. Love the green, orange, and white lights on the piece. Gives it an eerie effect. The red glowing on/off eyes of the dark barn window really hit things off. What can I say? This is a perfect piece. Get this. You want be disappointed! Be sure to pinch open all my pictures to see the real details of the piece. You'll enjoy it. Happy Halloween .
Date published: 2020-09-15
Rated

5

out of

5
by
Amanda869
from
Very cute so glad I got early!
Love this item. One of my favorite pieces. Someone mentioned though that paint was missing. This was on mine as well. It's not paint missing but like something powdery. I was able to wipe off with a q tip and it's fine.
Date published: 2020-09-13
Rated

2

out of

5
by
Valmtl
from
Broken
Guess I bought the house that was returned because it was broken. It is a shame that the persons did not mention it or that the clerk did not do its job to label it as broken. Now I have to go back to the store to return it! Time not well spent.
Date published: 2020-09-09
Rated

4

out of

5
by
Bsmiles
from
Great Halloween Decor
This is a great piece for a Halloween decoration except the sign doesn't light up on the roof so that's disappointing. Any suggestions on how to fix this?
Date published: 2020-09-09
Rated

4

out of

5
by
Tina61
from
Spooky Town. Jacks Pumpkin Farm
It's absolutely perfect. If you can get this piece I suggest you do. You won't be disappointed.
Date published: 2020-09-05