Lemax® Tannenbaum Clock Tower
Lemax® Tannenbaum Clock Tower
Promotions
REWARDS MEMBERS
Earn 30%1 in Michaels Rewards
Valid dates: 10/25/20 - 10/31/20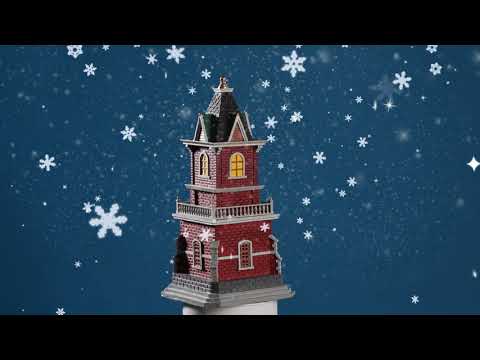 Video
Lemax® Tannenbaum Clock Tower
Promotions
REWARDS MEMBERS
Earn 30%1 in Michaels Rewards
Valid dates: 10/25/20 - 10/31/20
Details
https://www.michaels.com/lemax-tannenbaum-clock-tower/10638968.html
---
Tannenbaum Clock Tower keeps the town running on time. This Michaels Exclusive stately brick tower has a working clock atop the balcony so you can stay on time, too. Removable Christmas decorations allow you to display this piece all year round and then dress it up for the holiday season.

Approx. size (H x W x D): 11.89" x 5.71" x 5.71" (30.2cm x 14.5cm x 14.5cm)
Year Released: 2020
Made of: Polyresin
Product type: Sights & Sounds
Batteries: AA size 1.5V batteries required (not included)
Current: This unit will draw approx. 0.65mA current at 1.5V DC.
Michaels Exclusive
Tannenbaum Clock Tower keeps the town running on time. This Michaels Exclusive stately brick tower has a working clock atop the balcony so you can stay on time, too. Removable Christmas decorations allow you to display this piece all year round and then dress it up for the holiday season.

Approx. size (H x W x D): 11.89" x 5.71" x 5.71" (30.2cm x 14.5cm x 14.5cm)
Year Released: 2020
Made of: Polyresin
Product type: Sights & Sounds
Batteries: AA size 1.5V batteries required (not included)
Current: This unit will draw approx. 0.65mA current at 1.5V DC.
Michaels Exclusive
jump
---
Tannenbaum Clock Tower keeps the town running on time. This Michaels Exclusive stately brick tower has a working clock atop the balcony so you can stay on time, too. Removable Christmas decorations allow you to display this piece all year round and then dress it up for the holiday season.

Approx. size (H x W x D): 11.89" x 5.71" x 5.71" (30.2cm x 14.5cm x 14.5cm)
Year Released: 2020
Made of: Polyresin
Product type: Sights & Sounds
Batteries: AA size 1.5V batteries required (not included)
Current: This unit will draw approx. 0.65mA current at 1.5V DC.
Michaels Exclusive
Tannenbaum Clock Tower keeps the town running on time. This Michaels Exclusive stately brick tower has a working clock atop the balcony so you can stay on time, too. Removable Christmas decorations allow you to display this piece all year round and then dress it up for the holiday season.

Approx. size (H x W x D): 11.89" x 5.71" x 5.71" (30.2cm x 14.5cm x 14.5cm)
Year Released: 2020
Made of: Polyresin
Product type: Sights & Sounds
Batteries: AA size 1.5V batteries required (not included)
Current: This unit will draw approx. 0.65mA current at 1.5V DC.
Michaels Exclusive
Shipping & Returns
jump
---
Shipping & Returns
Shipping
Most products may be shipped via standard ground (delivered in 4-6 business days), second day or next day. Orders placed by 11:00 AM Central Time using second day or next day will ship the same day. View Full Shipping Policy and Pricing ›
Returns
If your Michaels.com purchase does not meet your satisfaction, you may return it within six months (180 days) of purchase. To return an item (excluding sample products), the item must be new, unused and in its original packaging. You may return the item to a Michaels store or by mail. View Full Return Policy ›
From the Manufacturer
jump
Customer Reviews
Lemax® Tannenbaum Clock Tower
is rated out of
5
by
2
.
Rated

2

out of

5
by
LemaxLVR
from
Looks nice, but doesn't illuminate
Fantastic idea from Lemax, the description doesn't state that the piece doesn't light up, as do the other Lemax buildings. Upon opening the package, I was disappointed to learn that it is only a highly decorated clock. I also noticed that the railings under the face of the clock aren't flush with the part of the trim on which they are glued. A previous reviewer stated that the battery compartment was difficult to open. While the compartment door does not have any obvious way to open it, I got it open eventually, thought I didn't install the batteries to see if it functioned. Lemax certainly missed the mark on this clocktower. I'm still undecided on whether or not I will return this, but I am thinking I can use Lemax's spotlights to illuminate the tower in lieu of an internal bulb.
Date published: 2020-10-17
Rated

1

out of

5
by
Anonymous
from
This product Stinks. We received no instructions
We received no instructions in how to install the battery. We returned to the store where the Manager had difficulty opening the battery compartment. Her instructions won't work as you push the cover up against a pillar. We'll return it tomorrow.
Date published: 2020-10-12