Lemax® Tinseltown Plaza
Promotions
REWARDS MEMBERS
Earn 30%1 in Michaels Rewards
Valid dates: 10/25/20 - 10/31/20
Lemax® Tinseltown Plaza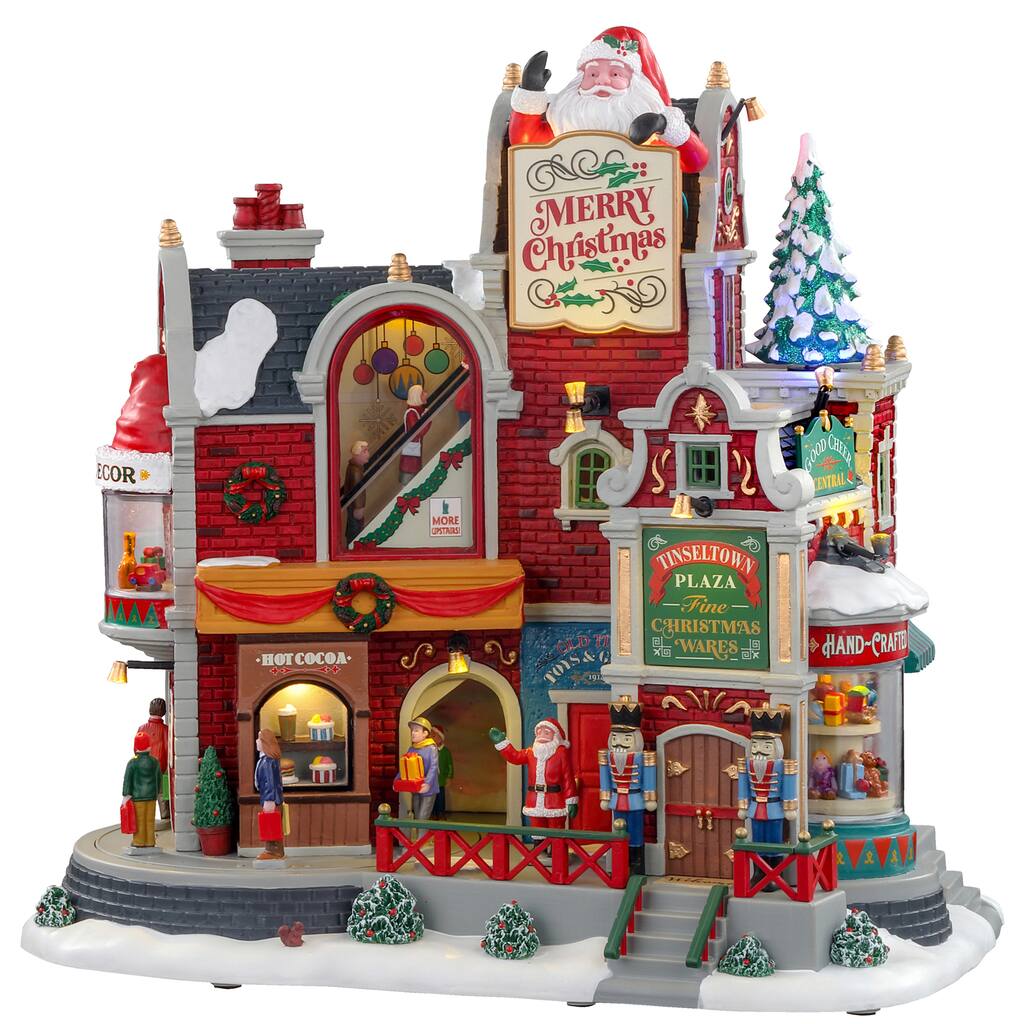 Promotions
REWARDS MEMBERS
Earn 30%1 in Michaels Rewards
Valid dates: 10/25/20 - 10/31/20
Details
https://www.michaels.com/lemax-tinseltown-plaza/10639089.html
---
The hustle of holiday shopping is not over yet at the Tinseltown Plaza where shoppers are busy checking last-minute items off their gift lists. Santa waves from the roof reminding everyone to have a Merry Christmas while shoppers weave in and out of stores and ride the escalator. A shimmering, rotating tree adds a fun twist to this lively scene.

Approx. size (H x W x D): 12.2" x 12.8" x 7.68" (31cm x 32.5cm x 19.5cm)
Year Released: 2020
Made of: Polyresin
Product type: Sights & Sounds
Control switch: Volume Control and Power Switch for all functions
Electrical: 4.5 Volt Power Adaptor included
Current: This unit will draw approx. 400mA current at 4.5V DC


The hustle of holiday shopping is not over yet at the Tinseltown Plaza where shoppers are busy checking last-minute items off their gift lists. Santa waves from the roof reminding everyone to have a Merry Christmas while shoppers weave in and out of stores and ride the escalator. A shimmering, rotating tree adds a fun twist to this lively scene.

Approx. size (H x W x D): 12.2" x 12.8" x 7.68" (31cm x 32.5cm x 19.5cm)
Year Released: 2020
Made of: Polyresin
Product type: Sights & Sounds
Control switch: Volume Control and Power Switch for all functions
Electrical: 4.5 Volt Power Adaptor included
Current: This unit will draw approx. 400mA current at 4.5V DC


jump
---
The hustle of holiday shopping is not over yet at the Tinseltown Plaza where shoppers are busy checking last-minute items off their gift lists. Santa waves from the roof reminding everyone to have a Merry Christmas while shoppers weave in and out of stores and ride the escalator. A shimmering, rotating tree adds a fun twist to this lively scene.

Approx. size (H x W x D): 12.2" x 12.8" x 7.68" (31cm x 32.5cm x 19.5cm)
Year Released: 2020
Made of: Polyresin
Product type: Sights & Sounds
Control switch: Volume Control and Power Switch for all functions
Electrical: 4.5 Volt Power Adaptor included
Current: This unit will draw approx. 400mA current at 4.5V DC


The hustle of holiday shopping is not over yet at the Tinseltown Plaza where shoppers are busy checking last-minute items off their gift lists. Santa waves from the roof reminding everyone to have a Merry Christmas while shoppers weave in and out of stores and ride the escalator. A shimmering, rotating tree adds a fun twist to this lively scene.

Approx. size (H x W x D): 12.2" x 12.8" x 7.68" (31cm x 32.5cm x 19.5cm)
Year Released: 2020
Made of: Polyresin
Product type: Sights & Sounds
Control switch: Volume Control and Power Switch for all functions
Electrical: 4.5 Volt Power Adaptor included
Current: This unit will draw approx. 400mA current at 4.5V DC


Shipping & Returns
jump
---
Shipping & Returns
Shipping
Most products may be shipped via standard ground (delivered in 4-6 business days), second day or next day. Orders placed by 11:00 AM Central Time using second day or next day will ship the same day. View Full Shipping Policy and Pricing ›
Returns
If your Michaels.com purchase does not meet your satisfaction, you may return it within six months (180 days) of purchase. To return an item (excluding sample products), the item must be new, unused and in its original packaging. You may return the item to a Michaels store or by mail. View Full Return Policy ›
From the Manufacturer
jump
Customer Reviews
Lemax® Tinseltown Plaza
is rated out of
5
by
3
.
Rated

5

out of

5
by
Grandma Joy
from
Cute addition to a collection
Tinseltown Plaza is such a cute addition to a Christmas House display. There are several moving parts to the piece. People will want to watch it. It is very colorful and makes you feel like Christmas shopping. The Tinseltown Plaza will be the centerpiece of my display.
Date published: 2020-10-20
Rated

5

out of

5
by
Madastiville
from
The Tinseltown Plaza is bustling with shoppers.
Finally, a modern-day animated shopping piece. Shoppers go into the building and up a window view escalator. It is a cute item that is full of charm and various focal points.
Date published: 2020-10-10
Rated

4

out of

5
by
sosanytime
from
Apt title.
Has many different moving parts to fascinate children. Rather expensive for plastic item.
Date published: 2020-09-24