Lemax® Wintergarten Lane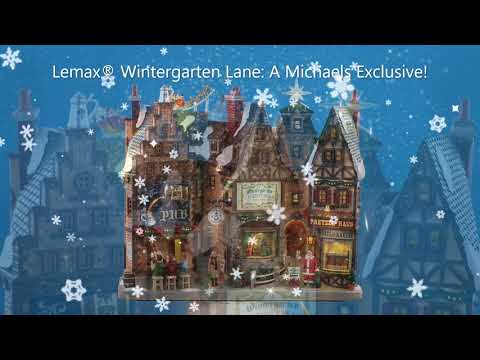 Video
Lemax® Wintergarten Lane
Details
https://www.michaels.com/lemax-wintergarten-lane/10639041.html
---
This Michaels Exclusive Lemax building, Wintergarten Lane, has something for everyone to enjoy. High on the rooftop, Santa's sleigh prepares for takeoff while the stores below sell handmade pretzels and candles. A woman carries her shopping bags through the garland-trimmed streets while men drink up under the festive, animated light sign at the pub.

Approx. size (H x W x D): 11.1" x 12.2" x 4.53" (28.2cm x 31cm x 11.5cm)
Year Released: 2020
Made of: Polyresin
Product type: Facades
Control switch: On/Off switch
Batteries: AA size 1.5V batteries required (not included)
Electrical: A/C adaptable by using a Lemax Power Adaptor (not included)
Current: This unit will draw approx. 170mA current at 4.5V DC
Michaels Exclusive
This Michaels Exclusive Lemax building, Wintergarten Lane, has something for everyone to enjoy. High on the rooftop, Santa's sleigh prepares for takeoff while the stores below sell handmade pretzels and candles. A woman carries her shopping bags through the garland-trimmed streets while men drink up under the festive, animated light sign at the pub.

Approx. size (H x W x D): 11.1" x 12.2" x 4.53" (28.2cm x 31cm x 11.5cm)
Year Released: 2020
Made of: Polyresin
Product type: Facades
Control switch: On/Off switch
Batteries: AA size 1.5V batteries required (not included)
Electrical: A/C adaptable by using a Lemax Power Adaptor (not included)
Current: This unit will draw approx. 170mA current at 4.5V DC
Michaels Exclusive
jump
---
This Michaels Exclusive Lemax building, Wintergarten Lane, has something for everyone to enjoy. High on the rooftop, Santa's sleigh prepares for takeoff while the stores below sell handmade pretzels and candles. A woman carries her shopping bags through the garland-trimmed streets while men drink up under the festive, animated light sign at the pub.

Approx. size (H x W x D): 11.1" x 12.2" x 4.53" (28.2cm x 31cm x 11.5cm)
Year Released: 2020
Made of: Polyresin
Product type: Facades
Control switch: On/Off switch
Batteries: AA size 1.5V batteries required (not included)
Electrical: A/C adaptable by using a Lemax Power Adaptor (not included)
Current: This unit will draw approx. 170mA current at 4.5V DC
Michaels Exclusive
This Michaels Exclusive Lemax building, Wintergarten Lane, has something for everyone to enjoy. High on the rooftop, Santa's sleigh prepares for takeoff while the stores below sell handmade pretzels and candles. A woman carries her shopping bags through the garland-trimmed streets while men drink up under the festive, animated light sign at the pub.

Approx. size (H x W x D): 11.1" x 12.2" x 4.53" (28.2cm x 31cm x 11.5cm)
Year Released: 2020
Made of: Polyresin
Product type: Facades
Control switch: On/Off switch
Batteries: AA size 1.5V batteries required (not included)
Electrical: A/C adaptable by using a Lemax Power Adaptor (not included)
Current: This unit will draw approx. 170mA current at 4.5V DC
Michaels Exclusive
Shipping & Returns
jump
---
Shipping & Returns
Shipping
Most products may be shipped via standard ground (delivered in 4-6 business days), second day or next day. Orders placed by 11:00 AM Central Time using second day or next day will ship the same day. View Full Shipping Policy and Pricing ›
Returns
If your Michaels.com purchase does not meet your satisfaction, you may return it within six months (180 days) of purchase. To return an item (excluding sample products), the item must be new, unused and in its original packaging. You may return the item to a Michaels store or by mail. View Full Return Policy ›
From the Manufacturer
jump
Customer Reviews
Lemax® Wintergarten Lane
is rated out of
5
by
8
.
Rated

2

out of

5
by
Monica27
from
Cute, but looks cheap
This is my fault for not reading what it was made of, but I assumed like other buildings it was ceramic. It looks and feels like cheap plastic. I'm undecided as to whether I'm keeping or returning it. For 120 dollars, you would think it would be heavier and nicer quality. It looks like my grandma got crazy with the got glue gun and left strings everywhere.
Date published: 2020-11-12
Rated

3

out of

5
by
storiebook
from
Undecided
The product itself is incredibly pretty to look at. All the nooks and crannies and details are great and this is one of my favorite designs so far. The downfalls of the item unfortunately outweigh the good parts. The packaging is AWFUL and I'm going to have to figure out how to store it without it being broken. All my other previous items from this line have amazing packs that keep them safe with jostling. Also for the price point, the amount of things that actually happen (ie: moving parts, lights, etc) are minimal. This item either requires batteries (which is a nice option) or a power pack which they DO NOT SUPPLY. I love Lemax but the quality of the Christmas items over the past 2 years has really started to go down.
Date published: 2020-11-05
Rated

5

out of

5
by
Anonymous
from
This product is designed well.
Love that you can use batteries and no cords. However you can order a cord separately if you prefer to use them.
Date published: 2020-11-03
Rated

5

out of

5
by
Anonymous
from
Amazing addition to our village
My wife and I have added one piece to our village every year since we got together. When I first saw the piece, I thought the buildings were each separate and started to think which one to pick. I was happy to see they were all one unit. To me, it's a three in one that keeps with our tradition. It is bright, vibrant, and really pulls you into the scene. We really enjoy this addition. There's a lot of detail to love and explore between the store windows, bell ringer, and back alleys. At the end of the day, the price is higher but the value is there.
Date published: 2020-11-03
Rated

2

out of

5
by
Briansamy
from
Looks cheap and came broken
No power pack and requires batteries. Window was broken when I opened the box that isn't sturdy enough for storing year round. I'll be returning.
Date published: 2020-10-31
Rated

3

out of

5
by
Santasanta
from
At 119.99 was disappointed to find it didnt come p
Disappointed the packaging for storage is weak. Did not come w a power pack! 119.99$
Date published: 2020-10-17
Rated

2

out of

5
by
Frau Pingelig
from
Nerds beware
Although I adore Lemax, this piece is difficult to look at as a German-nerd. The "pub" on the left is in an architecture style of northern Germany, specifically the Hanseatic cities. The pretzel Haus is distinctly Bavarian, and pretzels themselves are a distinctly Bavarian treat. Beyond the mixing of regional styles, and although I know that these pieces are marketed to an American, English-speaking market, I think "Brezelhaus" and "Brauhaus" for the shop names would be readily comprehensible and add some authenticity.
Date published: 2020-10-11
Rated

5

out of

5
by
Madastiville
from
A Lemax Facade Lovers dream item!
This facade is rich in detail and has multiple focal points.
Date published: 2020-10-09