Lion Brand® Re-Up Yarn
Lion Brand® Re-Up Yarn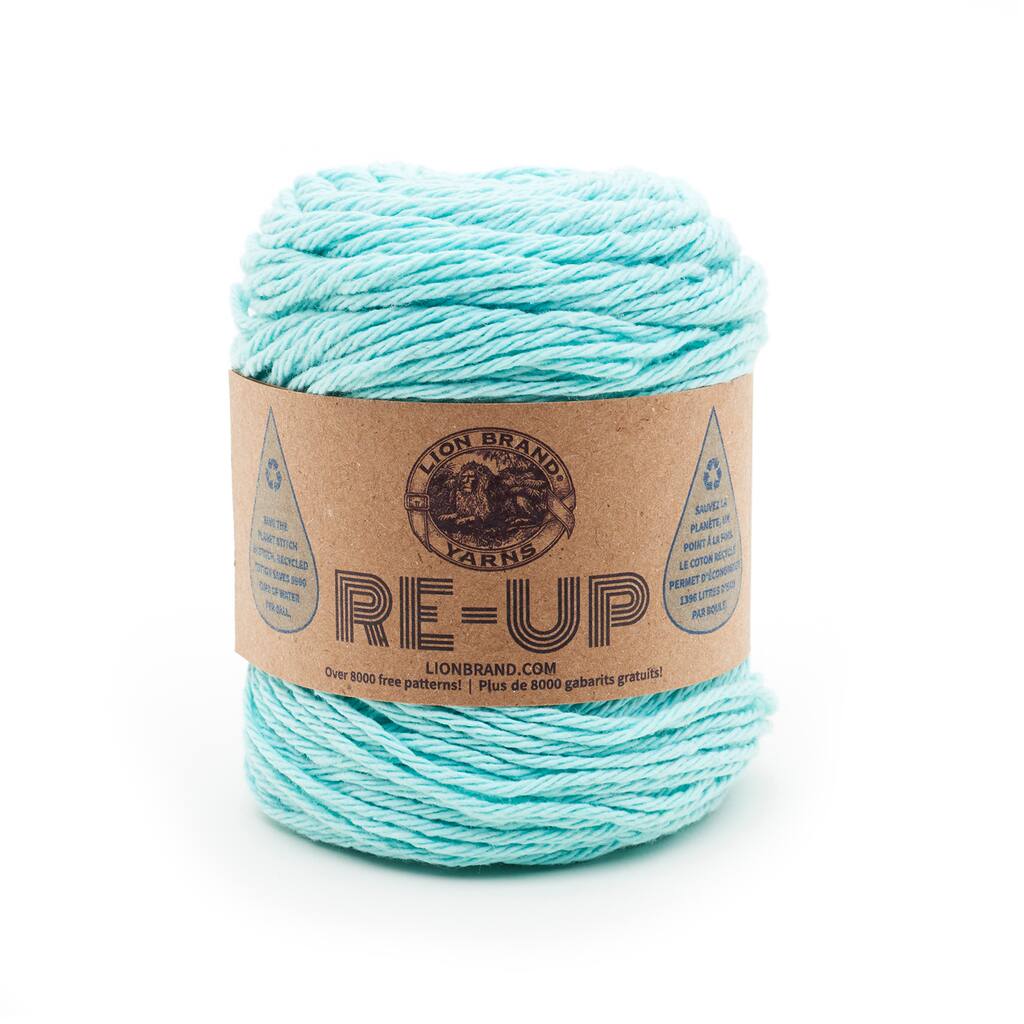 Details
https://www.michaels.com/lion-brand-re-up-yarn/M20000539.html
Variations
Size:

Please Select a Size
---
Knit your way to a greener planet with Re-Up yarn by Lion Brand. Made from recycled materials, this cotton blend is perfect for creating reusable totes, home décor accents and wearables.

Weight: Medium (4)

Contents: 855 Cotton, 15% Poly
Skein Weight: 2.5 oz / 70 g
Yardage: 114 yd / 105 m

Knitting Gauge:
20 sts - 21 rows = 4" (10 cm)
Crochet Gauge:
15 sc - 16 rows = 4" (10 cm)

Suggested Knitting Needle:
4.5 mm, US - 7
Suggested Crochet Hook:
5.5 mm, US - I/9
Knit your way to a greener planet with Re-Up yarn by Lion Brand. Made from recycled materials, this cotton blend is perfect for creating reusable totes, home décor accents and wearables.

Weight: Medium (4)

Contents: 855 Cotton, 15% Poly
Skein Weight: 2.5 oz / 70 g
Yardage: 114 yd / 105 m

Knitting Gauge:
20 sts - 21 rows = 4" (10 cm)
Crochet Gauge:
15 sc - 16 rows = 4" (10 cm)

Suggested Knitting Needle:
4.5 mm, US - 7
Suggested Crochet Hook:
5.5 mm, US - I/9
jump
---
Knit your way to a greener planet with Re-Up yarn by Lion Brand. Made from recycled materials, this cotton blend is perfect for creating reusable totes, home décor accents and wearables.

Weight: Medium (4)

Contents: 855 Cotton, 15% Poly
Skein Weight: 2.5 oz / 70 g
Yardage: 114 yd / 105 m

Knitting Gauge:
20 sts - 21 rows = 4" (10 cm)
Crochet Gauge:
15 sc - 16 rows = 4" (10 cm)

Suggested Knitting Needle:
4.5 mm, US - 7
Suggested Crochet Hook:
5.5 mm, US - I/9
Knit your way to a greener planet with Re-Up yarn by Lion Brand. Made from recycled materials, this cotton blend is perfect for creating reusable totes, home décor accents and wearables.

Weight: Medium (4)

Contents: 855 Cotton, 15% Poly
Skein Weight: 2.5 oz / 70 g
Yardage: 114 yd / 105 m

Knitting Gauge:
20 sts - 21 rows = 4" (10 cm)
Crochet Gauge:
15 sc - 16 rows = 4" (10 cm)

Suggested Knitting Needle:
4.5 mm, US - 7
Suggested Crochet Hook:
5.5 mm, US - I/9
Shipping & Returns
jump
---
Shipping & Returns
Shipping
Most products may be shipped via standard ground (delivered in 4-6 business days), second day or next day. Orders placed by 11:00 AM Central Time using second day or next day will ship the same day. View Full Shipping Policy and Pricing ›
Returns
If your Michaels.com purchase does not meet your satisfaction, you may return it within six months (180 days) of purchase. To return an item (excluding sample products), the item must be new, unused and in its original packaging. You may return the item to a Michaels store or by mail. View Full Return Policy ›
From the Manufacturer
jump
Customer Reviews
Lion Brand® Re-Up Yarn
is rated out of
5
by
6
.
Rated

2

out of

5
by
BernaE
from
Can not compare to Sugar and Cream
This yarn is not 100% cotton but a cotton/polyester blend. It feels much thinner than the Sugar and Cream brand. :/
Date published: 2019-11-06
Rated

5

out of

5
by
Skybomb53
from
Great for household projects
This yarn is great for things like dish cloths or scrubbiest, or anything decorative. It's not soft so I wouldn't use it for washcloths or the like, but it's quite durable. I made a few cleaning rags months ago and they're going strong. The yarn is thinner like others have mentioned, and does split easily while working so take care with it. But as long as you know what you're getting I think it's a great option for reducing waste!
Date published: 2019-08-24
Rated

5

out of

5
by
Click
from
I love the yarn!
Knits very well. I love it. It has great colors. I made dish towels
Date published: 2019-07-04
Rated

4

out of

5
by
Fregosos_Twist
from
Potential to split, but not that bad
Great idea on LB for thinking about our planet. While I do not think theyre the BEST for dish cloths like the other reviews have said, I love them for market bags or a pattern I released that is a wall hanging bags . It is over on Raverly under my username FregososTwist. Check it out
Date published: 2019-07-03
Rated

1

out of

5
by
Giamarie15
from
I'm concerned
I just bought this in white last night because there was no other options in cotton at the stores I went to. While I do like the fact that it's for a good cause, I just don't feel like one of them is for dishcloths. it's much thinner than the other brand even though it says it's a 4 weight so you can't mix them . it is also much rougher and even when using a smaller hook than suggested it still slips off and comes apart fairly easily which is frustrating. Idk but to me it feels more like a butchers twine than a nice cotton for any type of cloth you would want near your skin, just my personal opinion though of course.
Date published: 2019-06-26
Rated

3

out of

5
by
GoldGiraffe
from
Cautiously optimistic
I purchased five skeins in three colors in order to make dish cloths. After rewinding the yarn, I'm experiencing a lot of tangles from the end section overlapping my working end. It's annoying to constantly stop, unwind, knit a row, stop, unwind. That said, the product has a soft yet sturdy feel. I'm enjoying working it up despite its tendency to slide around on my metal needles, and also really like the brand commitment to sustainability, which was a contributing factor in my decision to purchase. Using the rest of my stash will determine whether I buy more in future.
Date published: 2019-06-16