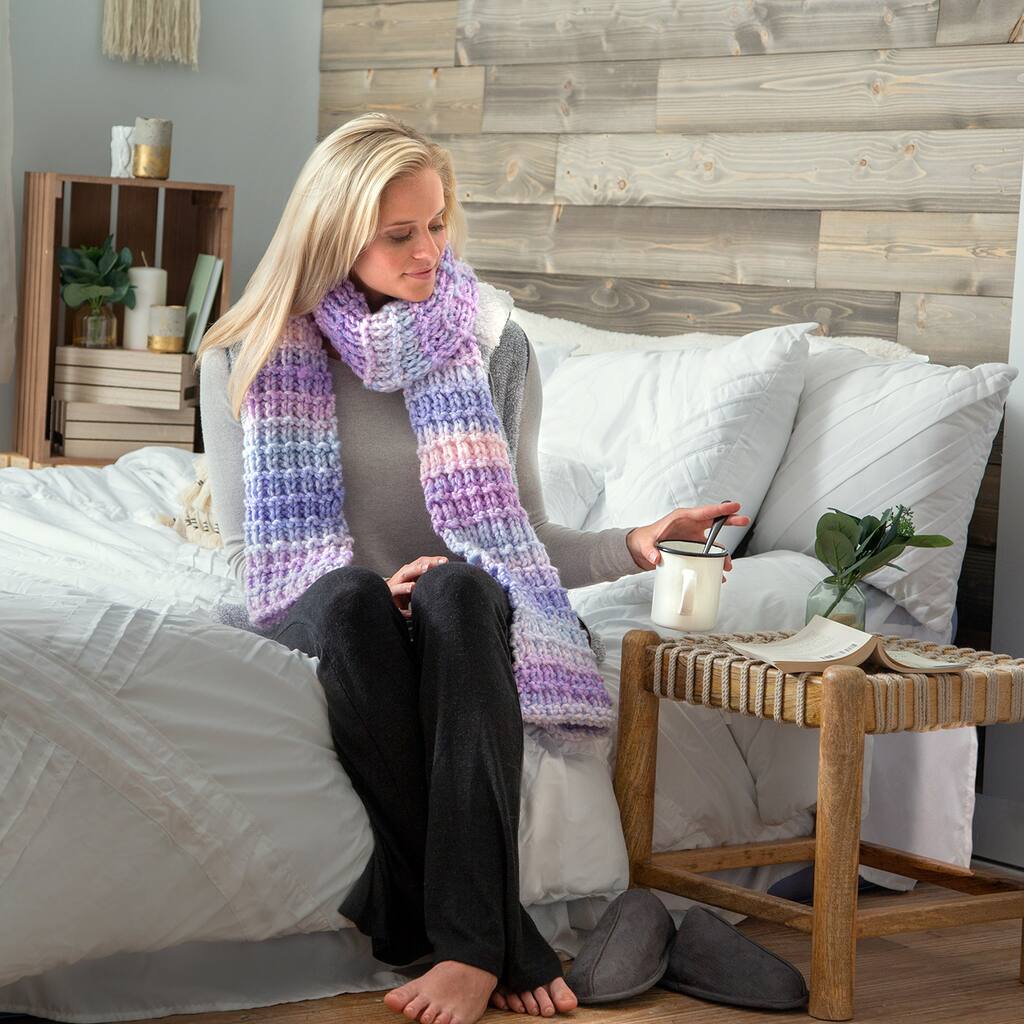 Over an hour
Beginner
Beginner
You're new to the skills necessary to complete this project, or maybe you've tried them just once or twice before.
loops & threads® copenhagen™ knit poetry scarf
The soft shades of color in this knit scarf are pure poetry! Let us show you how to knit your own lovely, cozy scarf with Loops & Threads® Copenhagen™ yarn. The free pattern is below – just take a look and we'll get you started!
Step 1
The soft shades of color in this knit scarf are pure poetry! Let us show you how to knit your own lovely, cozy scarf with Loops & Threads® Copenhagen™ yarn. The free pattern is below – just take a look and we'll get you started! FINISHED MEASUREMENTS: Width = 12" and Length = 66" GAUGE: 8 sts x 11 rows = 4"; save time and check your gauge INSTRUCTIONS: Cast on 24 sts. Rows 1-2: Knit. Rows 3-4: *K1, p1; rep from * across. Repeat Rows 1-4 until scarf measures 66", ending with Row 2. Bind off. Finishing: Weave in ends. ABBREVIATIONS: K = Knit P = Purl Rep = Repeat St(s) = Stitch(es)
https://www.michaels.com/loops-and-threads%C2%AE-copenhagen%E2%84%A2-knit-poetry-scarf/B_86416.html
https://www.michaels.com/loops-and-threads%C2%AE-copenhagen%E2%84%A2-knit-poetry-scarf/B_86416.html
3 - Loops & Threads® Copenhagen™ Yarn – Blush (10557767)
Step 1
The soft shades of color in this knit scarf are pure poetry! Let us show you how to knit your own lovely, cozy scarf with Loops & Threads® Copenhagen™ yarn. The free pattern is below – just take a look and we'll get you started! FINISHED MEASUREMENTS: Width = 12" and Length = 66" GAUGE: 8 sts x 11 rows = 4"; save time and check your gauge INSTRUCTIONS: Cast on 24 sts. Rows 1-2: Knit. Rows 3-4: *K1, p1; rep from * across. Repeat Rows 1-4 until scarf measures 66", ending with Row 2. Bind off. Finishing: Weave in ends. ABBREVIATIONS: K = Knit P = Purl Rep = Repeat St(s) = Stitch(es)
+ View More