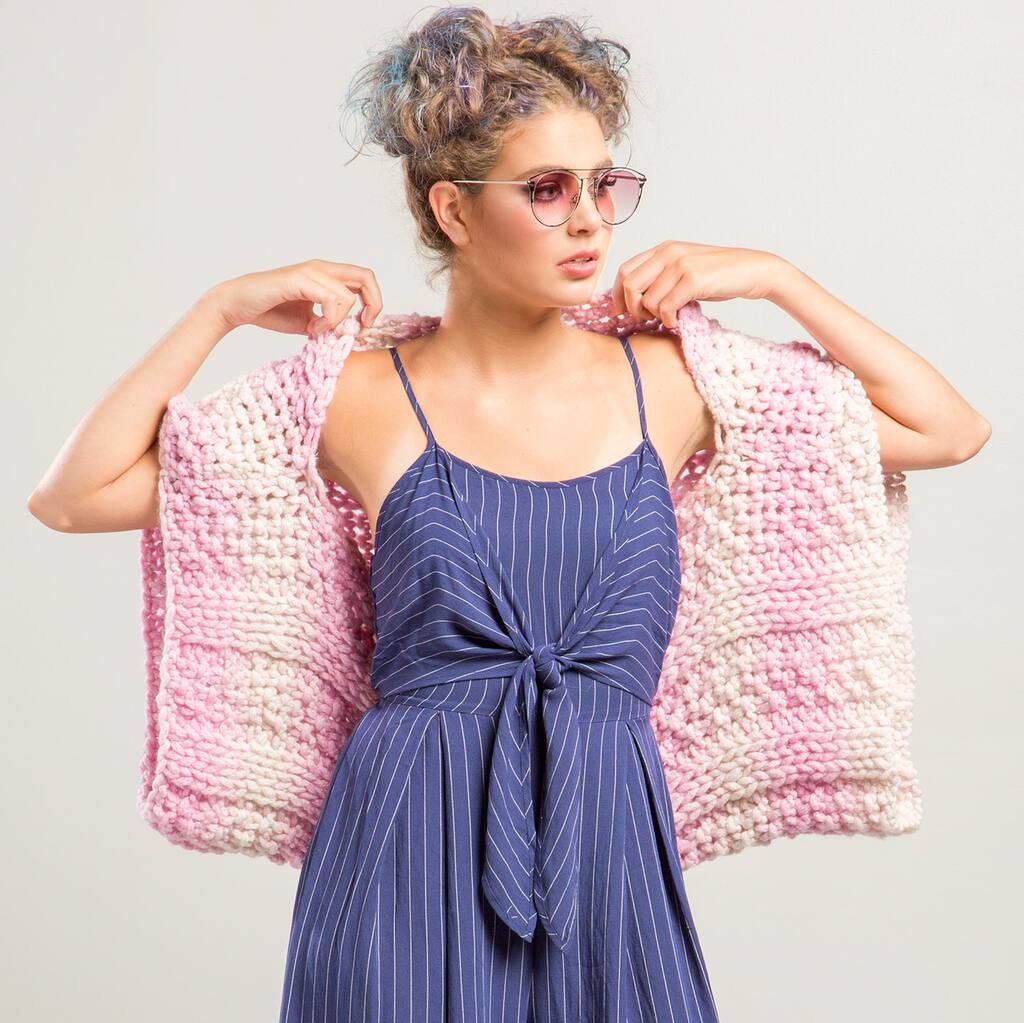 Over an hour
Beginner
Beginner
You're new to the skills necessary to complete this project, or maybe you've tried them just once or twice before.
loops & threads® loops™ ribbed cocoon
Feeling the chill of fall weather? Snuggle up in a shrug! This cozy ribbed cocoon is made from Loops™ yarn, so you won't need needles or a hook to make your stitches. Just check out the pattern below -- it'll show you how easy it is to get started.
Step 1
Feeling the chill of fall weather? Snuggle up in a shrug! This cozy ribbed cocoon is made from Loops™ yarn, so you won't need needles or a hook to make your stitches. Just check out the pattern below -- it'll show you how easy it is to get started. SIZES: Small/Medium (Large/X-Large) FINISHED MEASUREMENTS: Width = 40" (46)" and Length = 34" (36)" GAUGE: 5½ sts x 6 rows = 4" SPECIAL STITCHES: LK (Loop Knit): Reach through the next loop on your project, from front to back, then grab the next loop on your yarn and pull it through. LP (Loop Purl): Reach through the next loop on your project, from back to front, grab the next loop on your yarn and pull it through. PATTERN NOTES: Rows are worked either right to left, or left to right, always with the right side of the work showing. You do not turn your project over at the end of the row. Join a new ball by pulling both the last loop of the previous ball and the first loop of the new ball through the next stitch. When you reach this doubled stitch on the next row, pull the new loop through both loops as if they were one stitch. For seaming, either use a non-looped yarn in a similar color and size, or you can open up Loops™ by snipping the thread at the base of each loop until you have a long enough piece for seaming. INSTRUCTIONS: Body Count out 55 (63) loops. Row 1 Work across the 55 (63) loops, as follows, from right to left, LK in 1st loop, LP in next loop, * (LK in next loop, LP in next loop) twice, LK in each of next 3 loops, LP in next loop; rep from * to last 5 loops, (LK in next loop, LP in next loop) twice, LK in last loop. Do not turn. Row 2 Working from left to right, LP in next loop, LK in next loop, *LP in next loop, LK in next loop, LP in next 2 loops, LK in each of next 3 loops, LP in next loop; rep from * to last 5 loops, (LP in next loop, LK in next loop) twice, LP in last loop. Do not turn. Repeat Rows 1-2, 25 (26) more times or until piece measures 34" (36)". Starting at the opposite end of the row as the working yarn, reach through the first loop and grab the second loop, pull it through the first loop, *reach through the loop you just pulled through, grab the next loop, pull this loop through the last loop; repeat from * across until only one loop remains. Cut yarn next to last loop. Use a sewing needle and thread to secure last loop. Finishing: Fold piece in half with ends of rows together. Sew a 7½" seam on either side, starting from the beginning/final ends, sewing along the ends of the rows, leaving the center open. You will have a total of 3 openings, the beginning end will form a circle for one arm, the final end will form a circle for one arm and the center section will be open for your body. Weave in ends. ABBREVIATIONS: LK = Loop Knit LP = Loop Purl Rep = Repeat St(s) = Stitch(es)
https://www.michaels.com/loops-and-threads%C2%AE-loops%E2%84%A2-ribbed-cocoon/B_86712.html
https://www.michaels.com/loops-yarn-by-loops-and-threads/10569222.html
5 (6) – Loops & Threads® Loops™ Yarn – Rose (10569222)
Step 1
Feeling the chill of fall weather? Snuggle up in a shrug! This cozy ribbed cocoon is made from Loops™ yarn, so you won't need needles or a hook to make your stitches. Just check out the pattern below -- it'll show you how easy it is to get started. SIZES: Small/Medium (Large/X-Large) FINISHED MEASUREMENTS: Width = 40" (46)" and Length = 34" (36)" GAUGE: 5½ sts x 6 rows = 4" SPECIAL STITCHES: LK (Loop Knit): Reach through the next loop on your project, from front to back, then grab the next loop on your yarn and pull it through. LP (Loop Purl): Reach through the next loop on your project, from back to front, grab the next loop on your yarn and pull it through. PATTERN NOTES: Rows are worked either right to left, or left to right, always with the right side of the work showing. You do not turn your project over at the end of the row. Join a new ball by pulling both the last loop of the previous ball and the first loop of the new ball through the next stitch. When you reach this doubled stitch on the next row, pull the new loop through both loops as if they were one stitch. For seaming, either use a non-looped yarn in a similar color and size, or you can open up Loops™ by snipping the thread at the base of each loop until you have a long enough piece for seaming. INSTRUCTIONS: Body Count out 55 (63) loops. Row 1 Work across the 55 (63) loops, as follows, from right to left, LK in 1st loop, LP in next loop, * (LK in next loop, LP in next loop) twice, LK in each of next 3 loops, LP in next loop; rep from * to last 5 loops, (LK in next loop, LP in next loop) twice, LK in last loop. Do not turn. Row 2 Working from left to right, LP in next loop, LK in next loop, *LP in next loop, LK in next loop, LP in next 2 loops, LK in each of next 3 loops, LP in next loop; rep from * to last 5 loops, (LP in next loop, LK in next loop) twice, LP in last loop. Do not turn. Repeat Rows 1-2, 25 (26) more times or until piece measures 34" (36)". Starting at the opposite end of the row as the working yarn, reach through the first loop and grab the second loop, pull it through the first loop, *reach through the loop you just pulled through, grab the next loop, pull this loop through the last loop; repeat from * across until only one loop remains. Cut yarn next to last loop. Use a sewing needle and thread to secure last loop. Finishing: Fold piece in half with ends of rows together. Sew a 7½" seam on either side, starting from the beginning/final ends, sewing along the ends of the rows, leaving the center open. You will have a total of 3 openings, the beginning end will form a circle for one arm, the final end will form a circle for one arm and the center section will be open for your body. Weave in ends. ABBREVIATIONS: LK = Loop Knit LP = Loop Purl Rep = Repeat St(s) = Stitch(es)
+ View More