RED HEART® Soft Ruffle Pillow (Knit)
Use any colour of RED HEART® Soft and Sashy™ to match your home décor!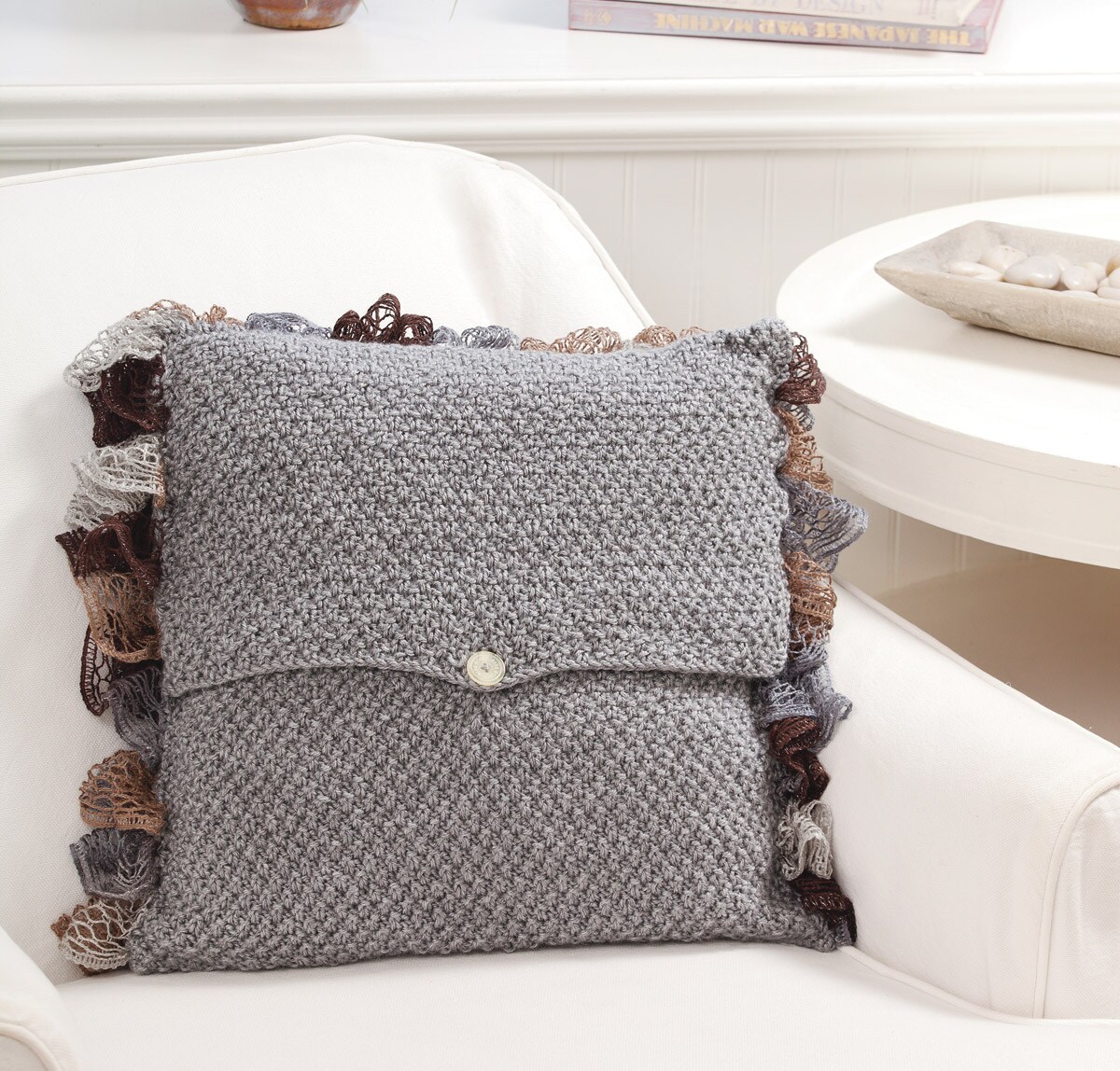 Instructions
Finished pillow measures 40.6 x 40.6 cm (16" x 16").

GAUGE: 17 sts = 10.2 cm (4"); 23 rows = 10.2 cm (4") in St st with A.

CHECK YOUR GAUGE. Use any size needles to obtain gauge.

ABBREVIATIONS:
A, B = colour A, B
K = knit
mm = millimeters
P = purl
St st = Stockinette stitch (Knit on right side rows; Purl on wrong side rows.)
st(s) = stitch (es)
tog = together
yo = yarn over
* or ** = repeat whatever follows the * or ** as indicated
[] = work directions in brackets the number of times specified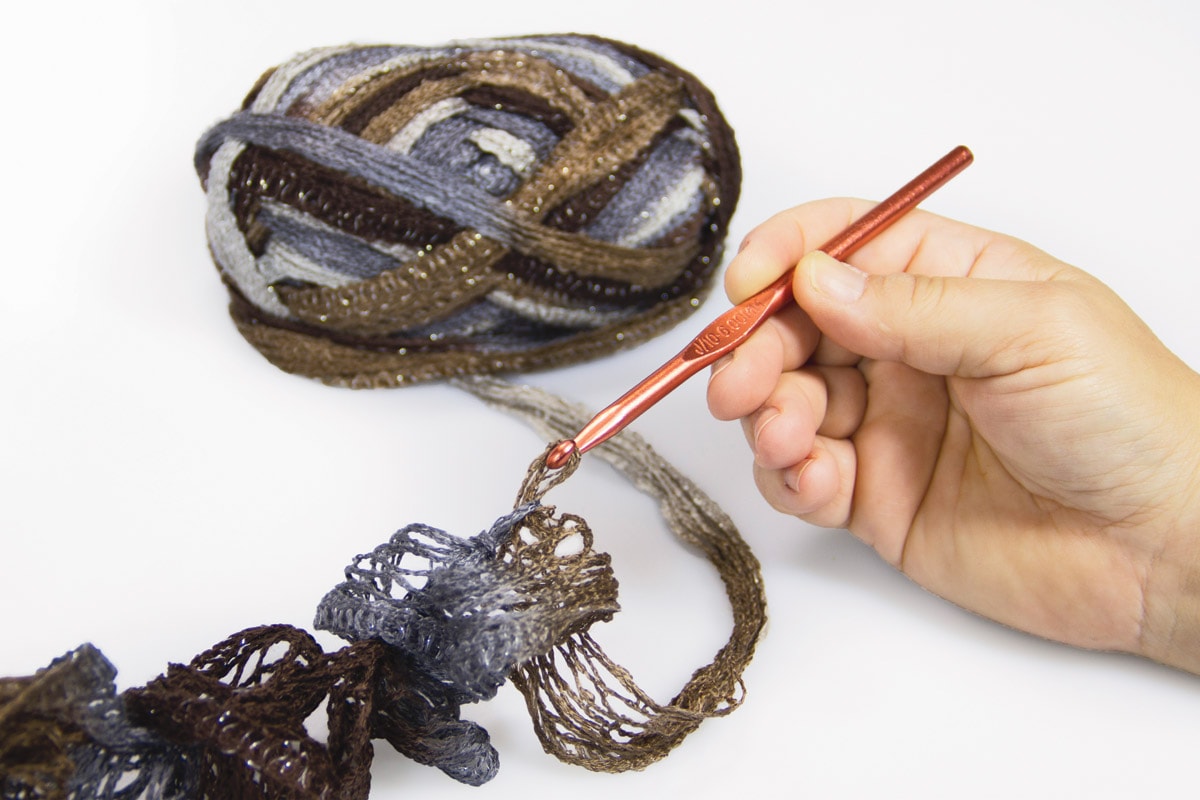 The Sashay™ yarn is a flat mesh ribbon with a track of holes across the top. The needles are working through these just as they would around a length of yarn.

Moss Stitch

Rows 1 and 2: * K1, P1; repeat from * across.
Rows 3 and 4: * P1, K1; repeat from * across.
Repeat Rows 1-4 for Moss Stitch pattern.

Back, First Section

With A, cast on 68 sts. Work in Moss Stitch until piece measures 25.4 cm (10"), ending with either Row 2 or Row 4. Bind off.

Back, Second Section

Work as for First Section until piece measures 20.3 cm (8").

Buttonhole Row: Work in pattern across first 32 sts, K2tog, [yo] twice, K2tog, work in pattern across last 32 sts.

Work 2 more rows in pattern, working the double yarn-over as 2 sts. Bind off.

Front

With A, cast on 68 sts. Work 10 rows in St st, begin Knit row, end Purl row.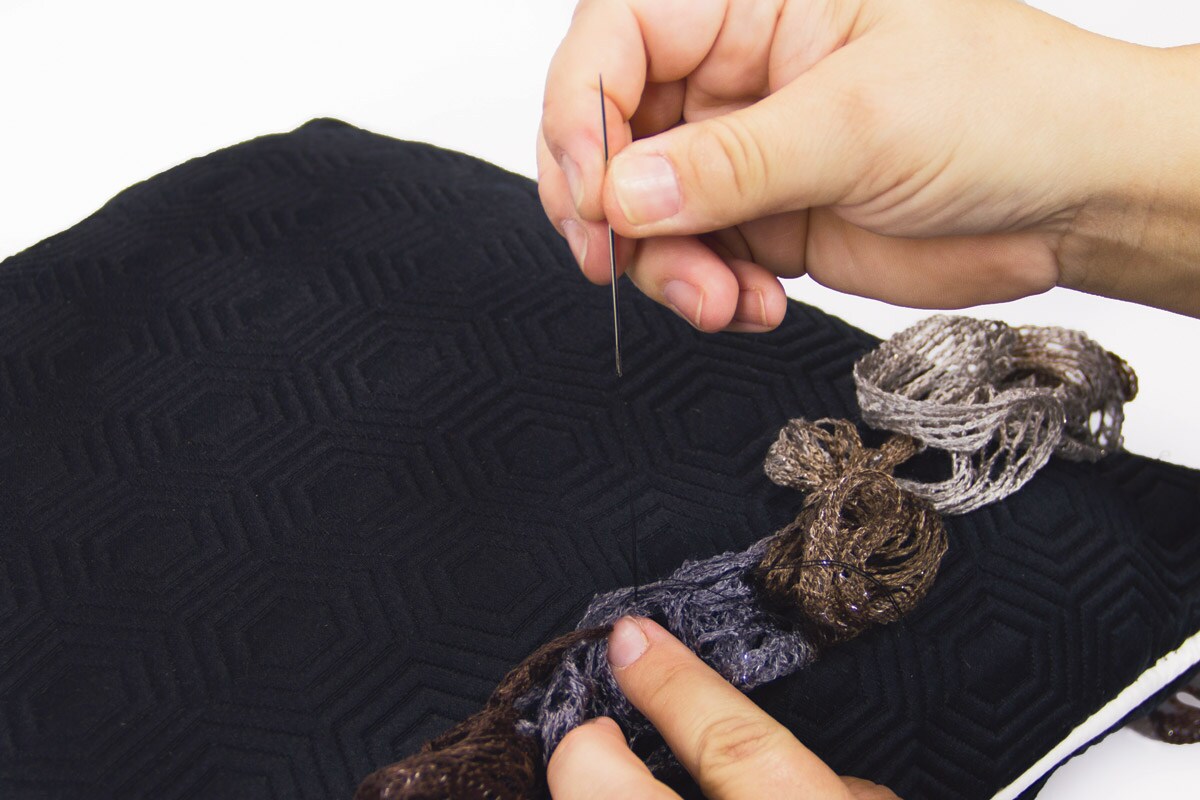 ** Attach Ruffle

Place B across right side of work so ball end is on your left and cut end on your right. Leaving a few inches to tack to wrong side later, * insert right needle from front to back through B and then knitwise into first st on left needle; knit both together with A; repeat from * across. Cut B, leaving a few inches to tack to wrong side.

Work 9 rows St st with B, begin Purl row, end Purl row.

Repeat from ** until there are 8 ruffles, then repeat ruffle only once more – 9 ruffles. Purl 1 row A. Bind off.

Finishing

Weave in loose ends of A. Tack cut ends of B to wrong side. Sew Backs to top, bottom, and sides of Front (but not to each other). Backs should overlap. Sew button opposite buttonhole.