Warm Wishes to Ewe Hand Lettering Card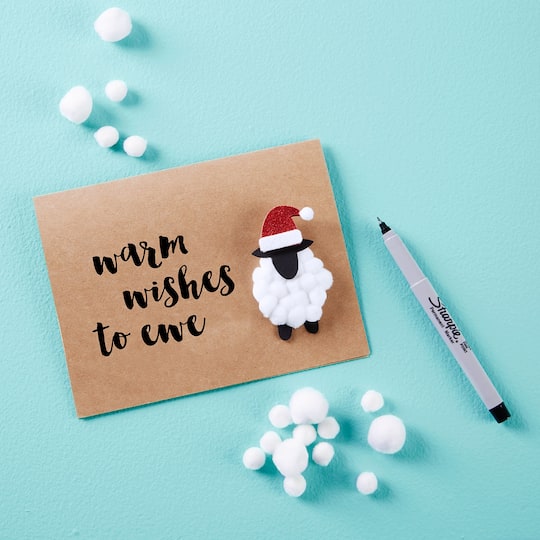 Materials
Instructions
Step 1 Click here to download and print the template and cut out the sheep pieces.
Step 2 Transfer the pattern with transfer paper to the back side of the black cardstock. Cut out.
Step 3 With hot glue, adhere white pom poms to the sheep's body in a tight pattern.
Step 4 Remove the glue dot from the back of the Santa hat. Add hot glue to the back of the hat and adhere to the sheep's head.
Step 5 Adhere the sheep's head to the body with hot glue.
Step 6 Put transfer paper, dark side toward the card, between the pattern and the card. Trace the saying onto the card with a light touch. Remove the pattern and transfer paper.
Step 7 Trace the saying with a black Sharpie® marker. Erase any of the transfer lines showing.
Step 8 Adhere the sheep to the card.
Share your project photos with #MakeItWithMichaels