Wilton® Unicorn Cake
Every party needs a unicorn, and this cake design is the latest must-have trend for celebrations, birthdays or any fun day. Surprisingly easy to make, with its twisted horn using Wilton® Decorator Preferred Fondant, and mane decorated with colorful Wilton® icings and Sugar Pearls.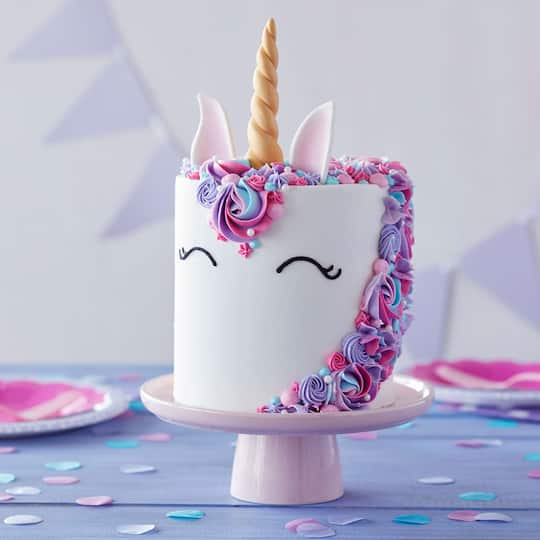 Materials
Instructions
Project Notes:
To get the Burgundy icing color shown, combine Burgundy and Rose. To get the Violet, combine Violet and Rose.
You will need 4½ cups of Wilton® Decorator White Icing for this cake.
Step 1 Make fondant ears one day ahead. Knead ½ tsp. Gum-Tex into fondant. Use 9" roller with purple guide rings to roll out fondant 3 mm thick.
Step 2 Use largest leaf cutter "A" and cut two leaves for ears. Place in wave former and dry overnight. Reserve remaining fondant.
Step 3 To make the horn, roll two 3.5 cm balls of fondant into elongated cone shapes approximately 16 cm long. Brush with a small amount of water and twist together.
Step 4 Insert a lollipop stick into the base of the horn, leaving 10 cm extended. Set into craft block to dry overnight.
Step 5 Bake two 7.6 cm high layers for a 15.2 cm high cake. Cool. Use decorator icing to stack and ice layers. Ice cake smooth.
Step 6 Spray fondant horn with gold Color Mist® and push the lollipop stick into the top of the cake, about 2.5 cm - 3.8 cm from the edge.
Step 7 Mix small amount of pink and white Color Dust™. Use round brush to dust inside of fondant ears. Insert fondant pieces into the top of cake on either side of the ears.
Step 8 Divide icing and tint two shades of Burgundy, Violet, blue and a small amount of black.
Step 9 Prepare decorating bags with tip 1M, 10, 14, 5, 21 and 3. Fill tip 3 bags with black icing. Fill tip 1M bag with a combination of colors. Fill all other bags with separate icing colors.
Step 10 Pipe rosettes, stars, dots and swirls for the mane.
Step 11 Use tip 3 and black icing to pipe eyes.
Step 12 Add white sugar pearls randomly to the mane.
Share your project photos with #MakeItWithMichaels