Red Velvet Spritz Cookies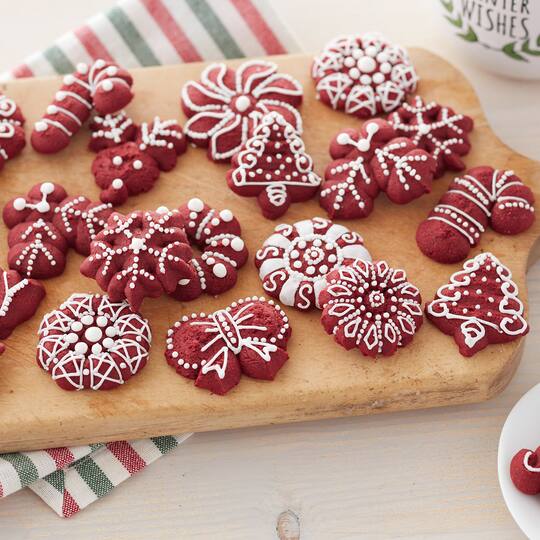 Materials
Instructions
Project Note: Makes about 10 dozen cookies.
Quantities Needed:
¼ Cup Cocoa Powder
3¼ Cups All-Purpose Flour
1 Teaspoon Baking Powder
1½ Cups (3 Sticks) Butter, Softened
½ teaspoon red icing color
1 Cup Granulated Sugar
1 Egg
2 Tablespoons Milk
1 Teaspoon Wilton® Pure Vanilla Extract

Preheat oven to 177°C.
Step 1 In medium bowl, combine flour, cocoa powder and baking powder.
Step 2 In large bowl, beat butter and sugar with electric mixer on medium-high speed until light and fluffy.
Step 3 Add egg, milk, vanilla and color; mix well. Gradually add flour to butter mixture, mixing to make a smooth dough. Do not chill.
Step 4 Place dough into cookie press and press cookies onto ungreased cookie sheet.
Step 5 Bake 10-12 minutes or until lightly browned around edges. Remove cookies from cookie sheet; cool on cooling grid.
Share your project photos with #MakeItWithMichaels