Mother's Day Painted Frame Set
Ready to hear a deep, dark secret about Moms? They really do love every single one of your handmade presents: from the chipped flower pot you made when you were five to the hand-lettered card you made last year. To your Mom, everything you do is the Best. Thing. Ever. So, go all out with this painted frame – it's guaranteed to be a hit.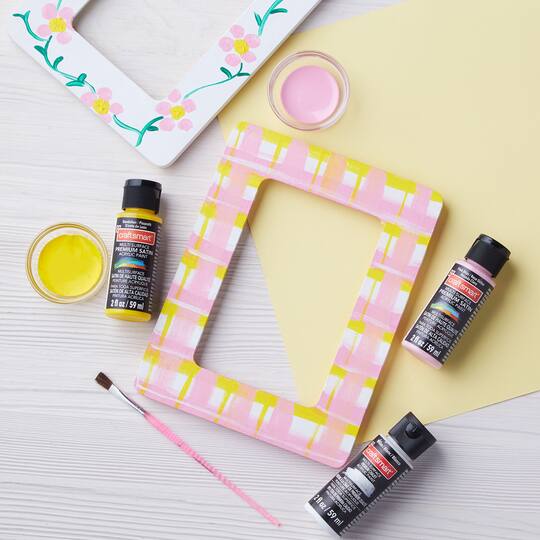 Materials
Instructions
Step 1 First, paint your frame with a base color. We used white for ours, but you can pick any color. (Even better, pick your Mom's favorite color!) Let the paint dry and, if necessary, add a second coat to ensure the frame is evenly covered.
TIP: We like to use foam brushes when painting a base coat. They're ideal for getting a nice, even coat of paint onto your frame.
Step 2 Once the base layer is dry, it's time to decorate it with fingerprint flowers, a plaid pattern, or any other design you think your Mom will like. Here's how we made ours:
Fingerprint Flowers: Squirt a dollop of pink and yellow paints on a paper plate (or palette paper). Dip the pad of your finger in the yellow paint, then press it against the frame to make yellow fingerprints. Repeat with pink paint to add fingerprint petals around the yellow centers. Finally, dip a small brush in green paint and draw stems and leaves in between flowers. You get extra credit for curlicues!
Plaid Pattern: This one's easy! Just use a brush to paint stripes vertically and horizontally across the frame. After you finish a layer, let it dry, then add another set of stripes in a different color. As you paint, make sure to extend each stripe onto the edges of the frame as well. Keep adding layers of stripes until you're happy with your design.
Step 3 When your frame is dry, don't forget to place a personal piece of artwork or a photo of the two of you together inside, to complete your soon-to-be-loved gift!
Share your project photos with #MakeItWithMichaels