Kindness Mug
Life can feel complicated and rushed sometimes, so we love the idea of making a simple message mug to help carry us through the day. This little guy is a thoughtful reminder that we should always strive to be kind. Make one for yourself, or design your own special pick-me-up for a friend!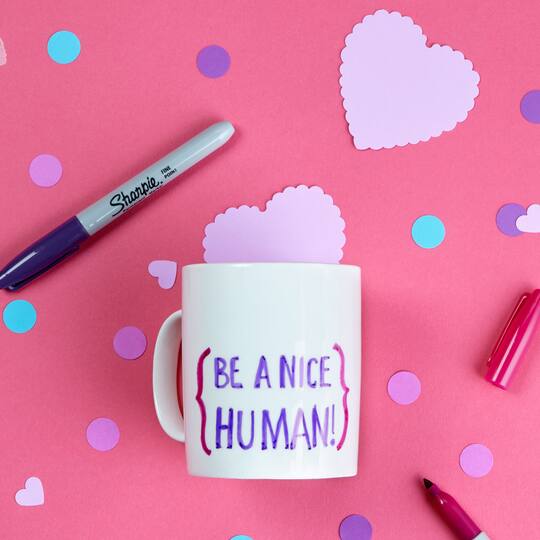 Materials
Instructions
Project Notes:
To keep your Sharpie® marker lines and designs from getting smudged, make sure they're at least 3.8 cm below the mug's opening,
You'll use only Sharpie® markers for this project, so you can set aside the paints and paintbrush that come with the mug.
Step 1 First, let's get things straight, with the help of a little painter's tape. Measure 3.8 cm down from the lip of the mug and add a strip of tape, horizontally, to mark the top of your first line of words. Decide how high you want this first line to be, and add another strip of tape below.
TIP: Now that you've marked off the top and bottom margins for your first line of words, it'll be easy to keep all your letters straight and the same size, as you write.
Step 2 Use a Sharpie® marker to write the first line of your saying. We used all caps, but you can write in lowercase or script, or however you like! Let the Sharpie® marker dry, then remove the tape from the first line.
TIP: If you happen to make a mistake, don't worry! Just dip a cotton swab or the corner of a paper towel in rubbing alcohol and carefully wipe off the marker. Dab at the alcohol, or let it dry, and then rewrite your letters.
Step 3 Use painter's tape to mark off the top and bottom margins for your second line, just as you did in Step 1.
Step 4 Locate your first line's midpoint and use that to figure out where you want to place the words in your second line. Write the bottom word (or words) with the same Sharpie® marker. Let the marker dry and remove the tape again.
Step 5 Pick a different color of Sharpie® marker and use it to draw brackets to the left and right of your saying. Make sure the brackets are tall enough to cover both lines of text.
Step 6 To make your words permanent, place the finished mug into a cool oven. Turn the heat to 250°F and bake for two hours. Without opening the oven, turn the heat off and let the mug cool completely. To ensure a long-lasting design, always wash your mug with a soft sponge.
TIP: Remember that creating sudden changes in temperature (like opening a hot oven!) can cause the mug to crack; it's important to let the mug heat up and cool down inside the oven.
Share your project photos with #MakeItWithMichaels