Tassel Necklace
The cheery beads and tassels on this necklace make us smile. Maybe it's because we know how much fun it is to mix and match them – you won't even need tools! Just slide them on, make a few knots and you're good to go!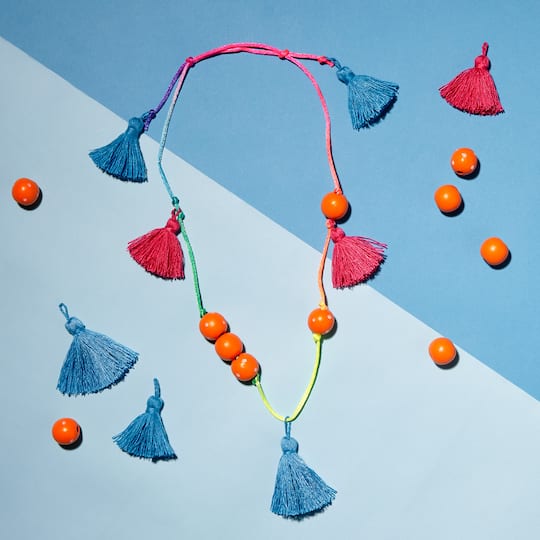 Materials
Instructions
Step 1 Cut a piece of cording that's 91.5 cm long.
Step 2 Slide your tassels and beads onto the cording. Make knots on either side of the beads to hold them in place.
TIP: If you'd like to add a tassel to the center of the necklace, as we did, then slide that tassel onto the cording first and place it at the midpoint. Now you can add beads and more tassels to either side.
Step 3 Want to finish your necklace with a sliding knot? (This will allow you to shorten and lengthen the cord.) If so, then overlap the ends of the cording by about 5 cm - 7.5 cm. Tie a knot with the end pointing towards the left, over the cording. Repeat to tie a knot on the left side, too.
TIP: You can also finish your necklace more simply, by tying a knot. Just decide on the length you want your necklace (or bracelet!) to be, then tie a knot and cut the excess.
Step 4 Last step! Slide one more set of tassels onto the ends of the sliding knots and knot them tightly in place.
Share your project photos with #MakeItWithMichaels