Red and White Personalize It Pom-Pom Woven Hat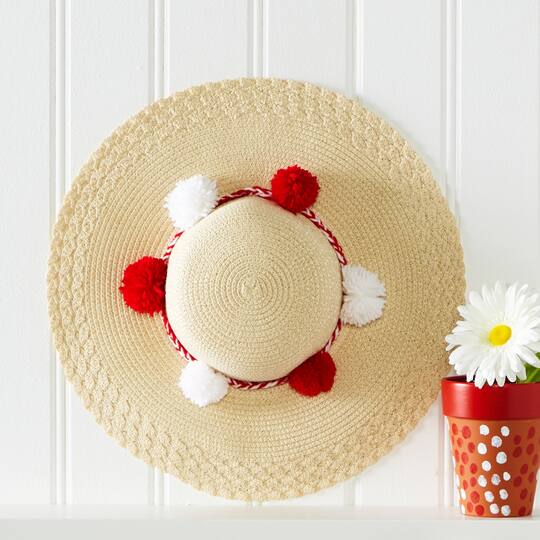 Materials
Instructions
Project Notes:
This family project is for 3+.
The Loops & Threads™ scissors and hot glue gun are for Adult Use Only.
Step 1 Unroll 3.6 meters of white yarn and two 3.6 meters lengths of red yarn. Fold each strand in half and tie them together in a knot just under the fold.
Step 2 Tape the knotted end to a table or work surface. Braid the three colors together. Make the braid long enough to wrap around the crown of the hat. Knot the end and cut off the excess yarn.
Step 3 ADULT: Wrap the braided band around the crown of the hat and hot glue into place.
Step 4 ADULT: Make three small pom-poms from both colors of yarn. To make a pom-pom, wrap the yarn around three fingers about 65 times and cut from skein. Carefully slide the wrapped yarn off your fingers, careful not disrupt the loops. Cut a 30 cm piece of yarn, wrap it around the middle of the loops and tie a tight knot. Cut open all the loops and then trim the pom-pom of stray ends and form it into a round shape.
Step 5 ADULT: Hot glue the pom-poms to the band of the hat around the crown, spacing them evenly.
Share your project photos with #MakeItWithMichaels