Martha Stewart Paper Flowers Banner
Breathe a bit of fresh air into your party décor with this bright flowered banner! We think it's the perfect focal piece for any spring celebration. Check out our instructions and we'll show you exactly how to make each lovely flower, pinwheel and tassel.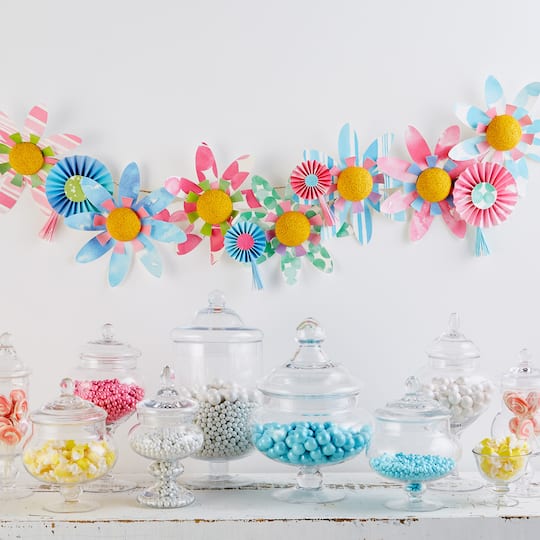 Materials
Instructions
Step 1 We've got a template that'll make this project easier! Click here to download and print it out on 27.9 cm x 43.1 cm paper. Then, cut out the pattern pieces.
TIP: If you don't have 27.9 cm x 43.1 cm paper available, no worries! You can set your printer to tile the pages, match up the sheets and tape them together to make the full-sized pattern.
Step 2 Trace the flower pattern onto several different sheets of cardstock from the watercolor paper pad, then cut them out. (We made seven of the flowers for our banner.)
Step 3 Trace the pattern for the flower centers onto different sheets of paper from the pad. Look for watercolor designs that contrast nicely with the ones used for the flowers themselves. Cut out as many centers as you have flowers.
Step 4 Hot glue each flower center to a flower.
Step 5 Cut four Styrofoam® balls in half. (Pssst – a serrated knife is perfect for this job.) Paint each half yellow, then let the paint dry.
Step 6 Hot glue one yellow half onto the center of each flower. Now, they really stand out!
Step 7 Let's make some pinwheels! For each one, you'll need to cut cardstock as follows:
15.2 cm Pinwheel: cut two 30.5 cm x 7.6 cm strips.
12.7 cm Pinwheel: cut two 30.5 cm x 6.3 cm strips.
10 cm Pinwheel: cut two 30.5 cm x 5 cm strips.
All Pinwheels: cut one 3.8 cm circle. (This piece is included in your downloaded template.)
Step 8 Using the paper trimmer with its scoring blade inserted, score each strip every 1.2 cm for the entire 30.4 cm width. For each pinwheel, follow the scoring lines to accordion fold both paper strips, then attach them to each other using a small amount of hot glue. Glue the ends together, too, so you now have a circle.
Step 9 Here's how to create one pinwheel: Gather the accordion folds together with your hands, and flatten the paper down onto your table. The pinwheel will naturally form as you press the paper down. While holding the pinwheel in place on the table, add some hot glue to the back of one of your 3.8 cm circles, then press it onto the pinwheel's center. Hold it in place until the glue cools and the pinwheel is secured. Beautiful! Now, repeat this to make the rest of your pinwheels.
Step 10 Tassels will add a bit of extra fun to your banner! To make one, cut a piece of cardstock that's 7.6 cm x 15.2 cm. Cut small slits, about 0.3 cm wide, across the 15.2 cm length, but make sure each one stops about 1.2 cm from the edge at one side. When the entire 15.2 cm length is fringed, roll the paper tightly and secure it with a small amount of hot glue. Now, you can fluff the paper fringe with your fingers. Make another tassel or two (or more!).
Step 11 Cut a length of jute that's at least 1.8 m long (or as long as you need to fill your space). Lay the flowers on the jute and take a few minutes to position them just the way you like them. To create an interesting arrangement, be sure to overlap them here and there, as well as varying their heights, so that some are higher or lower than others. Hot glue each flower in place onto the jute.
Step 12 All that's left is to hot glue your pinwheels and tassels to the banner.
Share your project photos with #MakeItWithMichaels