Mason Jar and Lighting Project
Brighten up your décor with these pretty Mason jars, filled with delicate, fairy-like string lights. Line them up for a clean, minimal look, or arrange them with flowers and greenery to create a magical oasis in your home. Want to know how easy they are to make? Read on and we'll illuminate you!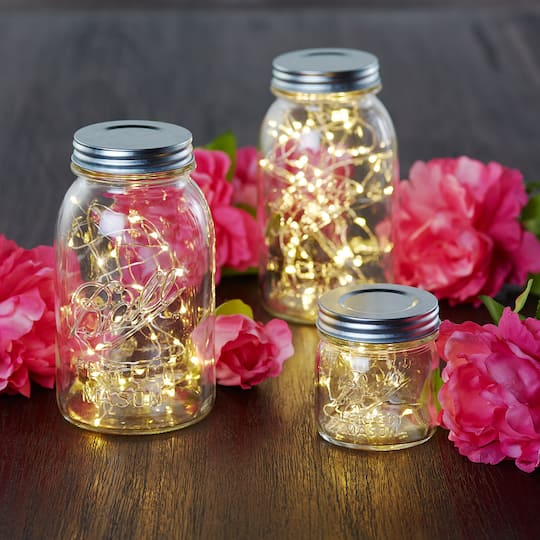 Materials
Instructions
Step 1 First, open up your 237 ml Mason jar (that's the little one) and place the 1.5 m strand of lights inside. Arrange them so that the end with the battery pack is sticking out of the jar's mouth and the battery pack itself is resting on your working surface, tucked behind the jar. Now you can screw the lid back onto the jar.
Step 2 Do the same for the two 946 ml Mason jars; however, they'll each get one 3 m strand of lights. As before, just tuck the battery packs behind the jars, then screw the lids back onto each jar.
Step 3 All that's left to do is to add batteries to your battery packs and then turn on the lights. Brilliant!
TIP: P.S. Try arranging flowers or greenery behind your jars. It's so pretty (and they'll help to hide the battery packs)!
Share your project photos with #MakeItWithMichaels