Summer Mermaid Cupcakes
Inspired by mermaids and all fun things under the sea, these mini cupcakes will delight partygoers, young and old. Use the Wilton® Silicone Sea Life Mold and Decorator Preferred Fondant to form the mermaid fins that sit atop the ocean-like colors of seashell icing swirls.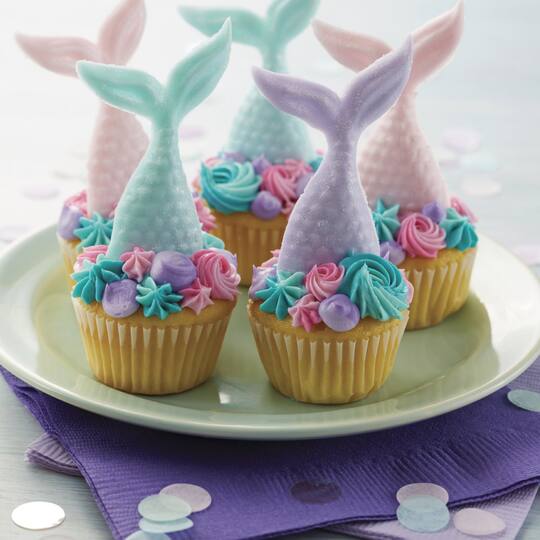 Materials
Instructions
Step 1 One day in advance, make mermaid tails. To do this, first divide fondant into three 2 oz. pieces. Tint light Teal, Violet and pink.
Step 2 Press fondant in mermaid tail cavities of silicone mold. Use fondant roller to smooth fondant in molds, edge to edge. Use spatula to shave off excess. Remove tails and set aside to dry several hours (or overnight). Brush tails with pearl dust.
Step 3 Prepare batter by following mix (or recipe) directions. Bake and cool cupcakes in mini muffin cups.
Step 4 Divide icing in ½ cup portions and tint dark pink, light pink, dark Teal, light Teal, dark Violet and light Violet.
Step 5 Fit decorating bags with tips 10, 16 and 18. Stripe bags with 2 shades of like colors in bag (such as light and dark purple) with tip 10, light and dark pink with tip 16, light and dark Teal with tip 18.
Step 6 Pipe icing in center of cupcakes and add tails. Use icing in bags and pipe stars, rosettes and dots around tail.
Share your project photos with #MakeItWithMichaels