Musical Canvas Art
Do your kids need a little unplugged time during their summer vacation? If you're looking for a fun and easy craft, these colorful musical canvases are just the thing! Check out our instructions and we'll show you how simple it is to make these lovely pieces of art!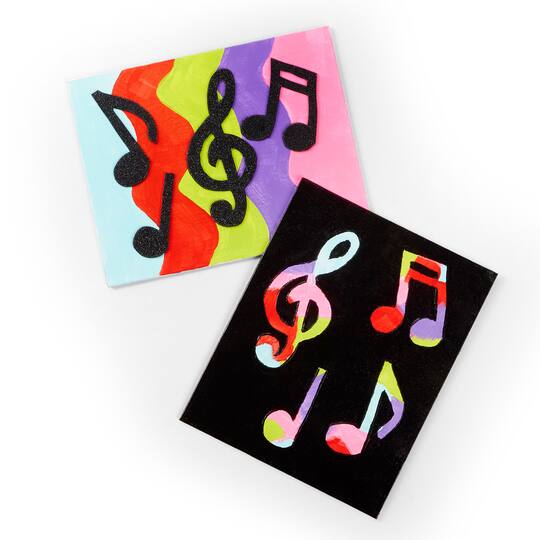 Materials
Instructions
Project Note: This is a project for kids aged 4 and up.
Step 1 To make this project as easy as it can be, we have a template available. Click here to download and print it before you start, then set it aside until Step 4.
Step 2 Next, pour small puddles of the paint colors onto a paper plate.
Step 3 Dip your foam brush into one of the paint colors on your plate and paint random sections of color onto your canvas. Continue to paint small sections of each color onto your canvas until it's covered in an abstract fashion. Let the paint dry completely.
TIP: ADULT: Using a hair dryer on the canvas will help speed up its drying time.
Step 4 While the canvas is drying, cut out each of the musical note patterns on your template.
Step 5 Use a pencil to trace each note onto a piece of adhesive foam. Make sure you place each note facedown (so that it's backward), since you'll be flipping the foam over to place it on the canvas in Step 7.
Step 6 Now, cut out each musical note from the foam.
Step 7 Once your canvas is completely dry, peel the backing from the foam notes and stick them onto the canvas.
TIP: Here's an easy way to make sure your foam notes are a little less sticky, so that you can peel them from the canvas in Step 10: After you remove the backing, stick each foam piece onto your shirt or pants. Then, pull it off again and place it on your canvas.
Step 8 Pour a puddle of black paint onto a paper plate. Use a large foam brush to cover the entire canvas with the black paint. As you work, make sure to paint closely around your foam notes, so that each note shape is clean and complete when you remove the foam.
Step 9 While the paint's still wet, sprinkle black glitter all over the canvas, then shake off any excess.
Step 10 Almost done! Carefully peel up each foam note and discard. All that's left for you to do is to let the paint dry.
Share your project photos with #MakeItWithMichaels