Handprint Canadian Flag T-Shirt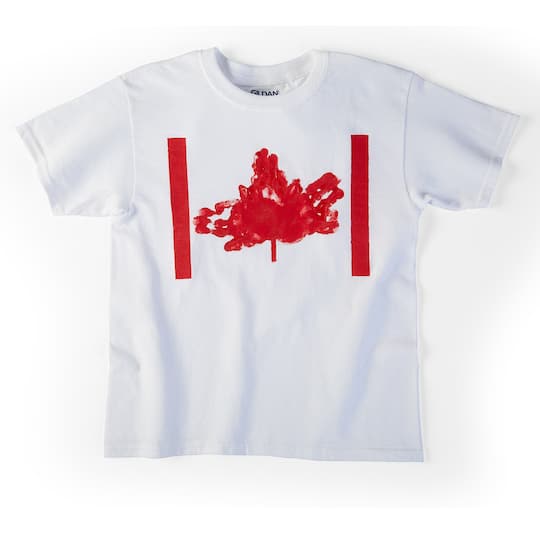 Materials
Instructions
Step 1 Insert the T-shirt form into your white shirt.
Step 2 Spread enough red paint onto a paper plate (or palette paper) to generously cover your hand. Dip your hand in the paint, covering all your palm and fingers.
Step 3 Transfer a handprint with your fingers held tightly together to the center front of the shirt.
Step 4 Turn the whole shirt and dip your hand into the paint again. Transfer another handprint over the first. Match your palm to the palm print so that they overlap but the fingerprints are in a different spot. Remember, you are trying to make the image look like a maple leaf.
Step 5 Repeat Step 4 one more time until you have a maple leaf-looking imprint.
TIP: ADULT: Use a hair dryer to speed up dry time.
Step 6 Place two vertical strips of tape on both sides of the maple leaf handprint, about 1" apart, leaving a blank strip on either side where you will paint. Press down the edges of the tape firmly.
Step 7 Dip your Spouncer™ into red paint and pounce over the space in between the tapes to make stripes. You might need to do a second coat of red paint.
Step 8 Pull off the tape carefully and let dry.
Share your project photos with #MakeItWithMichaels