Cozy Basket
It's finally fall – the perfect time to warm up your home décor! We added wood handles to this cozy basket for a simple, natural look that was super-easy to DIY. Now, let's make one for you! Pick your favorite beads (we've got heaps!) so you can get started!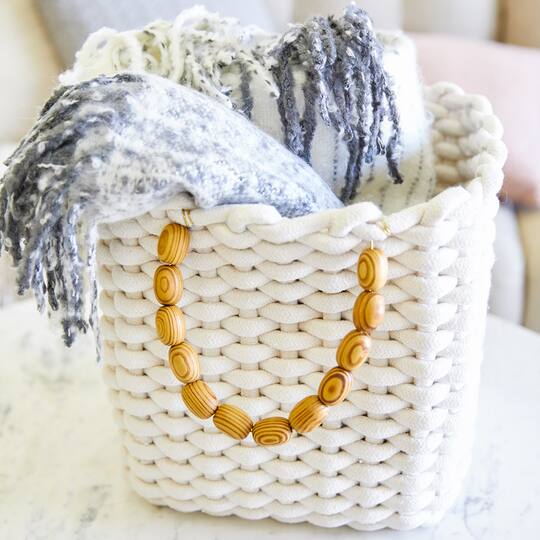 Materials
Instructions
Step 1 First, measure and cut two 46cm pieces of 16 gauge wire. Use your mini side cutter to snip the wire.
Step 2 Next, thread 12 of the wooden beads onto each piece of wire. These will become the handles for your basket.
Step 3 Now, all that's left is to fasten your handles to the basket. Here's how:
First, place one handle on one side of your basket, so it's positioned as you can see in the project image.
On each side of the handle, thread the excess wire through the basket's first row of woven rope and wrap it tightly around the rope at least twice.
Next, trim away the excess wire and use your chain nose pliers to bend the ends of the wire inward (toward the basket) so that they're fastened securely and won't poke out at you.
Now, just repeat, to fasten the second handle to the opposite side of the basket.
TIP: Keep in mind that these handles are meant to be decorative. If you'd like to make them strong enough to carry a more substantial amount of weight, then use a longer length of wire for each handle, and wrap each wire end several times around the top row of rope, instead of just twice. That should do it!

Share your project photos with #MakeItWithMichaels