Easy Noel Farms Christmas Wreath
This holiday, dress up your door with our Easy Noel Farms Christmas Wreath! We'll walk you through the steps to DIY this simple, rustic beauty in our instructions below. Choose your favorite Christmas picks and ribbons to make it just the way you like!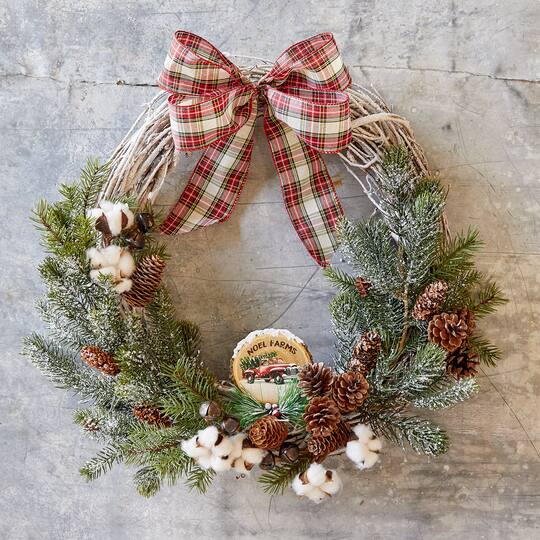 Materials
Instructions
Step 1 First, create an eye-catching focal point for your grapevine wreath. Insert the Noel Farms truck pick into the branches at the center of your wreath, along its bottom curve.
Step 2 Next, add more of your favorite picks on either side of your focal point. To insert each one, bend its metal pick slightly to follow along with the wreath's curve; then push it into the grapevine.
TIP: If you like, you can always wrap your picks with a bit of floral wire to make sure they're extra-secure.
Step 3 Now, you'll make a very simple bow. Here's how:
Fold a length of your ribbon into two large loops, each about 30 cm long. Leave some extra ribbon hanging at each end for your tails.
Pinch the midpoint of the loops to divide them into four bow loops; then wrap the center point with a piece of floral wire to hold it in place.
Let the tails fall below the loops and trim them at an angle for a finished look.
Step 4 Almost done! To finish, just fasten the bow to the top of your wreath with one more piece of floral wire.
Share your project photos with #MakeItWithMichaels