Personalized Monogram Acrylic Tumbler
Serve up a thoughtful treat for someone you love – like this Personalized Monogram Acrylic Tumbler! Cricut® makes it easy to design and cut a vinyl sticker exactly the way you want. Just check out the instructions below to find out how easy and quick this DIY can be!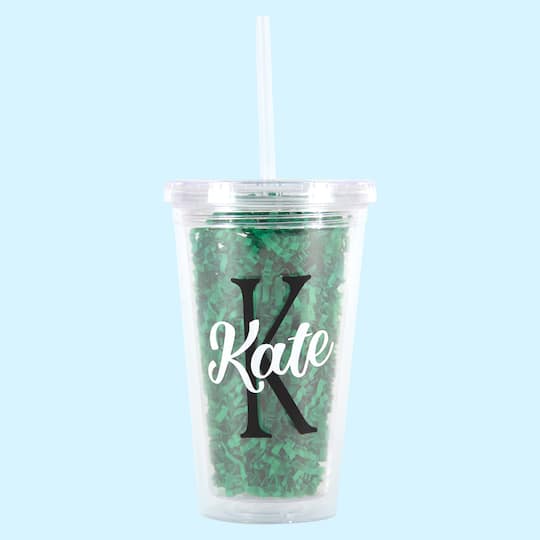 Materials
Instructions
Project Note: Before you start, use rubbing alcohol to clean the tumbler in the spot where you plan to add your vinyl letters. This will remove any oils or smudges that might keep the vinyl from fully adhering to the surface.
Step 1 First, log into your Cricut® Design Space™ account and click 'New Project'.
Step 2 Next click on the 'Text' icon at the left side of your screen. Type the initial you want to use; then choose your font. Size the initial to be about 3" tall. Next, type the name and size it to be about 1½" tall.
Step 3 In the right panel, change the color of the name, so your machine knows when to prompt you to change the vinyl on the cutting mat.
Step 4 Now, click 'Make It' in the upper right corner, and then click 'Continue' in the lower right corner of your screen.
Step 5 Place your sheet of vinyl, grid-side down, onto your cutting mat and load it into your Cricut® machine. Select 'Vinyl' as your material and follow the prompts to cut out your design. Once the machine has finished cutting, gently peel the vinyl away from your mat. Repeat for your second vinyl color.
Step 6 Use scissors to cut away the vinyl around your design. Next, use your weeder tool to peel away the remaining negative space surrounding the initial and name. When you're done, only the design itself should be left on the backer paper.
Step 7 Cut a piece of transfer tape that's just a bit larger than the initial. Peel away the tape's backer paper and place the tape, sticky-side down, over the cut-out initial. Burnish the vinyl so that it's completely stuck to the tape.
Step 8 Now, gently peel the white backer paper from the initial, which now should be stuck to the transfer tape.
Step 9 Hold the transfer tape with the initial over your tumbler to determine where you'd like to place it. Make sure it is centered and straight; then press it onto your tumbler. Burnish the vinyl once more to make sure it's completely stuck to the tumbler, and gently peel away the transfer tape. Your initial has now been transferred to your tumbler.
Step 10 Repeat Steps 6-8 for the cut-out name. Layer it on top of the initial on the tumbler.
TIP: Once you've added vinyl to your tumbler, be sure to wash it by hand only.
Share your project photos with #MakeItWithMichaels