Red Heart® Super Saver® Pooling™ Yarn
Visit your local store for pricing
Red Heart® Super Saver® Pooling™ Yarn
Visit your local store for pricing
Red Heart® Super Saver® Pooling™ Yarn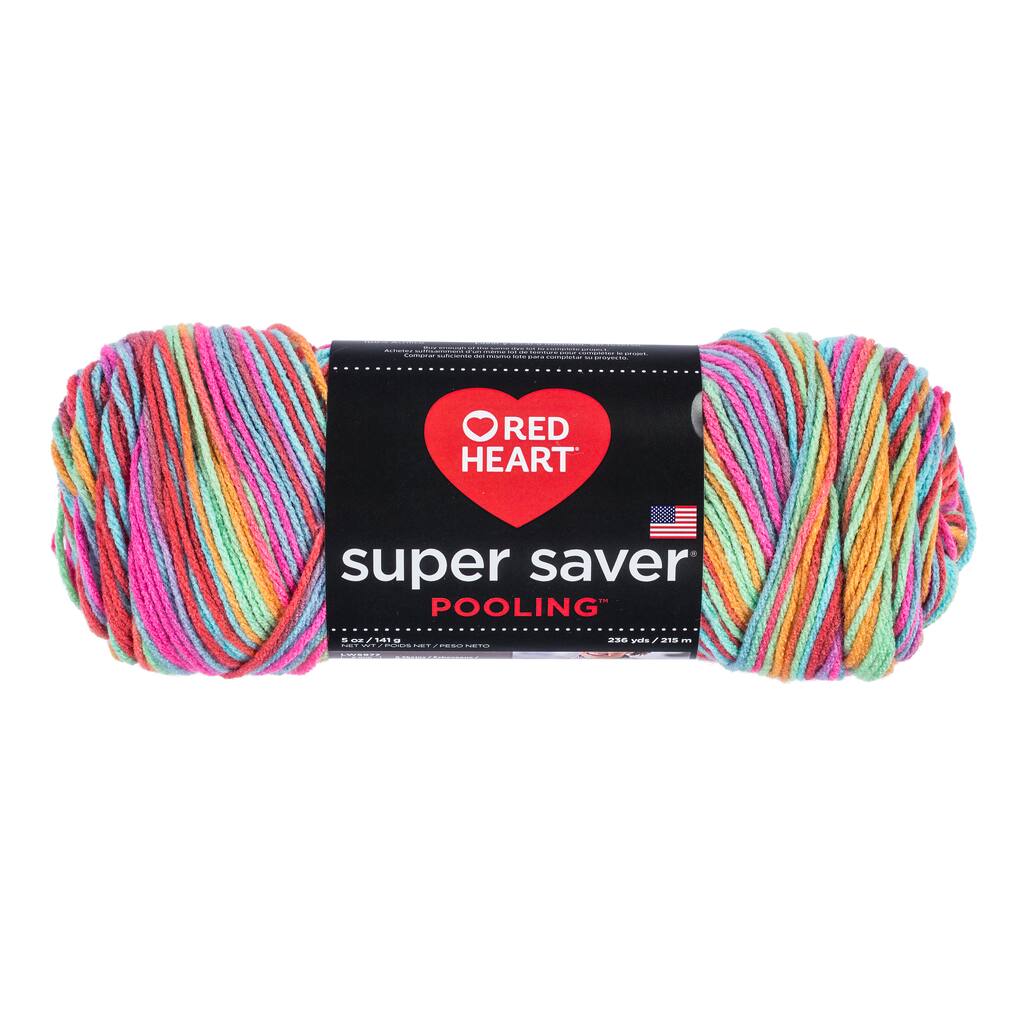 Visit your local store for pricing
Details
https://www.michaels.com/red-heart-super-saver-pooling-yarn/M20001175.html
Variations
Please Select a Color

Size:

Please Select a Size
---
Planned pooling made easy with new super saver pooling! These multi-color shades have been engineered so that color repeats are evenly dyed for happier pooling. Of course, you can use these pretty colors for any of your regular knit and crochet projects as well.

Weight: Medium (4)

Contents: 100% acrylic
Skein Weight: 5 oz / 141 g
Yardage: 236 yd / 215 m

Knitting Gauge:
17 sts - 23 rows = 4" (10 cm)
Crochet Gauge:
12 sc - 15 rows = 4" (10 cm)

Suggested Knitting Needle:
5 mm, US - 8
Suggested Crochet Hook:
5.5 mm, US - I/9
Planned pooling made easy with new super saver pooling! These multi-color shades have been engineered so that color repeats are evenly dyed for happier pooling. Of course, you can use these pretty colors for any of your regular knit and crochet projects as well.

Weight: Medium (4)

Contents: 100% acrylic
Skein Weight: 5 oz / 141 g
Yardage: 236 yd / 215 m

Knitting Gauge:
17 sts - 23 rows = 4" (10 cm)
Crochet Gauge:
12 sc - 15 rows = 4" (10 cm)

Suggested Knitting Needle:
5 mm, US - 8
Suggested Crochet Hook:
5.5 mm, US - I/9
---
Machine wash warm; tumble dry; do not bleach; do not iron; dry cleanable
Machine wash warm; tumble dry; do not bleach; do not iron; dry cleanable
jump
---
Planned pooling made easy with new super saver pooling! These multi-color shades have been engineered so that color repeats are evenly dyed for happier pooling. Of course, you can use these pretty colors for any of your regular knit and crochet projects as well.

Weight: Medium (4)

Contents: 100% acrylic
Skein Weight: 5 oz / 141 g
Yardage: 236 yd / 215 m

Knitting Gauge:
17 sts - 23 rows = 4" (10 cm)
Crochet Gauge:
12 sc - 15 rows = 4" (10 cm)

Suggested Knitting Needle:
5 mm, US - 8
Suggested Crochet Hook:
5.5 mm, US - I/9
Planned pooling made easy with new super saver pooling! These multi-color shades have been engineered so that color repeats are evenly dyed for happier pooling. Of course, you can use these pretty colors for any of your regular knit and crochet projects as well.

Weight: Medium (4)

Contents: 100% acrylic
Skein Weight: 5 oz / 141 g
Yardage: 236 yd / 215 m

Knitting Gauge:
17 sts - 23 rows = 4" (10 cm)
Crochet Gauge:
12 sc - 15 rows = 4" (10 cm)

Suggested Knitting Needle:
5 mm, US - 8
Suggested Crochet Hook:
5.5 mm, US - I/9
jump
---
Machine wash warm; tumble dry; do not bleach; do not iron; dry cleanable
Machine wash warm; tumble dry; do not bleach; do not iron; dry cleanable
Shipping & Returns
jump
---
Shipping & Returns
Shipping
Most products may be shipped via standard ground (delivered in 3-5 business days), second day or next day. Orders placed by 11:00 AM Central Time using second day or next day will ship the same day. View Full Shipping Policy and Pricing ›
Returns
If your Michaels.com purchase does not meet your satisfaction, you may return it within two months (60 days) of purchase. To return an item (excluding sample products), the item must be new, unused and in its original packaging. You may return the item to a Michaels store or by mail. View Full Return Policy ›
From the Manufacturer
jump
Customer Reviews
Red Heart® Super Saver® Pooling™ Yarn
is rated out of
5
by
8
.
Rated

1

out of

5
by
Priyanka
from
Party pooling yarn would not pool properly
Made a scarf using carnival and it was beautiful but party will not form any argile or consistent pattern.
Date published: 2021-12-07
Rated

2

out of

5
by
Cindy M.
from
Couldn't get it to work in argyle pooling
It says pooling on the label but I think it doesn't mean what I thought. The pictures show that the colors can fall together but it still appears random. I was looking for an argyle pooling effect. Maybe it works and I'm just new but I would love to see a pic as proof. Definitely not for beginner pooler.
Date published: 2021-02-01
Rated

3

out of

5
by
Tammy
from
Disappointing
I bought the party looking yarn in Fiesta. I can't get it to pool right no matter how many times I change hooks, patterns.
Date published: 2020-12-29
Rated

4

out of

5
by
Milogirl
from
Beauty in a skein.
I love this yarn. As a newbie at crocheting i found this at my local michaels and im inlove. Love hpw easy it is to work up, tje colors come together so well. Need more to finish my scarf.
Date published: 2020-07-08
Rated

1

out of

5
by
Anonymous
from
Huge Disappointment
Haute Pooling and Christmas Pooling yarn colors are inconsistent, low quality, and "splotched." The result is that the finished product is messy-looking. The planned pooling lengths are inconsistent and result in an inferior product. The first two pictures show the Christmas pillow red, white, and green colors. There are dark splotches on the red and green; the "white" is filled with red and green splotches. Added to that, the white portion of the yarn measures 8 5/8"; the green measures 28"; the red measures 31 1/2". The directions simply state to watch the Marly Bird videos and offer no new directions for the very weird lengths of yarn. The Christmas pillow yarn was to be paired with a solid green back. Good luck! Both yarns are supposed to be the same weight and ply -- not so! The solid green was thicker and heavier. If I had used it, it would have been too chunky for the extremely thin pooling yarn. I'm now using the Christmas pillow pattern in straight crochet -- I'll probably put it into the dog's bed -- I would be embarrassed to use it for anything else. The Haute Pooling yarn is much the same story. The third picture shows that the gray, black, and red colors overlap with the white creating measures of color that vary between 11" and 11 3/4" -- each color is to measure 12"! Again, the texture of this yarn is very thin and, adding to the problem, the white portion is chunkier. I'm an experienced and very finicky crocheter. Having to change tension, crochet hooks, and stitches (Marly Bird recommends half double crochet to "use up" yarn at the ends) results in a project that lacks even edges and that has loads of different tensions throughout. The pattern that forms is "cute" but the piece itself is not something I would ever give as a gift or use for myself. So based on the lack of quality of the pooling yarn, lack of specific directions for the pillow, and the unevenness of the finished product, I would neither purchase any more pooling yarns nor recommend the yarns to anyone else.
Date published: 2020-05-12
Rated

5

out of

5
by
Anonymous
from
I Love This Yarn
I bought this yarn for a project and the quality is amazing. I rarely buy the same colors twice but I did as well as other colors.
Date published: 2019-12-24
Rated

5

out of

5
by
Anonymous
from
Works into a spiral!
This has all the great hallmarks of Red Heart's Super Saver with the added benefit of the colorway creating a spiral when worked in the round! I haven't yet worked it into a pooling pattern, but I'm sure it will look great once I get around to it. I do hope they make more colors - the spiraled colorway makes the cutest hats!
Date published: 2019-11-05
Rated

5

out of

5
by
Anonymous
from
1st Time buyer and reviewer
Purchased 5 skeins of RH Haute during the free shipping promo. All 5 skeins have the same lot number so thats good cause they informed me they would send out 2 skeins cause they were out of stock at the time. I gave it a 5 stars for the color. After several youtube videos I was able to create the Pooling pattern. It calls for an I Hook since I crochet but I ended up using a J hook instead. Its soft but not soft like RH With Love. But if you gently wash your finished project it'll be soft. If you're just getting into plan pooling I would recommend this yarn.
Date published: 2019-10-25