Saral Transfer Paper - Sampler Pack - 8.5 x 11 inches - 15 sheets
Saral Transfer Paper - Sampler Pack - 8.5 x 11 inches - 15 sheets
Online Only
Saral Transfer Paper - Sampler Pack - 8.5 x 11 inches - 15 sheets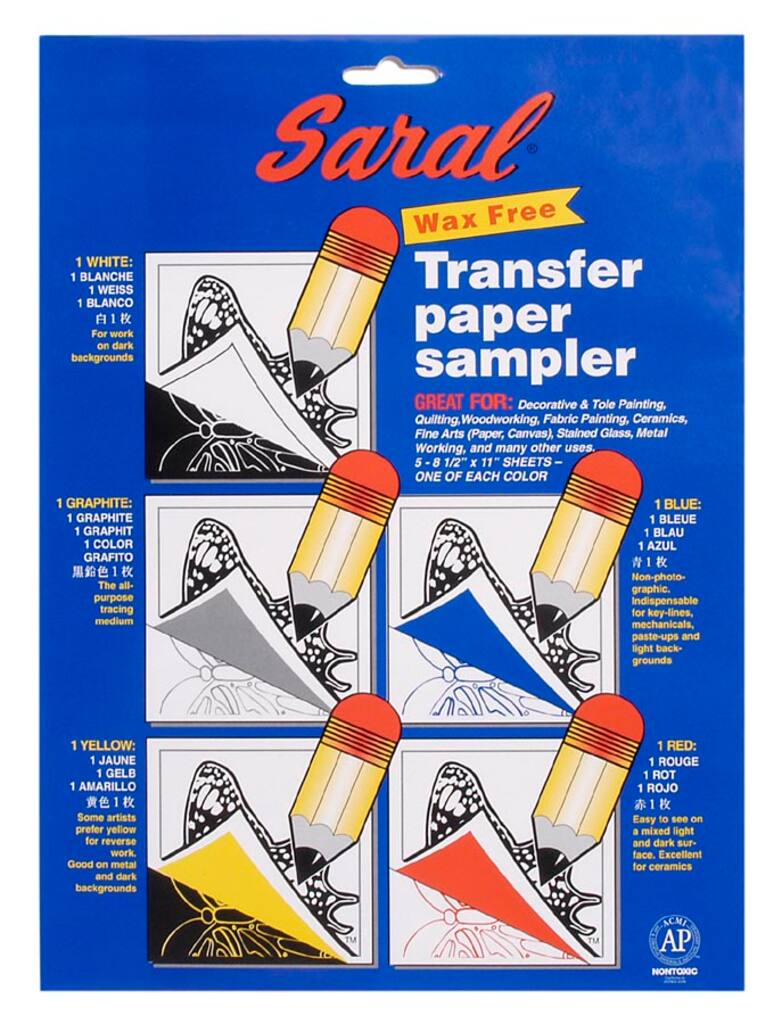 Details
https://www.michaels.com/sanford-design-ebony-sketch-pencil--2-pieces/D059583S.html
---
Saral® Transer Paper is great for decorative and tole painting, quilting, woodworking and much more. Saral Transfer Paper - Sampler Pack - 8.5 x 11 inches - 15 sheets
Saral® Transer Paper is great for decorative and tole painting, quilting, woodworking and much more. Saral Transfer Paper - Sampler Pack - 8.5 x 11 inches - 15 sheets
jump
---
Saral® Transer Paper is great for decorative and tole painting, quilting, woodworking and much more. Saral Transfer Paper - Sampler Pack - 8.5 x 11 inches - 15 sheets
Saral® Transer Paper is great for decorative and tole painting, quilting, woodworking and much more. Saral Transfer Paper - Sampler Pack - 8.5 x 11 inches - 15 sheets
Shipping & Returns
jump
---
Shipping & Returns
Shipping
Most products may be shipped via standard ground (delivered in 4-6 business days), second day or next day. Orders placed by 11:00 AM Central Time using second day or next day will ship the same day. View Full Shipping Policy and Pricing ›
Returns
If your Michaels.com purchase does not meet your satisfaction, you may return it within six months (180 days) of purchase. To return an item (excluding sample products), the item must be new, unused and in its original packaging. You may return the item to a Michaels store or by mail. View Full Return Policy ›
From the Manufacturer
jump
Customer Reviews
Saral Transfer Paper - Sampler Pack - 8.5 x 11 inches - 15 sheets
is rated out of
5
by
2
.
Rated

4

out of

5
by
Deepcbabe
from
Bulk order 15 sheet issue
Just clarifying for those that font understand the 15 vs 5 sheet situation. This is a bulk order meaning you would have to order the 3 box qty. Each box has 5 sheets (read box description in upper right says 5 sheets). So 3 boxes to consider as a bulk order with 5 sheets in each box 3c5 equals 15 sheets. Simple math. Hope that clarifies. And they do it that way because these are sold individually Nothing misleading just need to know qty for bulk order. Hope that clarifies it!
Date published: 2019-11-12
Rated

2

out of

5
by
Linda1288
from
Ad is misleading
The product itself is great for decorative painting pattern transfer. However, the Michaels description says that the sampler container 15 sheets but when it arrived there is only 5 sheets in the sampler. Very much disappointed!
Date published: 2019-05-14