Snazaroo Face Paint - 18ml Compact - Bright Pink\r\n
Snazaroo Face Paint - 18ml Compact - Bright Pink\r\n
Snazaroo Face Paint - 18ml Compact - Bright Pink\r\n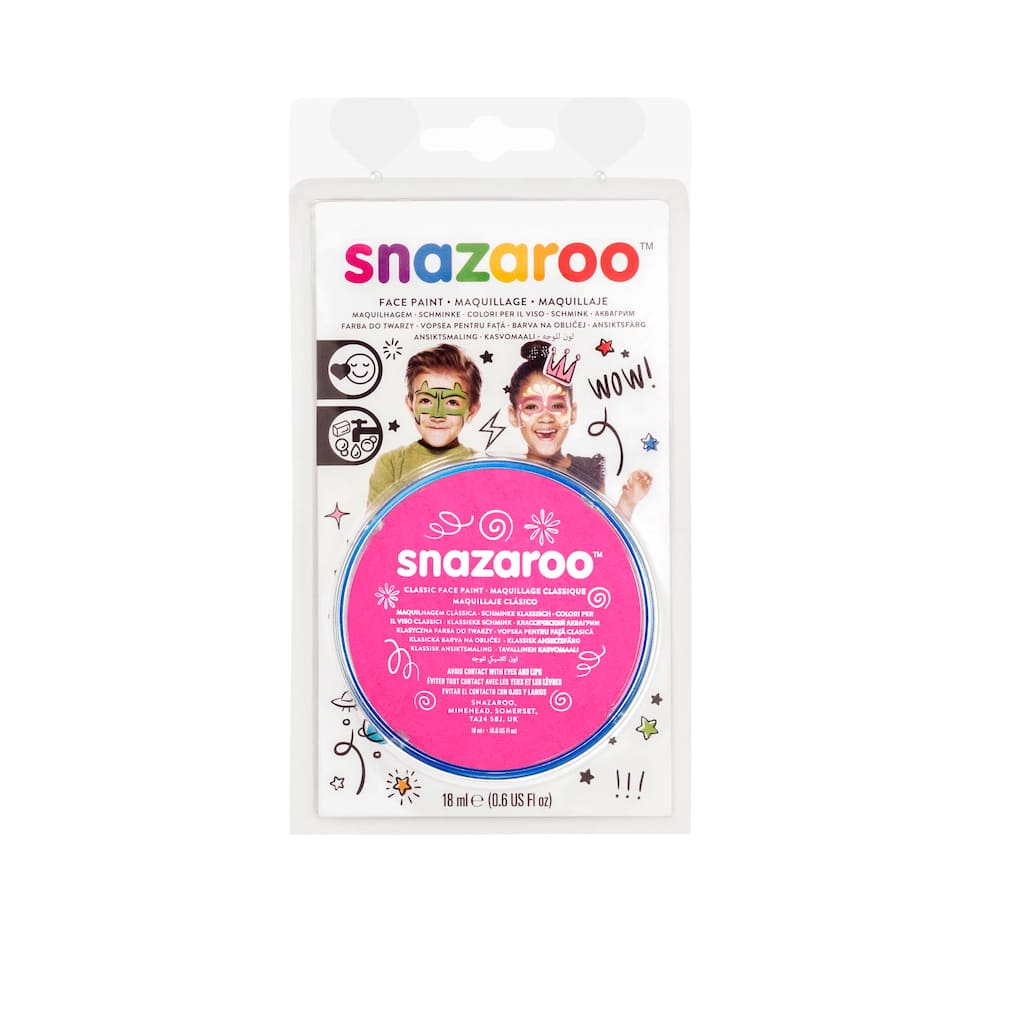 Details
https://www.michaels.com/snazaroo-face-paint/10203738.html
Variations
Please Select a Color

Size:

Please Select a Size
---
Snazaroo Face Paint - 18ml Compact - Bright Pink
Snazaroo Face Paint - 18ml Compact - Bright Pink
jump
---
Snazaroo Face Paint - 18ml Compact - Bright Pink
Snazaroo Face Paint - 18ml Compact - Bright Pink
Shipping & Returns
jump
---
Shipping & Returns
Shipping
Most products may be shipped via standard ground (delivered in 4-6 business days), second day or next day. Orders placed by 11:00 AM Central Time using second day or next day will ship the same day. View Full Shipping Policy and Pricing ›
Returns
If your Michaels.com purchase does not meet your satisfaction, you may return it within six months (180 days) of purchase. To return an item (excluding sample products), the item must be new, unused and in its original packaging. You may return the item to a Michaels store or by mail. View Full Return Policy ›
From the Manufacturer
jump
Customer Reviews
Snazaroo™ Face Paint
is rated out of
5
by
3
.
Rated

4

out of

5
by
vinny_
from
my favorote face paint
as a cosplayer, its my go-to body paint. i just wish it had a sealant.
Date published: 2017-05-13
Rated

4

out of

5
by
Bones
from
Great for Shows!!!
I haven't found any other product that I can buy locally that has the results and quality that this does. I am in a Horror rock band and we all wear face paint. Snazaroo is easy to apply, doesn't sweat off and dries quickly, definitely worth the investment.
Date published: 2015-06-20
Rated

4

out of

5
by
Chanel
from
Great quality and product availability I give A+
This is a great brand and face paint quality that delivers one of the safest and FDA approved to anyone over the age of 3 years and up. But, though it's hypoallergenic, fragrance free and safe ,in terms to FDA regulations, it should never be applied to anyone under the age of 3 years. The price is about a dollar and a half too much ( overpriced, in my opinion #, but if you utilize the 40% coupon off one item at the time of purchasing, then it's a great cost of a little less than $4.30 per 18 ml paint. You can't get any other product for the nature of the use in face or body painting , at the cost of such brand when using the coupon of 40% off # for one item - per one use at a time ) off this great product branding in its easy usage format.
Date published: 2014-09-09