Social Skills Matter! Resource Book, Grade PK-2
Social Skills Matter! Resource Book, Grade PK-2
Online Only
Social Skills Matter! Resource Book, Grade PK-2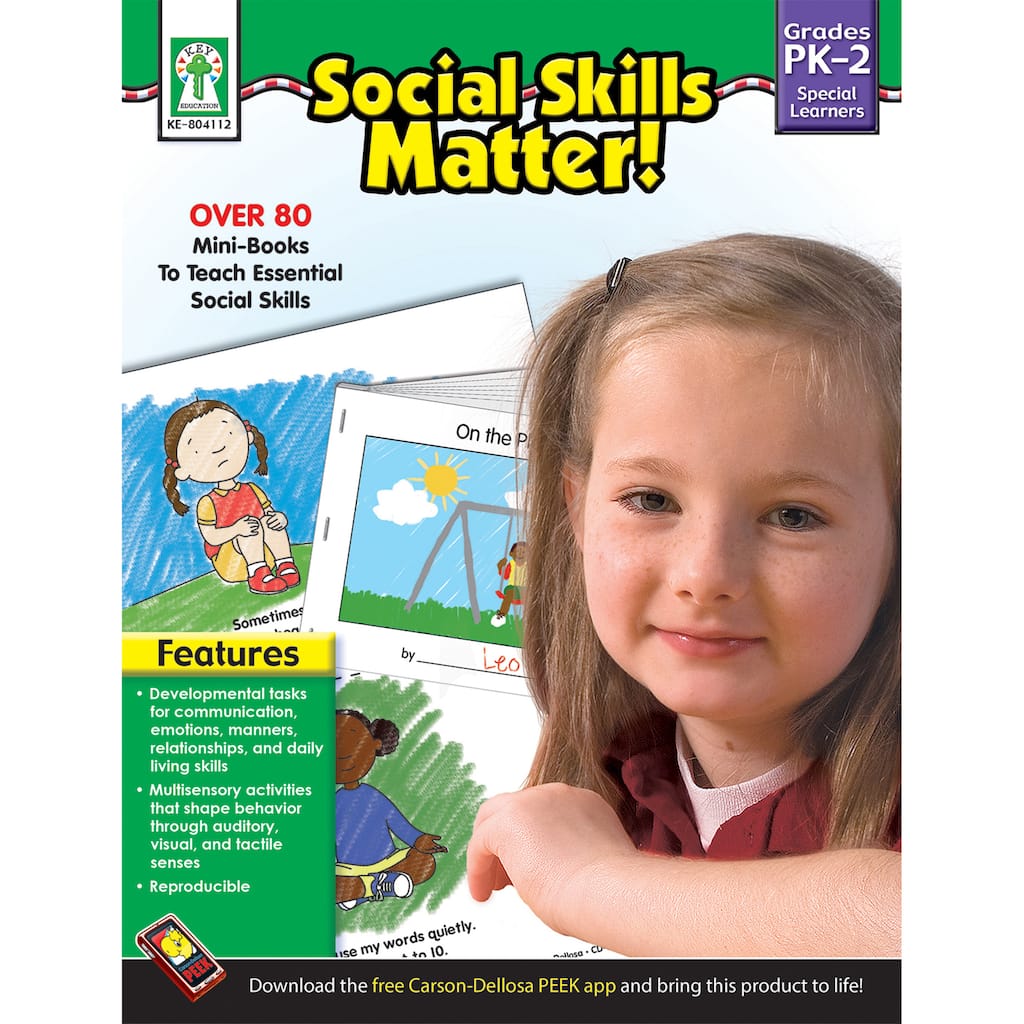 Details
https://www.michaels.com/social-skills-matter-resource-book-grade-pk2/D226198S.html
---
Help your students learn how to communicate effectively, make good choices, and practice appropriate behavior with Social Skills Matter! This book includes reproducible mini-books for children to assemble, color, read, and make their own. Each mini-book focuses on a different facet of important social skills including cooperative play, learning about feelings, communication, school-day behavior, manners, and behavior management. Mastery of these essential social skills can be a factor in determining a child's future success, social acceptance, and happiness. Key Education products are intended to engage and educate young and special learners, as well as assist teachers in building a strong and developmentally appropriate curriculum for these children.

Author: Kassandra Flora
Publisher: Key Education Publishing Company
Format: Paperback
Pages: 384 pages
ISBN: 978-1483800158
Help your students learn how to communicate effectively, make good choices, and practice appropriate behavior with Social Skills Matter! This book includes reproducible mini-books for children to assemble, color, read, and make their own. Each mini-book focuses on a different facet of important social skills including cooperative play, learning about feelings, communication, school-day behavior, manners, and behavior management. Mastery of these essential social skills can be a factor in determining a child's future success, social acceptance, and happiness. Key Education products are intended to engage and educate young and special learners, as well as assist teachers in building a strong and developmentally appropriate curriculum for these children.

Author: Kassandra Flora
Publisher: Key Education Publishing Company
Format: Paperback
Pages: 384 pages
ISBN: 978-1483800158
jump
---
Help your students learn how to communicate effectively, make good choices, and practice appropriate behavior with Social Skills Matter! This book includes reproducible mini-books for children to assemble, color, read, and make their own. Each mini-book focuses on a different facet of important social skills including cooperative play, learning about feelings, communication, school-day behavior, manners, and behavior management. Mastery of these essential social skills can be a factor in determining a child's future success, social acceptance, and happiness. Key Education products are intended to engage and educate young and special learners, as well as assist teachers in building a strong and developmentally appropriate curriculum for these children.

Author: Kassandra Flora
Publisher: Key Education Publishing Company
Format: Paperback
Pages: 384 pages
ISBN: 978-1483800158
Help your students learn how to communicate effectively, make good choices, and practice appropriate behavior with Social Skills Matter! This book includes reproducible mini-books for children to assemble, color, read, and make their own. Each mini-book focuses on a different facet of important social skills including cooperative play, learning about feelings, communication, school-day behavior, manners, and behavior management. Mastery of these essential social skills can be a factor in determining a child's future success, social acceptance, and happiness. Key Education products are intended to engage and educate young and special learners, as well as assist teachers in building a strong and developmentally appropriate curriculum for these children.

Author: Kassandra Flora
Publisher: Key Education Publishing Company
Format: Paperback
Pages: 384 pages
ISBN: 978-1483800158
Shipping & Returns
jump
---
Shipping & Returns
Shipping
Most products may be shipped via standard ground (delivered in 4-6 business days), second day or next day. Orders placed by 11:00 AM Central Time using second day or next day will ship the same day. View Full Shipping Policy and Pricing ›
Returns
If your Michaels.com purchase does not meet your satisfaction, you may return it within six months (180 days) of purchase. To return an item (excluding sample products), the item must be new, unused and in its original packaging. You may return the item to a Michaels store or by mail. View Full Return Policy ›
From the Manufacturer
jump
Customer Reviews
Social Skills Matter! Resource Book, Grade PK-2
is rated out of
5
by
3
.
Rated

5

out of

5
by
Kmkeip
from
Question about Book " social skills matter "
I understand this book contains minibooks for social skills teaching to color and read. What kind of group multi sensory interactive activities and games are included in the book that teach social skills to children. ?
Date published: 2019-09-02
Rated

5

out of

5
by
Anonymous
from
Perfect for my 1st grade class!!!
This item is perfect for extending social skills! Tried and tested as a teacher going back to 1st grade after 10 years.
Date published: 2019-09-01
Rated

5

out of

5
by
HSKelly
from
Wonderful Resource for Teaching Daily Living/Positive Communication/Social Skills to Younger Children
I am always looking for new and inventive ways to discuss positive social skills such as sharing and good manners. This book has been a tremendous resource to help with teaching and reinforcing all of these things and more. It is labeled for special learners, but it's wonderful for all children and helps teach important lessons in daily living. The entire book is made up of over eighty different mini-books that can be reproduced and put together by one child or an entire classroom. Topics touch up on all the essential social skills that children should learn from preschool up until the second grade. The skills that are taught not only cover manners, but the importance of good communication skills, dealing with different ranges of emotions, handling routine changes, and developing positive relationships with others. From the moment that I received this book my son has taken over it. I was able to "borrow it" in order to reproduce some of the mini-books, so that we can use them in our life skills discussions. Other than that, he enjoys reading this book as is, from front to back. That's over 350 pages worth of stories. He is so interested in the stories; he can sit there for long periods of time just reading each one. Of course, making the mini-books offers a fun mutisensory experience that he also enjoys taking part in.
Date published: 2019-05-22