AC SB BOTTLE COUPLER SET 8OZ
AC SB BOTTLE COUPLER SET 8OZ
AC SB BOTTLE COUPLER SET 8OZ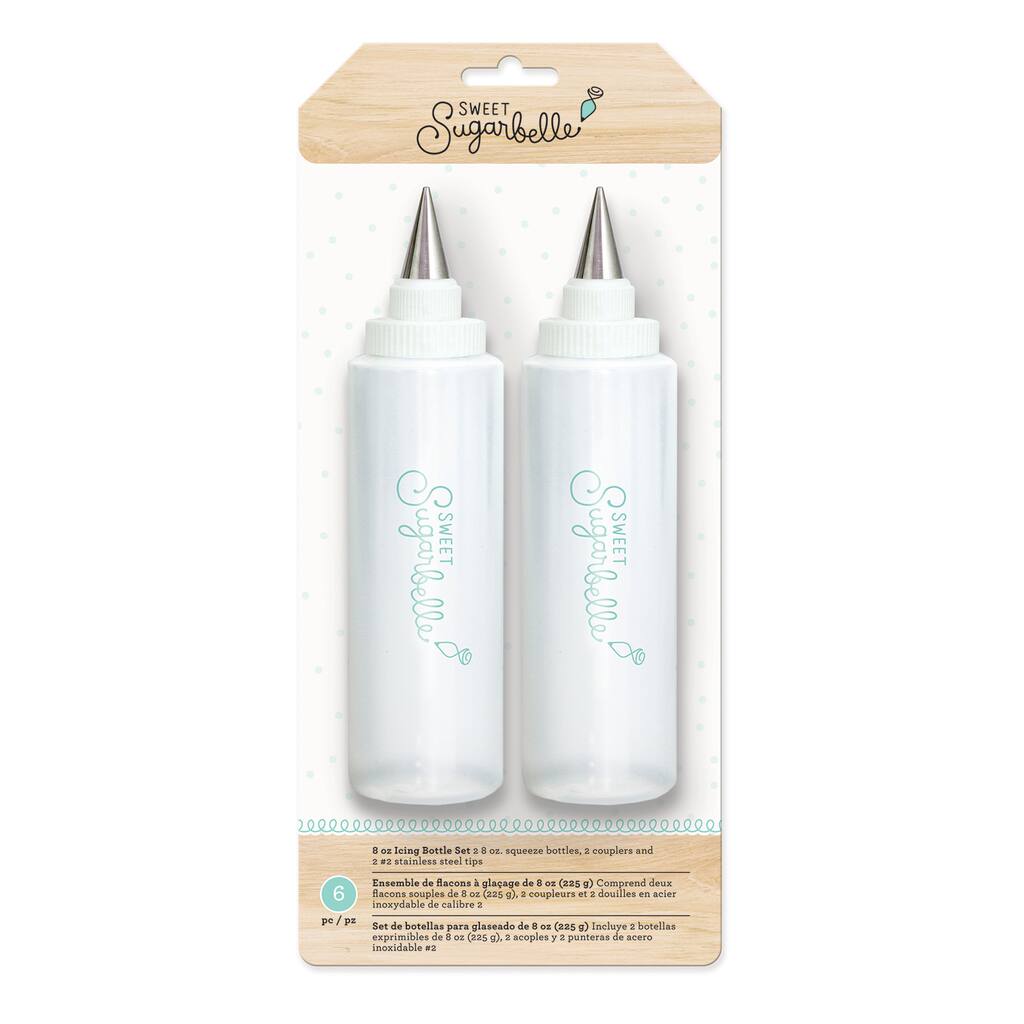 Details
https://www.michaels.com/sweet-sugarbelle-icing-bottle-set-8oz/10487650.html
---
AMERICAN CRAFTS SUGARBELLE BOTTLE COUPLER SET 8OZ
AMERICAN CRAFTS SUGARBELLE BOTTLE COUPLER SET 8OZ
jump
---
AMERICAN CRAFTS SUGARBELLE BOTTLE COUPLER SET 8OZ
AMERICAN CRAFTS SUGARBELLE BOTTLE COUPLER SET 8OZ
Shipping & Returns
jump
---
Shipping & Returns
Shipping
Most products may be shipped via standard ground (delivered in 5-7 business days), second day or next day. Orders placed by noon (12:00 PM) Central Time using second day or next day will ship the same day. We also offer a ship-to-store option that allows your order to be delivered to any of our Michaels store locations. View Full Shipping Policy and Pricing ›
Returns
If your Michaels.com purchase does not meet your satisfaction, you may return it within six months (180 days) of purchase. To return an item (excluding sample products), the item must be new, unused and in its original packaging. You may return the item to a Michaels store or by mail. View Full Return Policy ›
jump
Customer Reviews
AC SB BOTTLE COUPLER SET 8OZ
is rated out of
5
by
16
.
Rated

2

out of

5
by
Dissatisfied in Oregon
from
Problematic for group activity
I made royal icing with consistency to prevent seeping and dripping. The tip that comes with these is the smallest possible, #2, with some irregularity as well. The #2 tip works fine when using a piping bag, as it is easy to gain more pressure to push the frosting out. The bottles are not as easy to do that with, because you have unavoidable air pockets in the bottle and the shape of the bottle isn't as easy to squeeze as a piping bag. It took an enormous amount of squeezing and pressure to get the icing to come out. I replaced the tip with the next size up and it worked much better. Unfortunately for the party I only had one #3 steel tip. I bought these to use for a group activity, because I felt piping bags would be much messier and first time decorators may have an easier time with the squeeze bottle. The children and other adults could not use the bottles with the tiny tip that it comes with. That made them useless for the activity. If I want to use these again for a cookie decorating party, I will have to buy new tips, so everyone can pipe icing on their cookies.
Date published: 2018-12-06
Rated

4

out of

5
by
MarilynD
from
Sweet Sugarbelle Squeezable Bottles
I absolutely love these bottles ( I only used the 8oz ones, but am in the process of getting the 4oz ones as well) The plastic is very soft and flexible and much easier to squeeze than the other set of *Brand Name* ones I also own.. These are just so much easier to work with and the tips are interchangable and are made to fit* mostly all brands of decorating tips......However, The "ONLY ONE" drawback I find, is that they Dont come with Caps/Covers (if they did, thay would be perfect) Something the manufacturer should consider making & including with the bottles, or at least sell seperately...That is my ONLY reason for rating them with 4 stars instead of 5
Date published: 2018-11-25
Rated

5

out of

5
by
MiaK
from
SugarBell decorating bottles
Bottles are flexible enough to squeeze with little effort, and the coupler ring makes it so easy to change tip sizes.
Date published: 2018-09-08
Rated

5

out of

5
by
Morganj31986
from
Awesome!!!
Love that they're reusable, come with tips, and easier on my hands than the bags.
Date published: 2018-06-08
Rated

4

out of

5
by
LG42
from
Not messy to use
Takes a little while to fill but isn't messy to use as icing is contained and doesn't messup your hands like a decorators bag could (I'm not a pro with decorators bag).
Date published: 2018-05-30
Rated

4

out of

5
by
Babymains
from
Great for royal icing
Worked amazing for royal icing. I was able to outline and then come back and take coupler off to do flooding. First time to do that and looks great.
Date published: 2018-05-04
Rated

5

out of

5
by
Mairee
from
Great Product!
I've only used them once but theyre definitely worth it! Easy to store icing, pipe cookies, and clean!
Date published: 2018-04-28
Rated

4

out of

5
by
Westie
from
Great product
Previously have only used only piping bags for flooding and decided to try these. At Christmas I make a lot of cookies and am usually decorating over 2- 3 days. If you leave the royal icing in bags it separates. With these bottles I can stick a chopstick in the bottle to get back a nice consistency. Can also add a little water if the icing isn't quite right or a little icing sugar to stiffen up the icing. You can't do that with bags. The stainless steel tips are terrific. Don't rust. The bottle neck is nice and wide for easy filling. Only thing that would make these bottles perfect is if they came with a separate screw top for the bottle for storage in the fridge. Only reason I didn't give them a 5.
Date published: 2018-04-01