Tiki Pinata
Tiki Pinata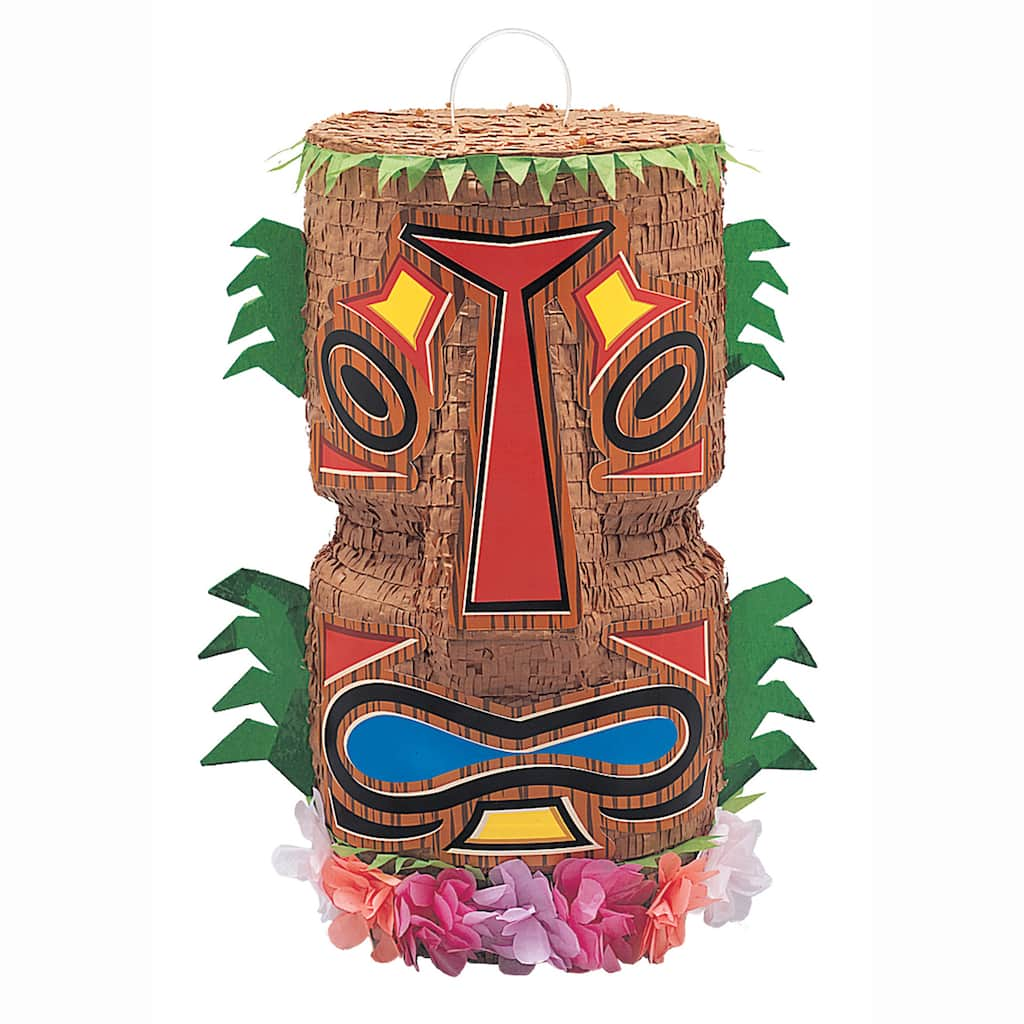 Details
https://www.michaels.com/tiki-pinata/D002174S.html
---
Bring a piece of paradise to your next party with our fun and festive Tiki Pinata. Designed to look like a traditional tiki totem and accented with brightly-colored details including a flower lei, this pinata is an ideal decoration for a Hawaiian luau, pool party, or summer cookout. Partygoers both young and old will also get a kick out of the classic candy-releasing game. Simply fill this Tiki Head Pinata with the candy, small toys, and other party favors of your choosing, suspend it from a sturdy support, then have blindfolded guests take turns trying to break it open to unleash the goodies inside.

Details:

• 1 Tiki Pinata
• Tiki Party Pinata measures 18"H x 9"W and expands to 4" deep for easy filling
• Ideal for entertaining guests at a luau party, beach party, summer party, Hawaiian-themed party, and more
• Tiki Totem Pinata holds up to 2lbs of candy and party favors (sold separately)
• Coordinate with other tiki decorations and luau party supplies
Bring a piece of paradise to your next party with our fun and festive Tiki Pinata. Designed to look like a traditional tiki totem and accented with brightly-colored details including a flower lei, this pinata is an ideal decoration for a Hawaiian luau, pool party, or summer cookout. Partygoers both young and old will also get a kick out of the classic candy-releasing game. Simply fill this Tiki Head Pinata with the candy, small toys, and other party favors of your choosing, suspend it from a sturdy support, then have blindfolded guests take turns trying to break it open to unleash the goodies inside.

Details:

• 1 Tiki Pinata
• Tiki Party Pinata measures 18"H x 9"W and expands to 4" deep for easy filling
• Ideal for entertaining guests at a luau party, beach party, summer party, Hawaiian-themed party, and more
• Tiki Totem Pinata holds up to 2lbs of candy and party favors (sold separately)
• Coordinate with other tiki decorations and luau party supplies
jump
---
Bring a piece of paradise to your next party with our fun and festive Tiki Pinata. Designed to look like a traditional tiki totem and accented with brightly-colored details including a flower lei, this pinata is an ideal decoration for a Hawaiian luau, pool party, or summer cookout. Partygoers both young and old will also get a kick out of the classic candy-releasing game. Simply fill this Tiki Head Pinata with the candy, small toys, and other party favors of your choosing, suspend it from a sturdy support, then have blindfolded guests take turns trying to break it open to unleash the goodies inside.

Details:

• 1 Tiki Pinata
• Tiki Party Pinata measures 18"H x 9"W and expands to 4" deep for easy filling
• Ideal for entertaining guests at a luau party, beach party, summer party, Hawaiian-themed party, and more
• Tiki Totem Pinata holds up to 2lbs of candy and party favors (sold separately)
• Coordinate with other tiki decorations and luau party supplies
Bring a piece of paradise to your next party with our fun and festive Tiki Pinata. Designed to look like a traditional tiki totem and accented with brightly-colored details including a flower lei, this pinata is an ideal decoration for a Hawaiian luau, pool party, or summer cookout. Partygoers both young and old will also get a kick out of the classic candy-releasing game. Simply fill this Tiki Head Pinata with the candy, small toys, and other party favors of your choosing, suspend it from a sturdy support, then have blindfolded guests take turns trying to break it open to unleash the goodies inside.

Details:

• 1 Tiki Pinata
• Tiki Party Pinata measures 18"H x 9"W and expands to 4" deep for easy filling
• Ideal for entertaining guests at a luau party, beach party, summer party, Hawaiian-themed party, and more
• Tiki Totem Pinata holds up to 2lbs of candy and party favors (sold separately)
• Coordinate with other tiki decorations and luau party supplies
Shipping & Returns
jump
---
Shipping & Returns
Shipping
Most products may be shipped via standard ground (delivered in 4-6 business days), second day or next day. Orders placed by 11:00 AM Central Time using second day or next day will ship the same day. View Full Shipping Policy and Pricing ›
Returns
If your Michaels.com purchase does not meet your satisfaction, you may return it within six months (180 days) of purchase. To return an item (excluding sample products), the item must be new, unused and in its original packaging. You may return the item to a Michaels store or by mail. View Full Return Policy ›
From the Manufacturer
jump
Customer Reviews
Tiki Pinata
is rated out of
5
by
3
.
Rated

3

out of

5
by
Zoella
from
Small but cute
This is just a bit larger than a robe box, so not very big. We bought it for a party, but didn't use it because we ended up getting a pineapple that was more than twice the size for just a few dollars more, and much better for the 10-12 kids we needed it for. Id say visually it is pretty much just like the picture shows. The green spikes on the sides were folded in for shipping and had to be reshaped but those tips were also folded over and couldn't really be fixed as easily, so it definitely didn't look quite as nice, but its still cute.
Date published: 2020-07-09
Rated

5

out of

5
by
Ariah
from
Love it looks just like the picture
Love product so much would recommend.love it love it love
Date published: 2018-08-19
Rated

5

out of

5
by
jackiefryer12345
from
This product had great features!
Takes a few coats, but it makes so much difference in my finished product!
Date published: 2017-07-26